Conclusion: Adams Express' (ADX) shares have traded at an average monthly discount of 13.4% since the end of 2003 (see graph below) and 6% greater than the average discount (7.4%) of its peer group (see Graph 1).
click to enlarge
This is despite the fact that ADX's management has done a reasonably good job of meeting its performance benchmarks on an adjusted share price basis (adjusted for distributions and splits) since the end of 2003. ADX has been able to match the indexed performance of its benchmarks: the S&P 500 and the Lipper Large Cap Index (see Graph 2).
Therefore, if ADX is executing on its performances objectives, the wider than expected discount may be a function of two possibilities or a combination of both:
The inferior nature of the closed end fund as a large cap investment vehicle;
Insufficient management's action to materially close the discount gap.
As it relates to the former, ADX invests in large cap stocks. There are over 111 ETFs and 2,656 mutual funds that invest in large cap stocks that trade close to their NAV. A conversion to a mutual fund or ETF (a number of managed ETFs have been approved by the SEC), would substantially close the chronic discount (adjusting for costs of conversion). This should be considered against the net benefits of liquidating ADX.
Relating to the second item, ADX's 2008 repurchase program of purchasing up to 5% of its outstanding shares at a discount greater than 10% is the equivalent "spitting into the ocean" to raise its level. The last time ADX's discount was not greater than 10% on a month-end basis was June of 2003. That was the same year that "Seabiscuit" was a hit movie.
Shareholders should instruct ADX's management to either tender, liquidate, or convert to a mutual fund or ETF if its shares continue to sell at a greater than a 10% discount to its net asset value (NAV) for any reasonable period of time. Many CEFs have such a stipulation in their bylaws so comparable periods can be obtained.
CEF managements typically shed crocodile tears regarding strategies to narrow the discount as: "a few who want to take advantage of a pricing differential." Shareholders should bemoan the fact that tolerating long term sub-optimal returns just to provide management employment is not a particularly attractive investment strategy on their behalf.
Shareholders should place pressure on management to narrow the discount through a quantifiable program with real elements of motivation. This issue seems appropriate to query given ADX's shareholder meeting on March 19, 2009. With apologies to Samuel Johnson, the prospect of death tends to focus the mind.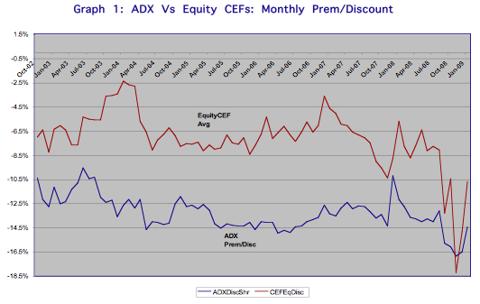 (For the purpose of adjusted share price data consistency, SPY was used as a proxy for the S&P 500 and the Vanguard Large Cap ETF (VV) as a proxy for large cap.)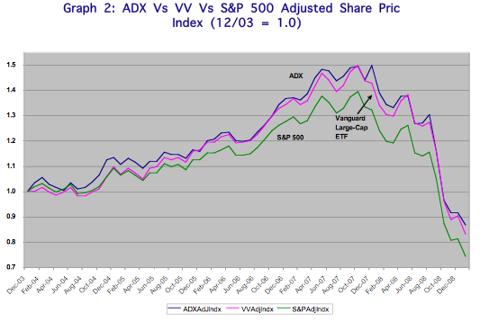 Disclosure: Joe Eqcome Owns ADX.