As I write this, Salesforce.com's (NYSE:CRM) earnings are being celebrated in the after-hours session, with the stock now trading at $177, up 4.6% from the session close.
Salesforce marginally beat revenue estimates, reporting $835 million versus a $830 million consensus. Salesforce also beat a $0.40 non-GAAP EPS consensus estimate by reporting $0.51. Salesforce mostly guided in-line on both revenues and non-GAAP EPS.
Salesforce.com's wide gulf between GAAP earnings and non-GAAP earnings continues to widen, with it reporting a FY2013 GAAP net loss per share of ($1.92) and a non-GAAP net profit of $1.63. But that's not why I am writing this article.
There is something seriously wrong going on at Salesforce.com
The reason why I am writing this is because I've become more and more aware of a seriously disturbing trend in Salesforce.com's earnings. The table below illustrates this trend.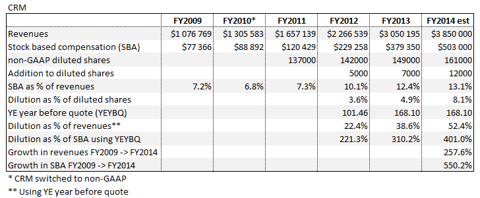 As we can see, Salesforce.com's share dilution is not only keeping up with its reported growth, but instead is racing ahead of it. By every conceivable measure something is wrong with this picture. Not only has stock-based compensation gone from 7.2% of revenues to 13.1% as estimated from Salesforce's guidance, but more amazingly, Salesforce guided diluted shares for FY2014 so high that it implies the issuance of 8.1% of the existing diluted shares in a single year. This too is accelerating from 3.6% of the diluted shares issued during FY2012, the first year where we can calculate the chance in non-GAAP diluted shares.
No reason can be found for this accelerated pace other than perhaps a conscientious effort by the company to goose non-GAAP earnings by paying more and more of its compensation in shares. But even then an investor has to wonder when in a single year the company issues shares equal to 8.1% of the existing diluted shares, or whose value would amount to a full 52.4% of the entire yearly revenues!
Conclusion
At the pace Salesforce is diluting its shares, there are two conclusions one can take:

One is that there might be something wrong, unbeknownst to the common shareholder, which answers for such a huge dilutive issuance, over and beyond the also-accelerating stock-based compensation;
The second is that at this dilutive speed, the Salesforce.com stock is little more than a Ponzi scheme.
Disclosure: I have no positions in any stocks mentioned, but may initiate a short position in CRM over the next 72 hours. I wrote this article myself, and it expresses my own opinions. I am not receiving compensation for it (other than from Seeking Alpha). I have no business relationship with any company whose stock is mentioned in this article.