Late Sunday, news broke that the majority shareholder of Barnes & Noble, Inc (NYSE:BKS) Leonard Riggio will be making an offer for the retail stores and online store (barnesandnoble.com) part of the business. His offer will not include NOOK, LLC which is jointly owned by Microsoft (NASDAQ:MSFT), Pearson (NYSE:PSO), and Barnes and Noble. NOOK, LLC accounts for the college retail bookstores and the NOOK division which includes devices, digital content, and accessories.
Acquisition
On Monday, Barnes & Noble filed an 8-K to inform investors that they received official notice from Mr. Riggio of his proposal to purchase all of the assets of the retail business. During Thursday's Q3 2013 conference call, the CEO William Lynch confirmed that a special committee was formed to handle Mr. Riggio's proposal.
Valuation
The simple rationale behind Mr. Riggio's proposal is that he believes the stock is currently undervalued. His position as a chairman and majority stockholder may be the reason that he recognizes this as an anomaly. The latest closing price of Barnes and Noble stock was $15.74 according to Yahoo Finance which equates to a market capitalization of 928.77 million.
According to the just released Q3 earnings report Barnes and Noble owns a 78.2% stake in NOOK, LLC while Microsoft and Pearson have a 16.8% and 5% stake respectively. Using Pearson's investment of 89.5 million for its 5% stake of NOOK, LLC as a value metric would equal a post-money valuation of approximately $1.79 billion.
My thought on the Microsoft and Pearson investment in NOOK, LLC is both companies are aligning to dominate the digital textbook market, which I previously wrote about in an article on Seeking Alpha in September of 2012.
The fairest valuation for shareholders is by applying the same metrics of Barnes and Noble's acquisition of Barnes and Noble College Booksellers in 2009, which was owned by Mr Riggio.
Barnes and Noble paid $514 million for Barnes and Noble College Booksellers which had $136 net cash on hand and annual revenue in 2009 of $1.8 billion which equals 21% of annual revenue after deducting cash.
According to the latest 10-K, Barnes and Noble Retail reported revenue of $4.85 billion for the fiscal year 2012. If you take 21% of annual revenue it gives you a valuation of $1.21 billion for Barnes and Noble retail. Next, the valuation of $1.21 billion is divided by the total number of outstanding shares and that equates to $20.55 per share.
Based on this analysis, I believe that Mr. Riggio will pay at least $20.00 per share to acquire the Barnes and Noble retail business.
The following chart supports this view as well.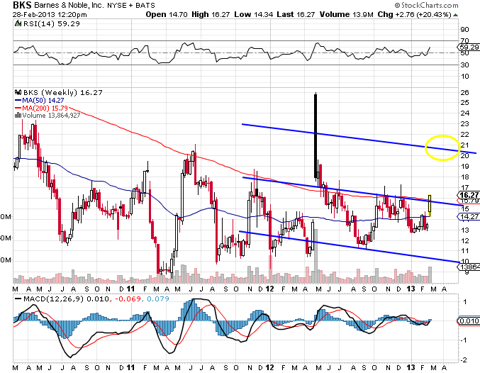 Disclosure: I am long BKS. I wrote this article myself, and it expresses my own opinions. I am not receiving compensation for it (other than from Seeking Alpha). I have no business relationship with any company whose stock is mentioned in this article.
Additional disclosure: I am long BKS call options.