In case you missed it, Andrew Mason has been ousted as CEO of Groupon (NASDAQ:GRPN). Not surprisingly, Groupon stock is already up 10% in after hours trading, signaling that the market thinks this is going to be a great move for the company long-term. Groupon is coming off of a significant earnings miss and is trading at roughly 25% of its IPO price; needless to say, things have been in a tailspin for Groupon longs.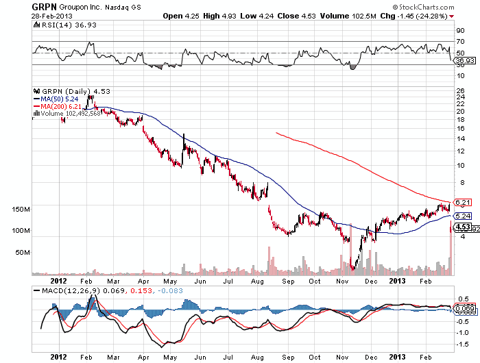 Click to enlarge
(Click to enlarge)
Groupon's PR commented:
On behalf of the entire Groupon Board, I want to thank Andrew for his leadership, his creativity and his deep loyalty to Groupon. As a founder, Andrew helped invent the daily deals space, leading Groupon to become one of the fastest growing companies in history, said Lefkofsky.

Groupon will continue to invest in growth, and we are confident that with our deep management team and market-leading position, the company is well positioned for the future, said Leonsis.

The companys guidance for first quarter and full year 2013 outlined in yesterdays earnings announcement remains unchanged.
CNBC broke the story yesterday afternoon and provided the world with a copy of Mason's letter to his employees. Hands down, Mason's e-mail is one of the most petty and unprofessional addresses I've read from a corporate professional.
People often point out that Mason only took an $800/year salary, but let's not forget the $10 million in stock he cashed out in 2011 before the company's stock took a nosedive. I don't think there's a more out-of-touch thing you could say to a Groupon shareholder who's put their life savings into the company at $30/share than "Don't worry about Andrew Mason, he's going to be just fine. He doesn't want you to worry about him".
Now, to his credit he does take accountability for the trouble the company has had. He nails it head on when he says:
From controversial metrics in our S1 to our material weakness to two quarters of missing our own expectations and a stock price that's hovering around one quarter of our listing price, the events of the last year and a half speak for themselves. As CEO, I am accountable.
Taking accountability is not to be overlooked, but it's shadowed over by the rest of the content of his e-mail.
I'm Now Bullish On Groupon
Here's three reasons aside from the momentum behind Mason's ousting to go long Groupon right now.
1. Analysts Still Digging It
From the CNBC article:
"We recently upgraded the stock based upon the turnaround potential," said Arvind Bhatia, managing director at Sterne Agee. "What we saw last quarter was demand re-acceleration, which I think got lost in the noise in the quarter. They clearly missed the profit expectations, but the 25 percent sequential increase in demand, to me, was a big positive."

Bhatia said the fourth quarter will be the "trough quarter" for the company, with "nice profit recovery" later. Bhatia bases his thesis on an international turnaround that will bring the best practices of the United States operations to Groupon sites abroad. "Most things internationally have been done manually, and the U.S. playbook needs to be applied to these other geographic areas," he said.

In the first and second quarter of 2013, Bhatia said, he expects to see "signs of a turnaround internationally. It might be painful in the near term, but we see long-term positive potential. Fundamentally the demand is there and profitability has to show up in the coming quarters."
2. Chart Indicates A Potential Run Coming
Let's examine a shorter term chart: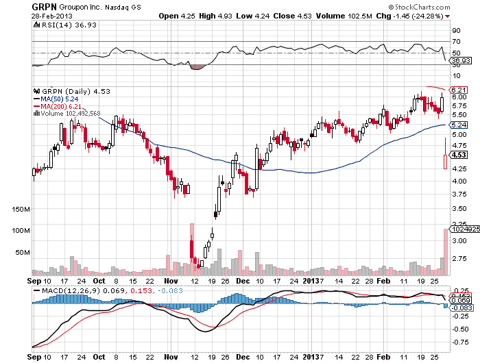 Click to enlarge
(Click to enlarge)
From a technical standpoint, sans the drop from earnings (and the ensuing mini-rally from Mason's departure), the stock has been in an uptrend since mid-November. The RSI is heading into oversold territory today and, on the heels of the pounding Groupon took from earnings, savvy investors might be able to buy in at a discount tomorrow morning on open. Shorts that were hoping for an earnings disaster got their wish, but may also be forced into covering tomorrow as the stock starts to gravitate upwards on the "good" news.
3. Expected Growth
Equity Watch did a fantastic article on Groupon yesterday after earnings. They point out the expected EPS growth for the company going forward and note a couple of other metrics that fell on deaf ears as they ran alongside the bad news:
GRPN also failed to register healthy consolidated segment operating income (CSOI), which was down to $13.7 million in 4Q'12 as compared to $18 million in 4Q'11. Furthermore, GRPN posted a loss of $0.01 per share in 4Q'12, missing the analysts' EPS consensus of$0.01.

GRPN's take rate for 4Q'12 was 42%, up 2% on a year-over-year basis. However, take rate for the quarter was down 4% on a quarter on quarter basis. The following chart displays GRPN's take rate for the last six quarters.

Marketing expenditures and active customer growth for the quarter were positive takeaways from the recent earnings release. Marketing expenses for the quarter were down from 32% of total revenue in 4Q'11 to 10% of the total revenue in 4Q'12. Moreover, the company was able to expand its active customers base to 41 million in 4Q'12, an increase of 1.5 million quarter on quarter.
Conclusion
CEOs like Mason can be a jackpot or a cancer for companies. The harsh reality is that the creative genius behind an innovative product or company is sometimes hardly the person to run the company. Visionaries are visionaries for a reason -- they see things and do things in completely different ways than the rest of us. This is can be extremely beneficial when trying to come up with product innovation or creative solutions, but can also be extremely harmful when these people are put into a situation where they have real accountability and shareholders to be accountable to. Mason's e-mail only goes to show how seriously he took his responsibility to shareholders.
This is Groupon's mulligan -- its second chance. It's going to be up to the new executive committee to get this company up, running and humming, and they're not going to have a long time to show results. Since they've both been chairpersons to begin with, they're familiar with the company and likely already know what has to be done (my guess is they've been making suggestions that have been disregarded by Mason for a while now).
With the IPO price being insanely overvalued, this is now your chance to truly get in on the ground floor with Groupon stock, and for that reason, I'm bullish going forward here.
Disclosure: I have no positions in any stocks mentioned, but may initiate a long position in GRPN over the next 72 hours. I wrote this article myself, and it expresses my own opinions. I am not receiving compensation for it (other than from Seeking Alpha). I have no business relationship with any company whose stock is mentioned in this article.