I've been looking into tobacco stocks lately, and for today I've chosen Reynolds American (NYSE:RAI). I've recently written articles on Phillip Morris International (NYSE:PM) and Altria Group (NYSE:MO), but I still haven't decided which would be best for my portfolio.
I will be using quarterly reports from both companies. You can find these on their websites here and here.
I will be comparing Reynolds American to Altria Group on brands, revenue, earnings, dividend and valuation.
Brands
Reynolds American's brands include Camel and Pall Mall, which are among the best-selling brands in the U.S. Altria Group has Marlboro, which is the best-selling cigarette in the U.S., and L&M. As both have strong brands, it's difficult to determine a winner in this category. Let's look at the revenue next.
Revenue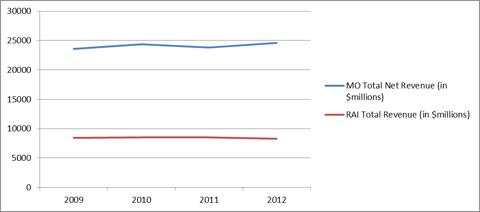 Looking at the graph, we can clearly see MO's revenue is a lot higher. Revenue for MO was $24.6 billion for 2012, while RAI only had $8.3 billion in the same year. To be able to compare MO and RAI, let's take a look at how the revenue has changed over the years. The graph below shows year-over-year Net revenue change.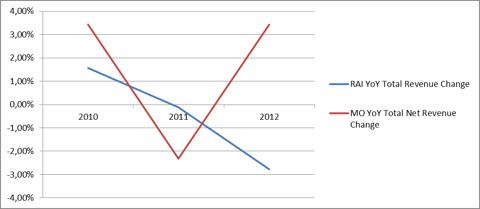 MO's revenue has gone from $23.56 billion in 2009 to $24.62 billion in 2012, increasing by 4.5%. In the same period, RAI's revenue went from $8.42 billion to $8.30 billion, a decrease of 1.4%.
MO clearly scores better on this point, let's continue with a comparison of earnings.
Earnings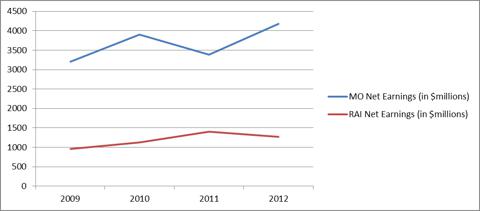 Earnings for MO have gone up by 30.4% between 2009 and 2012, jumping from $3.21 billion to $4.18 billion. RAI's earnings increased by 32.2%, going from $0.96 billion in 2009 to $1.27 billion in 2012. RAI's net earnings have grown at a slightly faster pace than MO's. The graph below shows the YoY changes.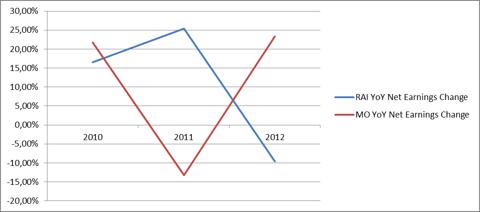 The next graph shows net earnings as a percentage of total revenue. Using this, we can see that out of every dollar in revenue, MO has an average 15.2 cents in net profit, while RAI gets only 14.1 cents.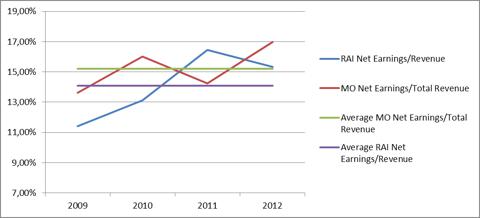 Dividend and EPS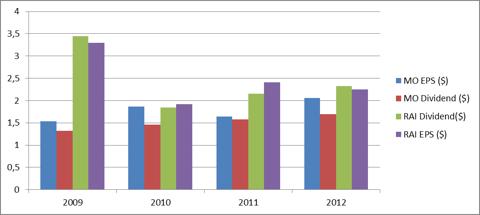 RAI lowered its dividend in 2010, as EPS were a lot lower than in 2009. At the same time, MO raised its EPS and dividend. The graph above also shows that while in each of the four previous years, MO's EPS was higher than its dividend, RAI has had two years where the payout ratio was over 100%.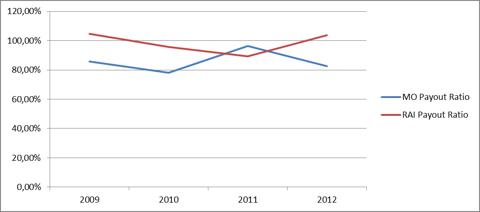 RAI EPS dropped by 31.8% between 2009 and 2012, going down from $3.30 to $2.25. MO's EPS has increased in the same period, going from $1.54 to $2.06 (+33.8%).
Valuation
MO expects to have EPS of between $2.34 and $2.40, which at its current price ($33.55) would give it a P/E Ratio of between 14.0 and 14.3.
RAI's expected EPS is between $3.15 and $3.30. Its current price per share is $43.68. This gives us a P/E Ratio of 13.2 - 13.9.
Conclusion
Altria is the biggest tobacco company in the U.S., while Reynolds American takes second place. They both have strong brands. RAI is valued slightly lower, based on the price-to-earnings ratio, but I would still prefer MO, as it has a higher operating margin, and growing revenues. RAI cut its dividend in 2010, while MO has continuously increased it. Finally, MO has kept its payout ratio under 100%, RAI hasn't. All in all, I'm afraid RAI just isn't as good an investment as its biggest competitor.
I'd love to hear your view on this, so feel free to comment below!
Disclosure: I have no positions in any stocks mentioned, but may initiate a long position in MO over the next 72 hours. I wrote this article myself, and it expresses my own opinions. I am not receiving compensation for it (other than from Seeking Alpha). I have no business relationship with any company whose stock is mentioned in this article.