What does Qualcomm (NASDAQ:QCOM) actually do? 96% of Qualcomm's revenue comes from two of their operating segments: their semiconductor business and technology licensing business. Most people know that Qualcomm sells chips to all smartphone manufacturers, but what are they actually selling?
Qualcomm's Gobi Business
Qualcomm's Gobi business sells discrete modem (also known as baseband) products. Gobi Modem's allow for devices to connect to wireless networks (3G/4G/LTE). These devices must be able to connect to a number of different network bands and frequencies. Moreover, the modem must be able to intelligently switch to different networks depending on connection strength. For example, when a phone leaves an LTE network, the modem must be able to reach the nearest 3G network. While modems are generally placed in smartphones, they are also used in items such as videogame consoles, laptops, and routers.
Qualcomm's Snapdragon
Qualcomm's Snapdragon business offers discrete application processors and integrated application processor/modem technologies. The application processor can be thought of as the "brain" of the phone. It gives the phone its computing power, graphic design technology, camera ability, video capacity, GPS, and Bluetooth capabilities. Snapdragon chips are now in their fourth generation, and they are the most powerful application processors currently offered on the market. However, competition is fierce within the market. Key design wins in 2012 were the Droid DNA by HTC, LG Optimus G, Sony Xperia Z, Google Nexus, and Samsung Galaxy III.
The Integrated Advantage
Qualcomm's edge comes from their ability to integrate their baseband and application processor products into one chip. Qualcomm is the only company currently offering an integrated LTE modem/application processor solution - although the Tegra 4i by Nvidia (NASDAQ:NVDA) is on the way. While discrete application processors and basebands can be used together in phones, not all baseband chips are compatible with application processors. Moreover, integrating these products into a single chip has advantages: longer battery life, and allows for more design room for manufacturers.
So, Qualcomm's integrated Snapdragon Product sells for the highest price. Below shows the number of smartphones built using Qualcomm's integrated snapdragon chips, segmented by manufacturer. The data was found off of Qualcomm's webpage.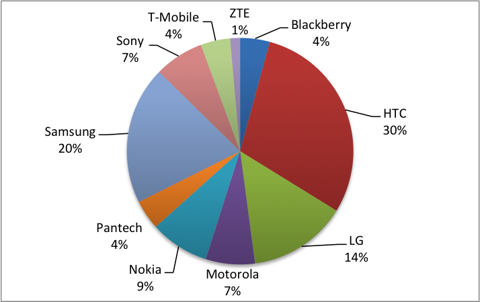 Now, where in the world is Apple (NASDAQ:AAPL)? Well, Apple in-sources their own application processor, and only purchases the modem/baseband chip from Qualcomm. Moreover, many investors irrationally associate Qualcomm too closely with Apple.
Hopefully you now have a better feel for what Qualcomm's semiconductor business sells, and who they sell their products to. I have already listed some catalysts for smartphone sales here and here.
Disclosure: I am long QCOM. I wrote this article myself, and it expresses my own opinions. I am not receiving compensation for it (other than from Seeking Alpha). I have no business relationship with any company whose stock is mentioned in this article.