In a dark and dreary automotive market, Hyundai (OTC:HYMLF) found a bright spot in January. Hyundai sales stepped on the accelerator and increased 14% year-over-year to 24,512 units. This sales improvement resulted in a staggering 1.6ppts increase in market share. Given total market sales were down 37% year-over-year and consumers are having a harder time getting approved for credit, Hyundai's performance was remarkable. This kind of performance begs the question, how did Hyundai drive more sales during these turbulent economic times? One way might be through a unique marketing program Hyundai launched in January.
Hyundai launched a creative and aggressive incentive program at the beginning of January with a great deal of ad support behind it. Through the campaign, Hyundai vehicle buyers can return a vehicle they buy without paying the remaining monthly payments and without jeopardizing their personal credit rating if they lose their income within the next year. In support of the Hyundai Assurance program, Hyundai launched several ad messages with an economic undertone like, "An automaker that's got your back. Isn't that a nice change?" The messaging targeted the fact that unemployment continued to rise and consumer confidence continued to fall. The combination of ad support and the deal itself was designed to drive both interest and convert that interest into buyers.
To assess the impact in online behavior of the campaign, Compete quantified the number of people and analyzed the most popular site categories where people were exposed to Hyundai Assurance by aggregating people or sessions who visited any website with the words Hyundai and Assurance in its URL. We found that at least 470,000 unique Americans were exposed to Hyundai Assurance through nearly 500,000 sessions during the month of January.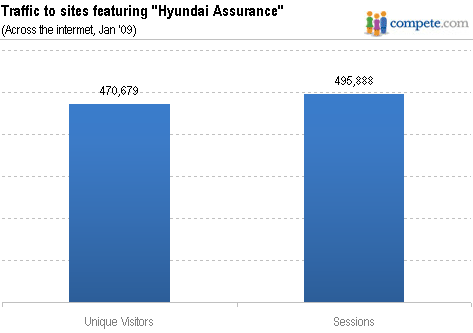 A vast majority of those sessions fell into one of five categories. Using the top five categories as a base, we see:
64% of sessions were viewed on World News websites
20% of sessions were ad click-through sessions through Ad Networks and Servers
9% of sessions were viewed on Automotive Enthusiast web sites
And Unclassified/Search represented a combined 7% of sessions
The categories are worth noting because they do not necessarily represent where Hyundai advertised –online or offline—but instead represent one look at where the net impact of that behavior was seen online. For example, Hyundai may have advertised on automotive related websites, but the majority of behavior was seen on world news sites.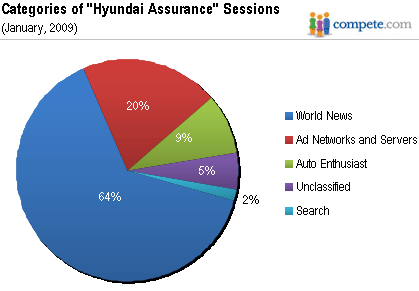 Automakers use this type of diagnostic to quickly gauge how their attempts to influence the market are realized in actual online behavior by consumers. Automakers further use this intelligence to:
Refine ad placement and ad frequency (for example, to what extent was Hyundai ad spend matched to actual consumer behavior?)
Document the extent to which the 470,000 consumers noted above actually reached a Hyundai website or researched a Hyundai on a third-party automotive website
Survey exposed visitors to determine what share of them actually purchased a Hyundai vehicle or at least entered the market as a result of the campaign
Hyundai has continued building its awareness among consumers through continued ad support in early February. With strong January sales and continued ad support in February, it will be interesting to see how long Hyundai can continue to ride this early 2009 wave of success.