Online banking has become an increasingly essential and competitive part of the financial landscape. Everything from mobile check deposits to online Twitter customer service support has transformed the banking industry, forcing firms to adapt to this changing environment. What is the best way to analyze who is winning this battle over Internet traffic and paving the way for growth? Search volume analysis. By using Google Trends, users are able to chart and compile search volumes over time. From this, we can then predict which firm will dominate the growing internet banking market going forward.
A Wells Fargo Comeback
Wells Fargo (NYSE:WFC) has struggled in search volume over the past few years, slumping in 2009 to search levels about 66% lower than that of Chase (NYSE:JPM) and Bank of America (NYSE:BAC). They have made a comeback in the past 18 months though, catching up to B of A search volumes in February of 2012. Wells Fargo now has search volumes 8% higher than B of A, and only 14% behind Chase.
This comeback can be attributed to a number of online improvements. In April of 2011, Wells Fargo announced that its "WellsOne" commercial customers could now perform many functions via smartphone, including managing accounts and expenses. Then, in May of 2011, Wells Fargo announced a huge breakthrough for small business owners. Customers could now use online resources to start, grow, and manage small businesses through Wells Fargo products and services. This growth and quality of online banking was confirmed in July of 2011. Growth in search volume rose almost 38% from May of 2011 to August of 2011, and Wells Fargo was recognized for best overall technical quality among U.S. retail banking companies.

Mobile Check Deposits
Possibly the most significant improvement in online banking as of late, mobile check deposits have become essential for any large retail bank. But who received a head start by bringing it to market first? It appears that Chase Bank was the first to offer the service, announcing the technological advancement in July of 2010. This is much sooner than both Wells Fargo and Bank of America. Wells Fargo announced the service in May of 2012, and B of A following in August of the same year. This clearly gave Chase a huge advantage over the competition. Search volume more than doubled between June and August of 2010.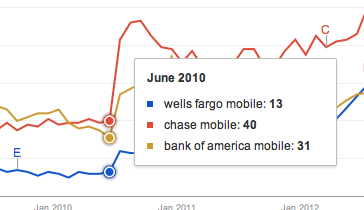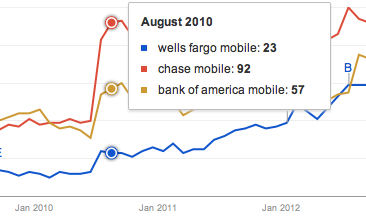 Moving Forward
As we look to the future of mobile banking, firms will continue to expand smartphone technology. Future stock growth depends on how well retail banking firms innovate and capitalize on mobile technology to better serve the needs of its customers. Wells Fargo is clearly catching up to Chase in search volume, although this is not reflected in stock appreciation. Wells Fargo is only up about 3% since September. Chase on the other hand, is taking off. Chase Bank has been at the forefront of this new mobile innovation, which is reflected in search volume growth and appreciation in stock price. JPMorgan Chase is currently up 31% since last September, with a median 1 year analyst target of $53 per share.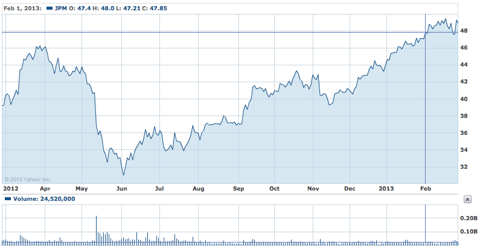 Disclosure: I have no positions in any stocks mentioned, and no plans to initiate any positions within the next 72 hours. I wrote this article myself, and it expresses my own opinions. I am not receiving compensation for it (other than from Seeking Alpha). I have no business relationship with any company whose stock is mentioned in this article.