Many are now saying that everyone panicked too soon and exited positions to get into cash at the wrong moment simply because we have had a decent rally on the back of good economic news abroad and 'Big Ben' talking us up when it looked bad. All is not clear right now and there are still storm clouds on the horizon so we are not at all worried about having missed the boat. It is still a stock picker's market, but Washington and Europe are about to push fear back into the markets and maybe put a hold on the party for now.
Chart of the Day:
As we pointed out to readers this week the A/D line had begun to decline with the pullback and we wanted to watch that. Here is the latest chart we have available and it is ticking back up nicely. We still worry about the near-term, but we are long-term bullish and like to see trends maintained and not broken, or worse...shattered.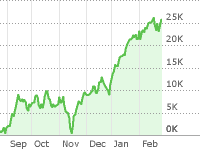 Chart courtesy of Ameritrade.com
We have economic news due out today, and it is as follows:
Personal Income (8:30 AM EST): -2.4%
Personal Spending (8:30 AM EST): 0.2%
PCE Prices - Core (8:30 AM EST): 0.2%
Michigan Sentiment - Final (9:55 AM EST): 76.3
ISM Index (10:00 AM EST): 52.4
Construction Spending (10:00 AM EST): 0.5%
Auto Sales (2:00 PM EST): N/A
Truck Sales (2:00 PM EST): N/A
Asian markets finished somewhat mixed today:
All Ordinaries - down 0.38%
Shanghai Composite - down 0.26%
Nikkei 225 - up 0.41%
NZSE 50 - down 0.05%
Seoul Composite - CLOSED
In Europe markets are trading lower this morning:
CAC 40 - down 1.18%
DAX - down 0.97%
FTSE 100 - down 0.55%
OSE - down 0.22%
Retail
Today we want to focus a bit on retail. We have had quite a bit of news out over the past two days regarding the sector and two of those names were among our least favorite while one was one of our favorites. We generally like the good news first and bad news later, so here it is:
Readers who moved into shares of Gap (NYSE:GPS) when we first began talking about the merits of a position in the retailer have done well, better if they had sold near the highs rather than held on to this point but hindsight is always 20/20 as they say. After the bell yesterday the company announced a 20% hike to their dividend and also reported strong results (see their press release here). The company's beat was due in part to the holiday shopping season, which some had previously worried about, that was stronger than expected and the best one in the last 5 years. The guidance for the next year was a pleasant surprise too as the company stated that they believed EPS would be in the $2.52-$2.60/share area which was well ahead of the $2.30 consensus among analysts. We still like the story and think that results will improve at the 3 core brands while the company also looks to expand their brand portfolio.
That was the good, the bad and the ugly now:
Let's hit Best Buy (NYSE:BBY) which has stated that their goal is to maintain their best customers by matching prices and offering services that the online retailers cannot match. Fair enough, it sounds great on paper but implementing the strategy is not as easy as that when dealing with a retailer this size and with as many employees as they have. Case in point. Yours truly is categorized as one of their best customers, possessing their Premier Silver status. Shopping there is a choice and I do it because I know the store from years of shopping at the location and even some of the sales reps who have been there for a while. The problem with the company is that when I have a problem, it becomes a problem for them to fix. Exchanging products is easy and one of the best features they have, however when one wants receipts printed off for tax purposes because they were lost during a move and employees find it a hassle and are too lazy to perform the task, that is annoying and a real turn-off. For my weekly run to the office supply store this week I went to Office Depot and bought my ink, linen paper, linen envelopes and antique laid paper there, on principle alone. If you want to attract the high margin customer, you have to offer some services others do not as well as go the extra mile when the consumer is in a pinch. Based on the company's results over the past few years, it is apparent 'showrooming' is not their only problem.
We are aware the shares are surging in Pre-Market trading on better than expected results but we have to call them like we see them and from experiences in the store lately (from the receipts issue, to buying an iPad to getting basic services hooked up and installed) it has been lacking. With retailers their stock generally follows their in store performance and if that lacks, so too do the shares.
And the ugly...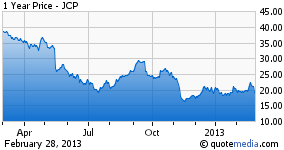 Chart courtesy of Seeking Alpha/quotemedia.com.
It finally seems that everyone else in the market has finally hopped on our bandwagon in regards to boy-wonder Ron Johnson, CEO of JC Penney (NYSE:JCP). The guy has always seemed smug to us riding the success at two companies where the success was not his but rather institutional or because of a genius (obviously Mr. Johnson not being that genius). His previous posts would have required an idiot to mess up, and that is probably a disservice to idiots because in reality it would have been someone who made the wrong call on nearly everything. In short it is hard to not be able to sell in your own stores the hottest gadgets in the world and also difficult not to perform well when you are with the hottest "chic" discounter in its hey-day. Fact of the matter is that he is now selling commodities for the most part against others who have far better business models and stores that are much newer and in most cases simply nicer. We have also received reports that employee moral is low at the store level because of the promotions corporate set up in order to lure shoppers. For instance, forcing the salon employees to work at their cheap hourly rate in order to provide free hair cuts to kids for back to school, etc and telling them it would be alright because they would be getting tips galore...needless to say the tips did not materialize and many in the salons we were told of were quite upset and left for new jobs or are in the process of looking for new ones. This along with the back-and-forth regarding sales and you have a perfect storm of unhappy employees with confused and fed up customers. If you are not Wal-Mart or a warehouse club then consumers do not believe the everyday low prices mantra, but they certainly do understand a sale. With the bad news yesterday and the company going as far as to use only free cash flow to continue their store remodeling efforts it looks really bad. With shares down to $17.57/share after falling $3.59, or nearly 17%, investors have reason to fear. We would not be surprised to see this one fall down to its recent lows again because it is hard to see them winning back consumers they have chased off in time for the spring sales.
Consumer Goods
Carl Icahn is doing pretty well these days. He looked like a grumpy old man during the CNBC interview with Bill Ackman, but he has moved in and taken positions contrary to Ackman's and thus far is on top. He is causing troubles at JC Penney, covered earlier, and is up on his Herbalife (NYSE:HLF) long position. It is obvious he is trying to squeeze Ackman's 10% short position and he has truly been the company's white knight, and oh so willingly too! It is a match made in heaven, or maybe better put the enemy of my enemy is my friend. Shares rose yesterday to $40.29/share, up $2.85 or 7.61%, after news broke that two seats on the board will go to individuals chosen by Icahn (see press release here). It gives Carl some say with his investment and from management's viewpoint gives a large shareholder closer ties which hopefully keep him happy and on board through this tumultuous time. We do not like the stock, but we love the move and like the storyline which is developing here even more.
Conglomerates
We have always been fans of the big railroads and appreciated their ability to move vast resources and finished goods across the country cheaply, efficiently and quickly. We admittedly missed the recent bottom in these names and once again we find ourselves apologizing to readers for having missed the trade. What many miss outside the industry is that the railroads are much like the airlines, except a few decades ahead on the evolution chart. The industry has consolidated to create a few large names and then some 'mid-range' players. This has increased pricing power and enabled the railroads to increase profits and revenues even when actual freight tonnage and volumes are down. For an example look no further than the coal shipments last year, those revenues did rise at one point even though less coal was being shipped and it was a problem for the coal producers. This is why Warren Buffett likes the area and combine that with the astronomical costs to create from scratch a new rail line system, if it could even be done, and one is left with an ideal long-term investment. This is the biggest component of Berkshire Hathaway (NYSE:BRK.B) these days, outside of the core insurance component, and it shall remain that way until he sees fit to purchase some more elephants which are either equal in size or similar businesses which can be combined. The investments in America are paying off for the 'Oracle of Omaha' and this is why Berkshire's B Shares are trading at a 52-week high.
Disclosure: I have no positions in any stocks mentioned, and no plans to initiate any positions within the next 72 hours. I wrote this article myself, and it expresses my own opinions. I am not receiving compensation for it (other than from Seeking Alpha). I have no business relationship with any company whose stock is mentioned in this article.