Recent events have created extreme market price volatility for CommonWealth REIT (NYSE:CWH). In this article, we will analyze what has happened and provide insight as to what investors can do with this information.
I have written numerous articles (linked here and here) on the egregious acts of REIT Management and Research (henceforth RMR), but they have now outdone themselves. RMR's previous shareholder value destroying actions have been discreet, requiring deep analysis to demonstrate the wrong-doing. Its most recent decisions, however, seem blatant. Many of you may have already been following what is going on with CommonWealth, but for clarity I will detail the string of events.
Brief summary of events
On February 25, CWH announced an offering of 27mm shares intending to use the proceeds to pay off senior notes. The following day, two investment firms with a large stake in CWH requested that the share offering be retracted and suggested that they would seek removal of RMR as managers of CWH. These investment firms put out an offer to acquire control of CWH at $25/share, which they upped to $27/share on February 27th. Later that night, at 7:17 Eastern time, CWH expanded the offering to 30mm shares plus 4.5mm in overallotment to underwriters. Below is a chart of CWH's market price. It is integral to each aspect of this chain of events.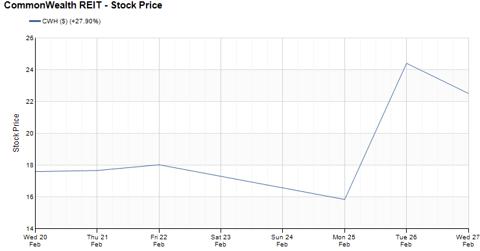 Analysis of events
As CWH traded at $18.03 on the close of the 22nd, it had a price/FFO of only 5.4 at the declaration of the stock offering. Issuance of such underpriced equity demands an exceptional use for capital yet the senior notes were not coming due and had reasonably low coupons (5.75%, 6.40% and 6.25%). Using the implied cap-rate of the equity to be issued, CWH intended to use 18.5% cost of capital to buy back approximately 6% cost of capital. Such an offering is CLEARLY dilutive to shareholders and must be looked at as a breach of fiduciary duties. This was plain to see and shareholders responded by selling. Upon announcement of the offering, the market price quickly fell to $15.85 at the close of February 25th.
Some powerful stakeholders, Corvex Management LP and Related Fund Management LLC, took notice and made some powerful demands. Describing the offering as "value destroying", Corvex and Related demanded it be immediately canceled and moved to remove RMR stating that "poor corporate governance exacerbates the inherent conflicts of interest between management and shareholders." These investment firms announced their potential to acquire all of the company's outstanding shares at a premium. The price was announced to be $25/share and later upped to $27/share. The prospect of a buyout and the potential removal of RMR sent CWH's market price all the way up to its close at $24.40 on the 26th; a gain of over 50%.
The proposed buyout would give shareholders $27/share, so why is CWH trading at only $23.09 on the 28th? Well, there is no certainty that it will actually occur. As of the proposal, CWH's management was given 48 hours to begin negotiations. The window is soon closing and we do not know whether negotiations have begun.
What to do with this information
Well, the possible outcomes are dichotomous. Either Corvex and Related or some other entity will succeed in removing RMR, or shareholders will be trapped into a dilutive offering of 30mm shares at $19.00 each. With the available information, there is no reliable way to estimate the probability of either outcome. Similarly, there is no way of estimating the expected returns of either outcome. A buyout could be at $27 or whatever price is decided and the lack of a buyout could result in the market price dropping indefinitely far.
This is not a risky investment, but rather an uncertain one. With no means of calculating risk and reward it more closely resembles gambling than investment. A short position in CWH would be equally unknown as a long one. I would suggest steering clear of CommonWealth until the dust settles.
Disclosure: This article is for informational purposes only. It is not a recommendation to buy or sell any security and is strictly the opinion of the writer.
Disclosure: I have no positions in any stocks mentioned, and no plans to initiate any positions within the next 72 hours. I wrote this article myself, and it expresses my own opinions. I am not receiving compensation for it (other than from Seeking Alpha). I have no business relationship with any company whose stock is mentioned in this article.