Vale (NYSE:VALE), the third largest miner, just became become the last of the three to report a huge quarterly loss. Vale is already deep into a restructuring program and has taken write-downs; operating losses are the culprit here. A dividend cut was announced and a total payout of $6 bn last year will be reduced to as little as $4 bn this year. That could result in a per share change from the current rate of 0.62 a share to 0.41 per share, reducing the yield from its yield of 3.26% at yesterday's close of $18.99 to 2.10%.
This report was on the Dow wire at 8:45 pm last night and I picked it up from a Morningstar link,
"Vale, the world's top producer of iron ore and No. 2 miner of nickel, reported a much larger-than-expected net loss of $2.65 billion in the fourth quarter, compared with a $4.67 billion profit a year earlier. The company had been expected to post a loss of $840 million, according to the median estimate in a Dow Jones Newswires survey of 10 analysts."
Focus of this Article
This article is submitted exclusively to Seeking Alpha just before the market open on Friday. Since Vale missed estimates badly, I anticipate a down day on what may turn out to be a down day for the market due to the Federal sequestering of budget funds. Background on the company is presented and linked to my previous articles. Action items are suggested and examined.
Industry Problems Abound
The world's largest miner, BHP Billiton (BBL/BHP), was first and replaced its CEO. Rio Tinto (NYSE:RIO) followed, and replaced its CEO and announced a new CFO after its first annual loss ever. Vale has now followed, posting a loss of $2.65 billion. Vale replaced its CEO over a year ago. This is its first quarterly loss in 10 years. In part, the common reason is a worldwide softening of commodities markets. Vale's report on earnings, linked above, said, "Almost all of the reduction was caused by the lower prices in 2012, given their negative impact of US$ 13.8 billion on the adjusted EBITDA."
I posted an article on Vale December 5, 2012, warning my followers to sell Vale. Sell Vale This Month and Take Your Tax Loss, which opened with these words:
"A Good Time to Sell"
If you bought any Vale (VALE) stock in the past two years, the chances are you are holding it at a loss. If you bought it in 2011 you paid between 37 and 22 for it. You will have a long-term capital loss at the end of the year. As you may be aware, if your capital losses exceed your capital gains, up to an annual limit, you can deduct the loss to reduce other income, such as wages. The "good news" is that if you happen to own a lot of Vale stock, and your total net capital loss is more than the yearly limit on capital loss deductions, you can carry over the unused part to the next year. Tax regulations are ever changing and can be complex. Check with your CPA or tax lawyer before making tax related decisions."
We Get Letters...
I got some interesting, some not very complimentary, contrary comments from readers. Two things were at issue, 1. Was Vale in any trouble? 2. Did it make any sense to sell now since tax laws were rumored to be changing after the first of the year? This was one of the more venomous comments:
"How can anyone take anything you say seriously, when you make a ridiculous statement like take losses this year so you have a long term capital loss this year. That is such terrible advise. (sic) You want to save your loses for next year (even forgetting the potential additional tax rate) but next year you have to pay the OBAMA Medicare tax on capital gains. But I guess with your advise (sic) your followers will always have capital loses. I AM BUYING MORE VALE NOW!!!!!"
Sometimes writing these articles, which I intend to be helpful to investors, is not very rewarding. Whenever possible, I respond to every reader comment and question. After all, if out of many people who read each article, only a few take the time to comment. If you take the time to write, I take the time to respond. Fortunately, most of the comments I receive are very complementary, and people often thank me for making them aware of an opportunity, or for a warning of a possible problem with a country, a sector, an industry or a stock.
Action Items Suggested, Past
The article contained an explicit actionable item: consider selling Vale. I went on to state that this was my second warning.
"Regardless of your tax situation, I believe you should sell your Vale stock. Seeking Alpha published an article of mine on Monday, A Sea Change in Mining, 1 stock to Buy, 1 to Hold and 2 to Sell. Vale was one of the 2 stocks to sell. I said,

"Vale is the world's largest iron ore producer and its fortune rises and falls on the worldwide demand and price of that commodity. It is best located to serve Europe, and that market is very soft. It is at a disadvantage with seaborne ore as it costs $20 a ton more to get the ore from Brazil to China than it does from Australia, the shipping point of Rio and BHP. It has two weaknesses, lack of product diversification and the necessity of serving as an instrument of the Brazilian government. If I owned VALE I would sell it, regretting only that I had not done so sooner."
I feel vindicated.
I did not mince any words about my opinion. I did what I often do, tell you what I would do if I owned the stock. I respect your right to have a different, and opposite, point of view. Let me review the tactical alternatives on Vale, that you might consider the options.
Actionable Ideas
You can buy more, sell all or part of what you have, or simply hold what you have now. From my experience, if you do not know what to do, it is better to "hold." That is what I do, anyway, and I recently resisted selling any of the 40 some-odd positions I hold for 11 consecutive months.
However, I do have a stop-loss-limit order on a company now, which will dump my position on an 8% step down from a recent closing price, that is, unless it plummets so fast the transaction could not happen until it was down about 15%. That is something I learned from the flash crash as I got sold out of a position for a big loss. A volatile market could do the same thing in an emotional response to bad news, and rebound just as fast.
Here is a look at Vale and BHP Billiton at yesterday's close.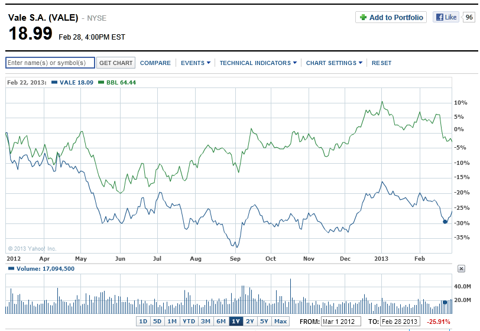 My Best Idea
Let me give you my best idea in today's situation. I would buy BBL, the green line above, the London registered ADR of BHP Billiton, on what could be a dip in the industry overall, as the aggregate bad news is once again reinforced by Vale's losses. BHP Billiton is the largest and soundest miner; it has the best management, and it is undervalued. A quick look at the FAST Graph of the company shows an opportunity as the black price line is well below the orange estimated real value line. In addition, it is now below the blue line, which indicates it is selling at much less than its long term price earnings ratio.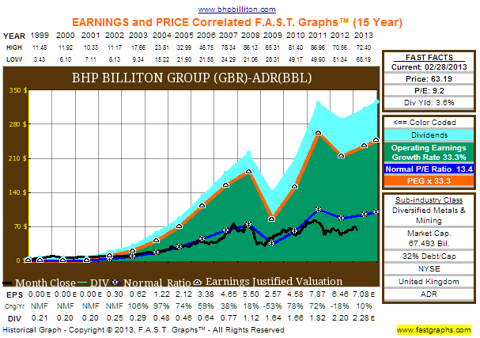 Conclusion and Invitation to Comment
In any case, to put it in the vernacular, "It's your nickel, you pays your money and you takes your chances." Please do your homework and own your decision.
If you have a differing opinion on Vale, or what to do now, I encourage you to share it with me and other readers. I welcome differing opinions and often learn something from them. This site is a great resource, and much richer, by the contributions of many. Most often, but not always, I am right, or at least I have a thoughtful opinion to give you a place to start the consideration of your own actions.
I hope in your comments you are civil and find it in your heart to be considerate to this old man who has been investing and writing for over 50 years. This is not a forum for vitriolic exchanges. Thank you so much for reading my article.
Good luck!
Disclosure: I have no positions in any stocks mentioned, and no plans to initiate any positions within the next 72 hours. I wrote this article myself, and it expresses my own opinions. I am not receiving compensation for it (other than from Seeking Alpha). I have no business relationship with any company whose stock is mentioned in this article.