I had discussed the strong relation between gold prices and the monetary base in one of my earlier articles. The article proved that besides other factors, the gold price is a function of accommodative or restrictive monetary policies. In this article, I will discuss the recent trend in the U.S. monetary base and its implication for gold prices.
As the charts (long-term and short-term) below show, the U.S. adjusted monetary base was stable at around $2.6 trillion before the recent surge. The latest data show that the U.S. monetary base has expanded to nearly $2.9 trillion as of February 2013. This is a clear indication of renewed expansionary monetary policy by the central bank in order to keep the economy afloat.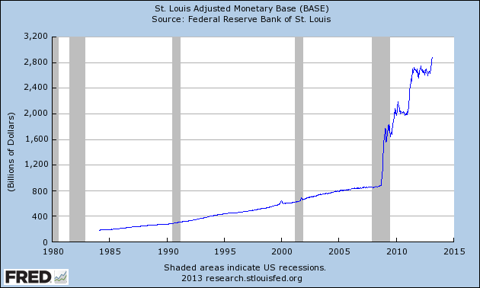 Click to enlarge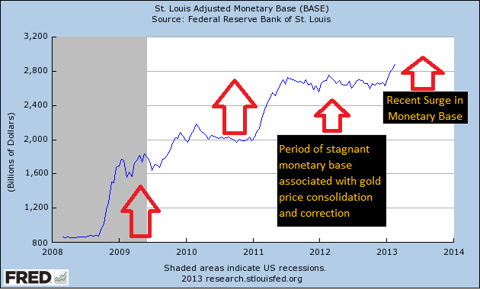 Click to enlarge
Amidst an expansion in the monetary base, gold prices have remained weak. This should certainly not be concluded as an end to the positive correlation between the monetary base and gold prices. The near-term weakness in gold prices is largely attributable to the uncertainty related to the policy of the Fed and the decision on budget cuts.
Fed Chairman Ben Bernanke has however set the stage for another impending rally in gold prices with his recent commitment to continue with expansionary monetary policies. Investors also need to understand that the accommodative monetary policy (as indicated by expansion in monetary base) will positively impact gold prices with a time lag.
I would therefore consider the current correction and consolidation as a great opportunity to consider exposure to the precious metal for the medium to long term. I do expect a renewed rally in gold relatively soon. As a long-term investor, one should not be bothered about another 5%-10% correction in the precious metal. I am not suggesting that the precious metal will correct by another 10%. The critical point to understand is that the current level presents an attractive buy opportunity and any further correction can be used to accumulate more of the precious metal.
It is certain that interest rates will remain near-zero levels until 2014 and monetary policy will remain accommodative even when interest rates trend higher. In other words, real interest rate will remain negative in the long term. Considering such a scenario, gold has legs for another big rally and it can sustain at much higher levels as the monetary base expands further.
Besides this factor, I am also positive on gold from a demand-supply perspective and I see central banks as one of the biggest demand drivers for gold in the future. I discussed this aspect in one of my earlier articles.
It would therefore be beneficial for the portfolio if investors use the current opportunity to buy physical gold. Investment can also be considered in the following -
SPDR Gold Shares (NYSEARCA:GLD) - The investment seeks to replicate the performance, net of expenses, of the price of gold bullion.
Investing in gold mining companies is also a good option at a time when gold prices are expected to trend higher, and gold mining companies are making significant operating level profits.
The Market Vectors Gold Miners ETF (NYSEARCA:GDX) is a good investment option for the long term. The ETF seeks to replicate as closely as possible, before fees and expenses, the price and yield performance of the NYSE Arca Gold Miners Index. The ETF holdings have an attractive P/E ratio of 10.2, and an equally attractive price to cash flow ratio of 5.3.
The Market Vectors Junior Gold Miners ETF (NYSEARCA:GDXJ) is another good long-term investment option. The ETF seeks to replicate, net of expenses, the Market Vectors Junior Gold Miners index. The index tracks the overall performance of foreign and domestic publicly traded companies of small- and medium-capitalization that are involved primarily in the mining of gold and/or silver. Therefore, the risk related to exposure to GDXJ would be relatively higher compared with GDX. The ETF holdings have an average P/E ratio of 9.0, and an average price to cash flow ratio of 2.2.
Disclosure: I have no positions in any stocks mentioned, and no plans to initiate any positions within the next 72 hours. I wrote this article myself, and it expresses my own opinions. I am not receiving compensation for it (other than from Seeking Alpha). I have no business relationship with any company whose stock is mentioned in this article.