While residents of New Jersey and New York felt the pain of Hurricane Sandy, Home Depot (NYSE:HD) benefited from increased sales of products for aiding in recovery. In Home Depot's Q4 2012 earnings call held on February 26, 2013, Frank Blake, Executive Chairman and CEO, noted the New Jersey and New York regions were Home Depot's best performing, as customers purchased products for repairing and rebuilding. Carol Tome, CFO, indicated increased sales due to Hurricane Sandy were approximately $242 million. Additionally, Craig Menear, Executive Vice President of Merchandising, noted the company expects to see continued sales due to Hurricane Sandy through the first half of the year.
Mr. Blake indicated Home Depot's Q4 sales were $18.2 billion, which represents 13.9% year-over-year growth. Comparable sales for the company for Q4 were 7% with the U.S. having comparable sales of 7.1%.
Mr. Blake also noted that other areas of the U.S., which were negatively affected by the housing downturn, Florida, California and Arizona, are experiencing recovery. However, Ms. Tome noted the company does not expect to see the housing market fully recover in 2013. Home Depot's sales in Canada and Mexico performed well with the company now having 100 stores in Mexico.
The company's sales to its pro segment grew and on an even more positive note, sales to its smaller pro segment grew as well. The company's service business continues to recover and experienced double-digit growth. Additionally, the company reported strong sales on Black Friday, which drove record performance.
Home Depot rolled out its buy online and ship to store capability in the fourth quarter and completed its acquisition of BlackLocus, a retail analytics firm that strengthens the company's capability for merchandising.
The company believes it took some market share in the appliance segment, boosted by the company's efforts in expanding the appliance product offering in 120 stores. The company plans to continue to expand its appliance product offering in 120 more stores in 2013.
Home Depot ended the year with 2,256 stores and expects 2013 comparable sales growth in the low single digits, with expectations tempered due to modest growth expected in GDP and pressures on its customers related to reduced disposable income and continued constraints on credit availability.
Home Depot has a reasonable Price-to-Earnings ratio of 23, an attractive Price-to-Sales ratio of 1.6 and its stock price has shown steady appreciation over the last year as shown below: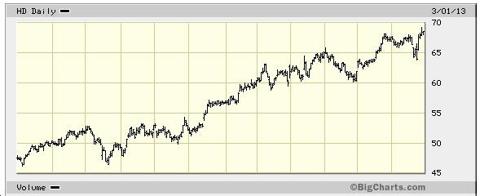 In a previous article related to Home Depot where it was speculated that Hurricane Sandy would benefit Home Depot, a married put position was offered as a way to invest in Home Depot such that an investor could participate in the good fortunes of Home Depot while being protected from potential negatives surrounding the company. The married put position presented in the previous article is currently +5.1% profitable.
Since the near-term prospects for Home Depot are positive due to continued repair/rebuild as a result of Hurricane Sandy, and the long-term prospects are positive due to continued recovery of the housing market, a married put position is once again offered as a viable investment for the company. The married put position can be entered by purchasing a put option against a long position in a stock. The expiration month of the put option is typically selected several months out in the future in order to reduce the per-day cost of the "put insurance."
Using PowerOptions, a variety of married put positions were found for the company as shown below: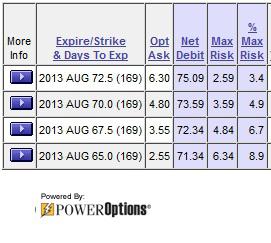 The married put position using the 2013 Aug 70 put option looks attractive, as it has a maximum potential loss of 4.9%, however, this does not include expected dividend payments during the holding period. After including expected dividend payments, the maximum risk for the married put position is reduced to 4%, so even if the price of the stock drops to zero, the maximum loss which can be sustained is 4%. The details for entering the Home Depot married put position are shown below:
Home Depot Married Put:
Buy HD stock (existing or purchased)
Buy HD 2013 Aug 70 Put at $3.59
A profit/loss graph for one contract of the Home Depot married put position is shown below: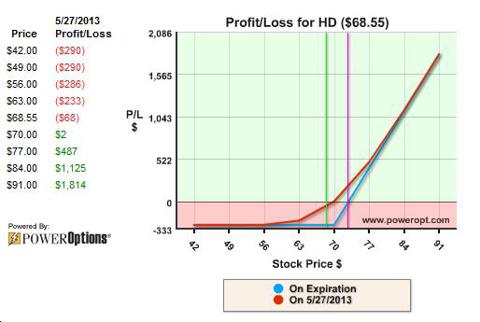 For an increasing stock price, the value of the married put position increases. For a stock price below the $70 strike price of the put option, the value of the married put position remains unchanged. And, if the price of the stock increases to above the $70 strike price of the put option, then income methods may be applied in order to receive income and reduce risk as taught by RadioActiveTrading.com.
Look forward to hearing your comments below!
Disclosure: I have no positions in any stocks mentioned, and no plans to initiate any positions within the next 72 hours. I wrote this article myself, and it expresses my own opinions. I am not receiving compensation for it. I have no business relationship with any company whose stock is mentioned in this article.