A stronger dollar last month clipped returns of foreign stocks and bonds from a U.S. currency perspective. U.S. equities and bonds, by contrast, posted respectable gains in February, although the domestic pop wasn't enough to offset the drag from foreign markets in U.S. dollar terms for a globally diversified portfolio. As a result, the Global Market Index (GMI) slipped 0.1% last month, although GMI is still up a handsome 2.4% for the year so far through February's close.
The big loser last month was commodities, which shed more than 4% overall. Meanwhile, REITs continue to rise, adding 1.2% in the U.S. market and gaining 1.0% on an offshore basis. Over the past year, REITs generally are in the performance lead among the major asset classes. Foreign REITs in particular are higher by a strong 24.6% through the end of February 2013.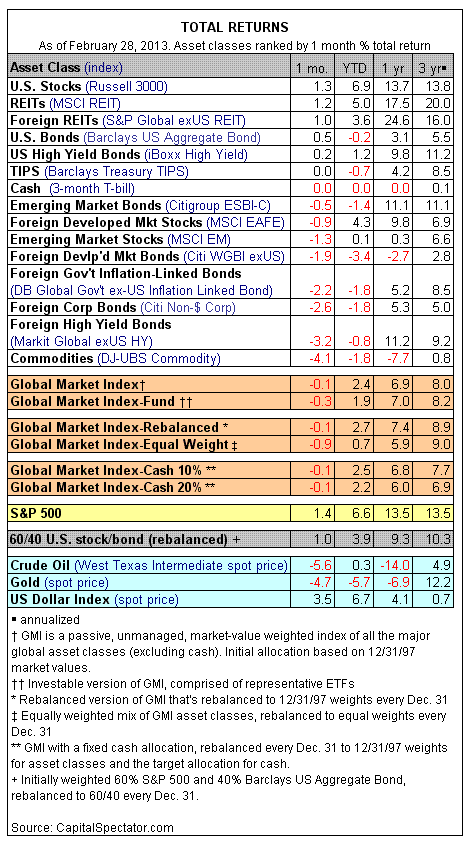 By comparison, GMI is up a modest 6.9% for the year through last month. That's a middling return, although it's worth reminding that GMI's middling results tend to perform rather impressively in relative terms against a broad array of asset allocation strategies through time (see the analysis here, for instance).
For now, however, a relatively narrow focus on U.S. assets has been a stronger combination. A simple 60%/40% U.S. stocks/bonds allocation is ahead for the year so far by 3.9%, a nice edge over GMI's 2.4% year-to-date advance. In fact, a U.S. 60/40 mix beats GMI by a comfortable margin for the past three years, too.
A U.S.-heavy strategy, it seems, is the new new thing for delivering satisfaction. Will the edge survive for the remainder of 2013 and beyond? Quite a lot of the answer depends on whether U.S. equities will continue to outperform their foreign counterparts in U.S. dollar terms.