Ross Stores (NASDAQ:ROST) is an off-price apparel and home fashion chain, which has over 1,000 locations across 33 states in the United States, the District of Columbia and Guam. Ross Stores offers name brand and designer apparel, accessories, footwear and home fashions at a significant discount of 20% to 60% compared to the regular price of department and specialty stores. After giving huge discounts to its customers, is Ross really making money? Let's find out by checking its fundamentals.
~ Ross Stores Fundamental Analysis ~
The data for the fundamental analysis is taken from Morningstar.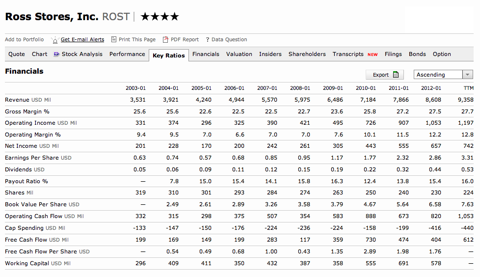 Earnings Per Share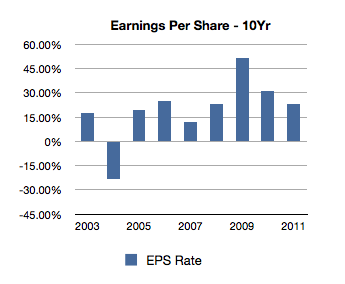 The negative EPS rate between 2004 and 2005 can be seen as an anomaly. What's important is the trend. The EPS actually grew at a compounded annual growth rate (OTCPK:CAGR) of 18.3% over the last 10 years. However, EPS doesn't tell the whole story. If the company is buying back shares and thereby reducing the outstanding share count, the EPS will increase whether sales grew or not. We want to make sure Ross Stores is making lots of sales. So, let's take a look at its revenue, too.
Revenue
The compounded annual growth rate of Ross's revenue over the 10 years is 10.41%.
Cash Position
"While earnings and sales can be tweaked to make it look better, cash is either there or it's not." - Eddie Herring in his article referenced at the end
The amount of cash that's generated from operating activities is used to maintain and grow the business. Ross can use this cash to replace old equipment, or buy a warehouse to store more inventory. These expenses (really, they're investments) are recorded in the capital spending line. Subtracting that from the cash from operations, we get the free cash flow.
"Free cash flow is important because it allows a company to pursue opportunities that enhance shareholder value. Without cash, it's tough to develop new products, make acquisitions, pay dividends and reduce debt." - Investopedia
Because the free cash flow per share is missing for 2003, I decided to calculate the CAGR over 9 years instead of 10 for both the FCF and FCF per share.
CAGR for free cash flow came in at 11.51%, and CAGR for FCF per share came in at 15.92%. Because outstanding shares were reduced by 27.9% over 10 Years due to buybacks, it is expected that the CAGR for FCF per share will be greater than the CAGR for free cash flow.
Profitability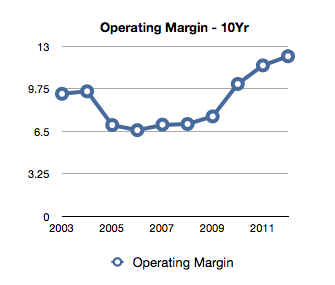 The operating margin dropped between 2005 and 2009. Perhaps Ross was fending off competitors during those times. The drop between 2008 and 2009 was at least partly due to the financial crisis. It's nice to see that in the past few years, the operating margin has picked up again in an uptrend.
Stellar Dividend Growth
With Ross Stores growing its profits, is it returning value to its shareholders in terms of dividends? Although currently yielding only 1.18%, Ross Stores' dividend growth has been amazing. Over 8 years, it averaged an annual growth of 27.39%. The lowest dividend growth rate of 15.79% was between 2008 and 2009 during the financial crisis. Actually, that double digit dividend growth rate is nothing to sneeze at, as that's miles away from the inflation rate of ~3%. The graph below shows Ross Stores has been consistently raising its dividends.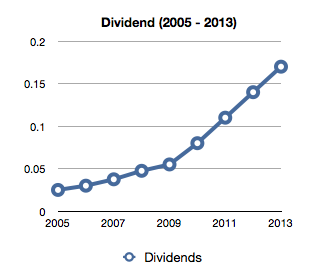 It's reassuring to see that its payout ratio has been under 17% for the last 10 years, so Ross has ample cash to pay its quarterly dividends. As Ross is still growing (being ~2.5 times smaller than its biggest competitor, The TJX Companies (NYSE:TJX), by market cap), that warrants its payout ratio to be low, so that more cash could be used to grow its business.
Debt
Ross Stores' debt-to-capital is only 8%, and it has a current ratio of 1.5. So, its debt is very manageable.
Returns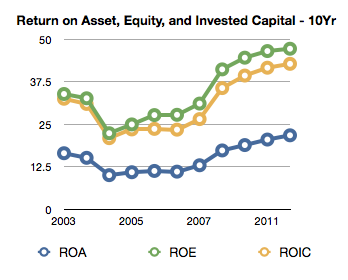 The graph above illustrates that the returns of Ross Stores have been overall positive. In fact, an initial investment of $1,000 in the company shares 15 years ago would be worth $11,905 today. That is an annualized rate of return of 19.1%, which is much higher than the average return of 6 - 7%.
To add to the excitement, with the recent pullback, the company is now slightly undervalued. As shown in the FAST Graph, the (black) price line is slightly below the (orange) earnings line.
The estimated total return in FAST Graph for the next 5 years is ~13% annually. This is not as great a return as if you bought the shares 5 years ago, but still a good investment to be in to get some exposure in the Retail (Apparel) industry.
Headwinds
All is not rosy for Ross Stores. It continues to face fierce competition from its peers, including TJX and Kohl's (NYSE:KSS). Particularly, TJX has a far greater reach than Ross Stores. TJX has more than 2900 in over 6 countries. And I don't think it's a coincident that just like Ross Stores, TJX also prices merchandise 20% - 60% lower than the regular price of department and specialty stores. However, both the TJX Companies and Kohl's have a lower TTM operating margin than Ross Stores. So it shows that Ross may have some pricing power.
Note
Please use this article for informational purposes only, and do due diligence before buying or selling.
Reference
I actually based the fundamental analysis method on how Eddie Herring's was analyzing Microsoft in his recent article, "Avoiding Tunnel Vision In your Dividend Growth Investing" based on Morningstar data. Thanks Eddie!
Disclosure: I am long ROST. I wrote this article myself, and it expresses my own opinions. I am not receiving compensation for it (other than from Seeking Alpha). I have no business relationship with any company whose stock is mentioned in this article.
Additional disclosure: I picked up some shares of Ross Stores this week.