Elevator Pitch
The true investment thesis on why Google (NASDAQ:GOOG) is indeed a "buy" steams from the idea that Google is playing the long-game. This includes integration throughout all its various products. Google has managed to do this over time and relatively stealthy, not overwhelming users, but along the way integrating and adding functionality within its product offerings. Gmail is at the core for a number of users, which finally took the top spot earlier this year as the worldwide email service leader: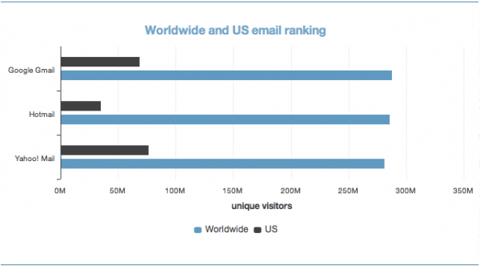 Click to enlarge
Source: techspot
Other notable integrations include those with Google Plus, Google Voice, Google Hangouts, Google Calendar and finally the rapidly growing Google Chrome. Since being launched in 2008, Chrome has managed to overtake Internet Explorer as the most used browser, owning 37% of the market share, according to StatsCounter. As a side note, Google is the number two tech stock loved by hedge funds as of 4Q (see all 10 here).
Where we've been, and where we're going.
Search. Google is the leader in the search market. According to ComScore, Google powered some 67% of the searches in December, with Bing in a "far" behind second with 16% and Yahoo is third at 12%. However, PC-makers have seen a steady decline due to smartphone and tablet cannibalization, which is reducing the number of overall desktop searches.
Smartphones. The total global smartphone market is expected to be upwards of $150 billion by 2014 and IDC reports that smartphone sales grew 36% in 2012, compared to 15% from the prior year. Google has been quick to recognize and address these changes by leveraging its Android OS to maintain its search market leadership. Google has been diffusing its Android devices across growing smartphone markets in an effort reduce its dependence on mobile partners, such as Apple. Google currently owns around 49.4% of the smartphone market, while Apple captured approximately 45.9%.
Mobile search and advertising. Google's strategy with its Android operating system and Motorola phones includes extending its reach in the search market, now to mobile search. Thanks to its already large presence in the mobile market, Google already owns 95% of the mobile web search market share. This is especially important when considering a large part of mobile ad revenues is generated via mobile search. eMarketer expects Google to be the fastest growing mobile ad platform over the interim, capturing 22% of the market by 2014, where Facebook will be second with 17% of the market, Yahoo third at 8%.
Beyond mobile search. Google is also looking to further develop its Google Wallet offering. The point-of-sale solution enables Android phone users to wave the phone near a POS terminal to make a purchase. This helps make Google's mobile devices a much more complete product. Taking this a step further, entry into the mobile payments sector will help the company with mobile ads - making such ads more relevant and being based on what users purchase rather than just the places they visit.
Other tailwinds for "buying"
•Advertising revenues were $12.91 billion, or 89% of revenues in Q4 2012, up by 22% over fourth quarter 2011 revenues of $10.58 billion.
•Google website revenues in 4Q 2012 grew by 19% from the same quarter last year.
•Net income in fourth quarter 2012 was $3.57 billion, compared to $3.13 billion in 4Q 2011, 14% growth.
•EPS increased by 12% in the 4Q 2012 to $10.65, against $9.50 in the same quarter 2011.
•Agreement with Arris Group to dispose the Motorola Home business, the not so money making part.
•Possibility of launching a subscription-based music-streaming service which will work on both Android and non-Android devices later this year.
•Department of Defense announced it will open its networks to Android devices in February 2014, as part of an effort to develop a platform.
• Google's top hedge fund owner, billionaire Stephen Mandel of Lone Pine Capital, was increasing its stake by 45% in the company last quarter (see all of Mandel's top picks).
• Although Google doesn't currently pay a dividend it easily could (read more here).
Minor headwinds to "buying"
•New player in the mobile operating space, Mozilla, is diffusing across major mobile service providers, including Sprint and T-Mobile, which will make them less dependent on Google and Apple. Sony, ZTE and LG are a few planning to make the hardware for the platform.
•Samsung is pushing for a greater portion, compared to the current 10%, of the mobile Google Ad search revenues from its receives for its Android-based devices.
Valuation. Google currently trades around 25x earnings, which is on the lower end of its five year range, low of 17x and high of 43x.
The expected EPS stacks up as follows:
2011 $31.25
2012 $33.31
2013 $38.92
2014 $45.49
Assuming there's no multiples expansion, and the stock trades at 25x earnings in two years, its potential upside is over 42%.
The growth story: Innovation. From its search engine to Gmail to planned development of Google Glass, Google has been great at innovating and integrating into our daily lives. Google appears strong on a number of "fundamental" levels, with a solid path for growth. Unlike the other major tech company in the news, Apple (NASDAQ:AAPL), Google still operates in a very different industry, one with less headwinds than the competitive tech products. Apple is heavily dependent on iPhone (50% of revenues) and iPad (20%) devices, whereas Google is still heavily dependent on the search industry. However, the company is diffusing more into mobile with its devices and operating system to help get a hold on mobile search.
Disclosure: I have no positions in any stocks mentioned, and no plans to initiate any positions within the next 72 hours. I wrote this article myself, and it expresses my own opinions. I am not receiving compensation for it (other than from Seeking Alpha). I have no business relationship with any company whose stock is mentioned in this article.