This article will primarily concern itself with the overvaluation of Salesforce.com.
Salesforce.com, (NYSE:CRM), is a leading provider of enterprise cloud computing and social enterprise solutions, and is dedicated to helping customers transform into social enterprises. Cloud computing refers to the use of internet-based computing, storage and connectivity technology that is used to deliver a variety of services. Salesforce is founded on the concept of delivering customer relationship management "CRM" and has augmented this service with new editions and enhanced features since its introduction in 2000. The business model is sound, but when looking at the performance of the company over the last decade it is clear that the company doesn't deserve its current valuation of $24 billion.
To begin, it's necessary to address the competitive sector in which Salesforce.com operates. Its largest competitors include the giants, Microsoft (NASDAQ:MSFT), Oracle (NASDAQ:ORCL), IBM, Google (NASDAQ:GOOG) and SAP. It also competes with smaller companies such as Zoho, which have proven capable of undercutting Salesforce by targeting small enterprise accounts. This two-sided battle with the giants for big corporate accounts and the business of smaller firms requires a tremendous amount of marketing (and a big portion of those sales dollars). This is a contributing factor as to why earnings have been unimpressive as of late.
Date

Sales

(Billions)

Total Net Income (Millions)

EPS

01/12

2.27

-11.57

-0.09

01/11

1.66

64.47

0.47

01/10

1.31

80.72

0.63

01/09

1.08

43.43

0.35

01/08

0.75

18.36

0.15
Source: MSN Money
As you can see, while sales have grown at an annual compounded rate of 31.90%, earnings are lower than they were in '08, even negative for the trailing twelve months. This begs the question - why Salesforce trades at a market capitalization of $24 billion dollars?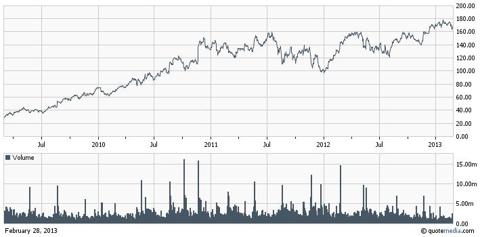 It seems investors are simply building castles in the air. Since 2009, shares have climbed near a low of $20 up to $177 after hours as of 02/28 ($1 shy of the all-time high). When viewed from the fundamentals, the current valuation of Salesforce is absurd.
At its current price level, Salesforce can only be regarded as a speculative issue, which has long since left the realm of trading relative to its underlying fundamentals. Would you pay $24 billion for a company that lost $11 million FY 2012 and whose CEO is too embarrassed to speak of its real GAAP earnings? After reading last night's earnings call transcript I wasn't surprised that the CEO spoke mainly of the tremendous revenue growth made this year while only addressing earnings per share in terms of non-GAAP. To put it candidly, the real GAAP earnings for Salesforce are too embarrassing to discuss. Also, there is no shareholder value being returned via dividends or share buybacks, and it certainly is not coming from real income.
With this said, where's the real value? Salesforce.com income isn't relative to its market capitalization nor has its price-to-earnings ratio ever been relative to its competitors, averaging a multiple in the hundreds. Salesforce appears to be trading on hopes and headlines such as "revenue growth of +32%" when revenue growth is not even relevant because profits aren't keeping pace.
In conclusion it seems that some of the craziness of the late '90s still remains today and is showing itself in the guise of Salesforce.com. The company has departed all standards of value and is only worth as much as what the next person is willing to pay for it. This article has not been intended as an immediate short play. Although the current valuation of Salesforce.com is irrational, it is uncertain when the stock price will come back to reality.
Disclosure: I have no positions in any stocks mentioned, and no plans to initiate any positions within the next 72 hours. I wrote this article myself, and it expresses my own opinions. I am not receiving compensation for it (other than from Seeking Alpha). I have no business relationship with any company whose stock is mentioned in this article.