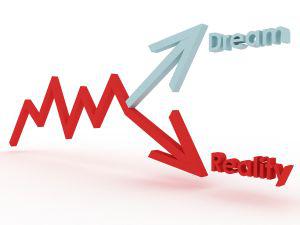 Well, I thought I had Cyberonics (NASDAQ:CYBX) figured out. As described in my previous articles (latest: Cyberonics Reports Outstanding Earnings - Now What?), I felt the stock was shaking off its short seller induced drop. That would allow fundamentals to take over. Through last Friday (2/22) that view seemed to be working, but then along came this week's poor stock performance.
This week was a critical one for CYBX, with four hurdles the stock should have jumped. Instead, it fell flat on all four. This graph gives the story (previous comments in orange; latest comments, listing the four hurdles, in red).
(Stock chart courtesy of StockCharts.com)
Hurdle #1: We should have seen the price continue Friday's rise based on the excellent earnings report. The rise should have been in line with past report-driven performance or better. Instead, nothing.
(Data source: Yahoo! Finance historical prices)
Hurdle #2: We should have seen some positive reaction to Wednesday's (2/27) CEO and CFO presentations at two NYC brokerage conferences. (Especially since Wednesday was a large up day in the stock market.) Instead, nothing.
Hurdle #3: I fully expected to see a significant drop in the short interest. Instead, it stayed high and even increased a bit.
(Stock chart courtesy of StockCharts.com)
Hurdle #4: There are two important technical indicators that would give traders and investors an indication of stock improvement: Rising above that -20% drop level and the 200-day moving average. Instead, another week of treading the same ground.
The bottom line
Cyberonics' fundamentals notwithstanding, CYBX failed to perform this week. Is there something wrong that we don't see? Perhaps, because the short interest remained high. While the published short seller report was weak, perhaps there is something else amiss. Or, maybe it's simply going to take longer for the 25% drop's bad taste to get out of investors' mouths. Whatever the reason, with my expectations unfulfilled, I prefer to sell and look for other opportunities about which I can be more confident. That feeling is especially strong given my view of the stock market now (see 4-Year Stock Optimist Turns Negative - 4 Signs Market Is On Thin Ice).
Disclosure: I have no positions in any stocks mentioned, and no plans to initiate any positions within the next 72 hours. I wrote this article myself, and it expresses my own opinions. I am not receiving compensation for it (other than from Seeking Alpha). I have no business relationship with any company whose stock is mentioned in this article. Portfolio holdings: None. 100% in cash reserves