With some recent portfolio activity and the ensuing slide in the markets, my cash is at a level where I believe it to be prudent to soon put more money back to work (if only to test the waters). The question, of course, is how to accomplish that.
I am of two minds in terms of buy-and-hold with equities at the moment – the traditional side says that there are plenty of places to invest now that will offer something better ten years out, and to just close my eyes; the more confident side says that there are (and will continue to be) enough places to add value through more active management, and to be willing to shorten my holding time frame with that in mind.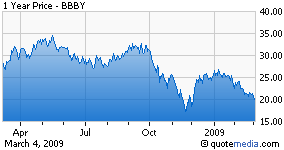 The risk/return environment on the equity side has been exceptionally lousy since September 2008, and the swimming was largely upstream for about a year prior to that. Moving up in quality has helped my portfolio, but I try to be objective in forward-looking allocations rather than slavishly basing decisions on what has worked in the past. This has led me to believe that, although there are plenty of stocks offering potential returns in the 20%+ range, they also trade at valuations leaving substantial downside in the intermediate term – and these are not levered companies.
One suggestion I've received (highly regarded) is to simply look at what kind of earnings power and prospects a company will have about five years out, and what kind of price that will deserve. Now, quarterly earnings estimates – as well as the appropriate multiple to apply – have proven incredibly difficult to pin down, so this makes a fair degree of sense. And, in order to manage the interim risk and add some degree of confidence to future estimates, I have decided to focus on two kinds of (unlevered) companies: those who will benefit directly from the bankruptcy of their competitors, and those with exceptionally strong brands but broken stocks.
In the former category, I place a company like Bed Bath & Beyond (NASDAQ:BBBY) – see a recent discussion of earnings here. Earnings of late have been under pressure from consumer spending, in addition to the liquidation of competing home goods retailer Linens n' Things, which recently finishing winding down operations. With the proximity of many former Linens locations to existing Bed Bath stores, the incremental earnings opportunity is estimated to be between 20 and 50 cents per share, and, this can be realized with only limited marginal capital investment.
More discretionary consumer retail has been facing plenty of headwinds, and it will certainly be that way for some time. Setting that aside for a moment, Bed Bath is an established and well-capitalized leader in their space – and although their flagship store concept may be approaching the point of market saturation, there could be value from a cash cow perspective. At the very least, the company has done a good job over the past decade earning a consistently high spread over its asset base.
click to enlarge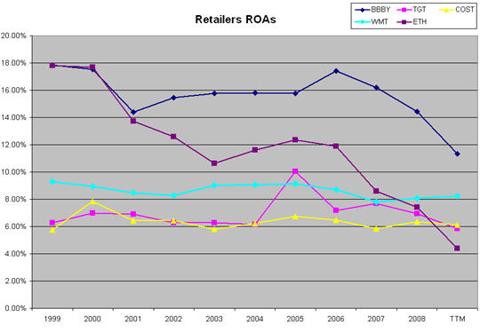 Click to enlarge
This high ROA has allowed Bed Bath to earn a very high ROE with little leverage; as the chart below shows, the financial leverage multiplier used in DuPont analysis has been under 1.5x. This compares to the previously depicted retailers, who typically have a leverage multiplier of 2x to 3x.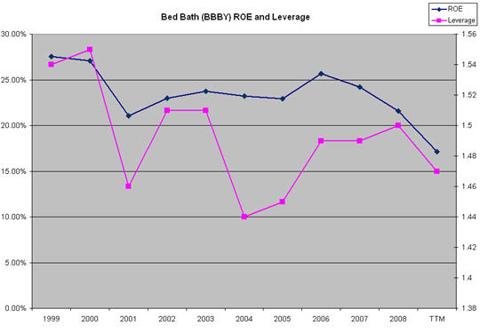 Click to enlarge
As Bed Bath slowly redeems its auction rate securities, the company can operate a moderately more levered capital structure – as well as shift its focus away from growing store base to improving operations management. Another upside to returning capital to shareholders and continuing to target lower inventory per square foot will be better asset turnover, which has crept up off its low hit in 2005 but nonetheless is still in the bottom range of its range for the decade.
Putting the figures together, profit margins are contracting – but even assuming they fall below the historical rate, a 5% net range is not unreasonable. Improving asset turnover by 10% puts it at approximately 2.0, and a modest increase in leverage to 2.0x yields a long-term ROE estimate of 20%. At current prices, that means BBBY could offer long-run average annual returns of 10% to 12% - not spectacular, but very solid.
In the intermediate term, of course, owners of BBBY have to contend with a harsh environment for equities. At just under 2x book value and with earnings undergoing contraction, there could be plenty of downside here and the risk/reward looks unfavorable relative to distressed preferred stock or debt. Thus, though I'm not planning on purchasing BBBY at present, a company with this kind of industry positioning and dynamics is one area I'm looking… and hopefully this provides some insight to my equity evaluation process.
Disclosure: None