Last month in the story "Winners in Automotive Retail", the strong market for replacement automobile parts was discussed. Recent reports on AutoZone's (NYSE:AZO) February data, as well as the recent report on the firm's last quarter results, "AutoZone profit beats estimates; shares rise", reveal that this trend is likely to continue.
MSSI statistics from February show that monthly spending at the retailer has increased 6.93% in the last three months and 17.52% from February '08.
click to enlarge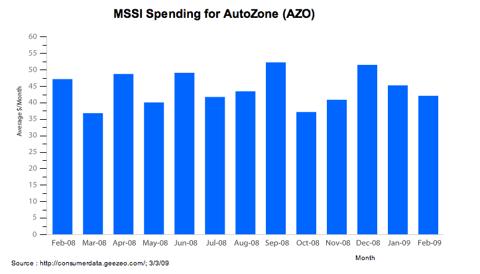 Click to enlarge
While year on year data shows that spending has indeed declined by 10%, the economic conditions present are keeping AutoZone's revenues steady compared to automakers like Ford (NYSE:F) and GM (NYSE:GM).
Consumers are visiting the retailer's locations more, with the average visits per month raising about 18% from January 2008. With large-scale purchases being pushed back more and more by the average American, maintaining already owned items has become more and more important. This can be seen across all sectors, not just automotive retailers, but expect firms like AutoZone, who have paid close attention to their balance sheet, to prosper.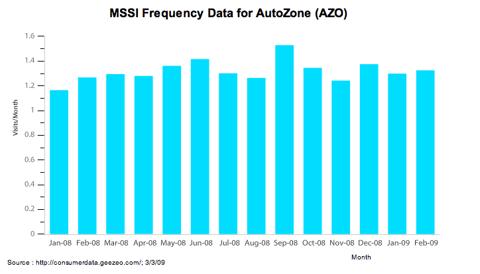 Click to enlarge

This data was compiled by the Geezeo Main Street Spending Index (MSSI).