Competition in the smartphone market is fierce. There are many big players in this game and they are very good at what they do. Apple's (NASDAQ:AAPL) iPhone was a game changer. Samsung's ability to copy and master manufacturing efficiency has made them the biggest vendor in the world. Blackberry (NASDAQ:BBRY) is doing all it can to regain traction. And the once great Nokia (NYSE:NOK) has seen its pps go from 60 to less than 2 dollars in just a few short years (currently hovering under 4). There was even talk once of Nokia going bankrupt.
But now that CEO Stephen Elop has cut back on staff, killed the Symbian platform, and revamped the product line, the 143 year old Finnish company is staging a full-steam-ahead plan to get back in the game.
A long term investor has to consider many factors when deciding if to invest in a specific company. Quantitative fundamentals are numeric, measurable characteristics about a business such as revenue, profit, and assets, to name a few. Qualitative fundamentals are less tangible, such as the quality of the board, key executives, and brand name recognition (from advertising and marketing efforts). Some tech experts actually think that part of Apple's success is, in part, because of their great marketing.
So, a long term investor needs to consider the qualitative factors such as how the company is managed, who is the CEO, what kind of track record does he/she have, how good is the sales team, is the advertising and marketing strong and penetrating?
The point of this article is to provide some insights into the qualitative fundamentals regarding the strength of the marketing for the Lumia 920 in China. It's also to clear-up some misunderstandings about the pricing of the 920. It's not actually "free" as you will see later.
Since I live in Shanghai, I decided to visit a few stores. I took my knowledge and experience in research and put it into action. (I won't bore you with the details of the methodology here, but let me explain that I have an extensive background in research.) My research assistant and I visited 31 China Mobile stores in Shanghai over a period of several weekends. We chose China Mobile locations in the 5 main shopping areas in Shanghai, including the China Mobile flagship store, and the Nokia flagship store. The fundamental issue was, is Nokia doing a good job marketing the 920?
As to the actual pricing plan, it is a bit different than what you may have read in other articles. A scan of the pricing plan can be seen below. Look at the first column, 4th row from the bottom. In order to get the 920 "free" you must sign an 18 month contract and pay a 4599 CNY (around 740 USD) "deposit" (nonreturnable). You will get the phone and 498 CNY (around 80 USD) worth of calling credit each month.
So, when you read that the Lumia is "free", that is not entirely accurate. You must still pay a large sum to get the phone, up front. If you use all the calling credit given each month then it is a very good deal, but not really free in the sense that the customer walks in the store and gets a new Lumia without paying anything.
When I read about the deal with China Mobile months ago, I really thought it was some kind of special partnership and that Nokia was going to get special treatment from China Mobile. However, Samsung has the very same pricing plan as Nokia. The Samsung name is actually on the same sheet of paper as Nokia. See the upper right hand corner. It's in Mandarin, but it says Samsung 9308 and N7018 (both Samsung models).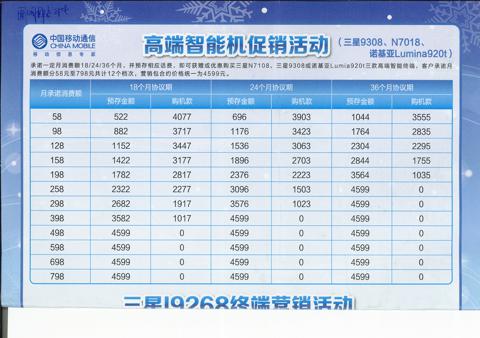 Posters: There were 2 types of Lumia 920 posters. One type stands alone and is approximately 6 Ft. tall and 2 Ft. wide. The other type is about the size of a standard A4 sheet of paper and on foam board sitting on a counter or display case.
Out of the 31 China Mobile stores we visited, 11 of them had absolutely no Lumia posters at all. Neither large nor small. Ten stores had at least one large poster, and ten locations had at least one small poster. Only four locations had more than one large poster. However, in every store, there were Samsung posters everywhere.
We also made note of the placement of the posters. In every location we visited the Lumia 920 posters were poorly placed. None of the posters were located near the entrance, and at one of the flagship China Mobile stores there was only one large poster in the whole place. And it was all the way in the back. It was literally the last poster we saw and was squeezed between two other competitors' posters.
At another China Mobile location, we saw several very large signs on the walls (12 Ft. long x 5 Ft. high). The signs are large, framed by metal and lighted from behind. Several of Nokia's competitors had this type of sign. They look very nice and bright, except for the one for the Lumia 920. That sign was down a hallway that no one uses, and, half of the sign was covered by a large potted plant! No kidding!
Take a look at the photo below.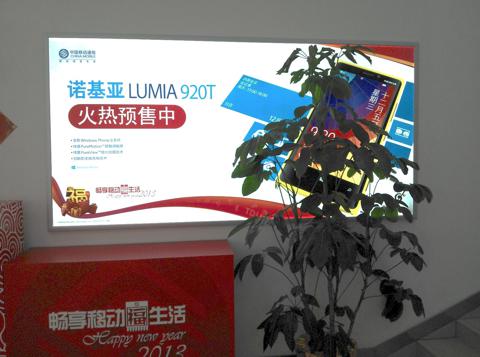 Display phones: There are 2 types of display phones. One is a working phone attached by a cord to something. The other type is a "toy phone" because it does not work and it is usually in a glass display case.
In 24 of the 31 stores we visited there were absolutely 0 sample 920s on display for customers to touch and play with. Zero. In 22 of the 31 stores there were not even sample "toy phone" 920s in glass display cases.
Salesperson questions: After making notes on the posters and number of Lumias on display, we approached the nearest salesperson and asked a very general opening question "Do you have any specials on Smartphones?" Almost all of the salespeople said "no" and none of them mentioned Nokia.
Next we asked the salesperson, "Which Smartphone has the best camera?" We asked this question for obvious reasons. Nokia is trying to highlight the fact that the Lumia 920 camera is the best in brand and distinguishes it from rivals. Well, listen to this; of the 31 salespeople we asked, 24 of them said Samsung. None of the salespeople said the Nokia Lumia 920 had the best camera. Absolutely zero.
Other observations: On the positive side, when we went to the Nokia flagship store near People's Square, one of the most popular shopping areas in Shanghai, it was as crowded as it could be. The store had at least four 920s available for customers to play with and around 30 other models for use as well. The store was crowded and every phone was being handled by customers.
In sum, the results of this field research are quite surprising, and a little disappointing. Nokia's toughest competitors are very visible in the China Mobile stores, whereas some locations do not even have a Nokia sign…not even one. The placement of these posters is often very poor, whereas our competitors' posters hit you as soon as you walk in the door. What was most disappointing was that fact that not one salesperson said that the Lumia 920 had the best camera.
Based on what I have learned about Nokia's marketing efforts, I am a bit skeptical of the near term pps. It's difficult to give a clear-cut answer to the title of this article. The only thing to hope for is that the lack of marketing in the stores is intentional because of the supply issue. Why spend money on marketing if the customer cannot get their hands on the product?
For this reason, my recommendation is to hold-off on adding to your position until the supply issues are clearly resolved and we can see what real marketing efforts Nokia has planned. At this point in time, neither of these matters look good for long term investors. Don't take marketing for granted. The Smartphone market is very crowded, noisy, and competitive. If Nokia can't market well, make the Lumia 920 stand out from the clutter, it doesn't matter how good the 920 is.
In the next article I will reveal the results of the second half of our research. After we asked about which phone had the best camera, we then asked a few more questions, including "Can I buy a 920? How many 920s have been sold at this store in the last 6 weeks? How many 920s have been received in the last 6 weeks? And, please rate the degree of consumer demand/interest in the 920 from customers (1=no interest to 5=huge interest). We also went to the Nokia flagship store in People's Square and asked about those long lines of customers waiting for the Lumias that we have all been hearing about. We will share those results in the next article. See you then!
Disclosure: I am long NOK. I wrote this article myself, and it expresses my own opinions. I am not receiving compensation for it (other than from Seeking Alpha). I have no business relationship with any company whose stock is mentioned in this article.
Additional disclosure: I currently have a small position in Nokia and may add to it if the pps keeps dropping.