While economic news remains gloomy for U.S. investors, some ETF investors are looking abroad for new opportunities. Israel's relatively low exposure to the ongoing U.S. financial crisis has driven some foreign investors to consider the iShares MSCI Israel Capped Investable Market Index Fund (NYSEARCA:EIS), iShare's MSCI-based Israel offering. As Israel's leaders debate the best course for the choppy global market, components of EIS could continue to benefit in 2009 from ongoing needs internationally as well as from changing U.S. policy.
EIS, like other iShares funds that isolate slices of the MSCI spectrum, seeks to be representative of Israel's economy while taking into account investment limitations.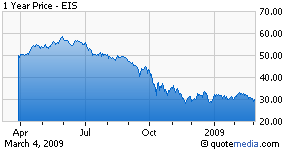 Components of the fund are selected based on their size and capitalization, but no single component can compose more than 24% of the ETF. EIS's liquidity could be a concern for some investors—the average daily trading volume for the ETF over the past three months has been only 41,000 shares. EIS's competition, Northern Trust's TAV, was forced to fold in early February, due to a lack of investor interest.
Israel's stock market has evolved quickly to become a greater part of the world economy. The Tel Aviv Stock Exchange recently announced that options on several of the exchange's largest securities would begin trading at the end of March. Three out of the four individual securities that will have options market makers—Bank Leumi (LUMI.TA), Bank Hapoalim (POLI.TA) and Teva Pharmaceutical Industries (NYSE:TEVA)—are currently included in EIS's top ten holdings.
Like other emerging markets indices, however, the Tel Aviv 25 Index has faced challenges in recent months and still potentially faces setbacks in the months to come. On March 1, Jordan Kotick, a technical analyst for Barclays Capital, suggested that further weakness could be seen in the country's lead index if the technical level for the Tel Aviv 25 breaks below 630 points. If the index falls below this important technical level, Kotick suggests that index lows experienced in November 2008 could be tested again. The Tel Aviv 25 Index is currently holding around 645.
While the Tel Aviv indices have responded negatively to the sharp February drop in the Dow Jones Industrial Average, real estate prices have continued to rise in several key areas of Israel's market. Despite the fact that the land is not yet available for development, a plot of land in Hamedina Square recently sold for $6,000 per square meter. Even for the plot's location, in the heart of Tel Aviv, the price is extremely high.
With global recession and eligibility setbacks, Kfir Zohar, Anglo-Saxon franchisee for Tel Aviv, cites two reasons for the recent 35% jump in price for land in this location. Zohar's first explanation is the slow bureaucratic process involved in developing the land, and the second reason cited involves the strategic location of the plot in relationship to the city. While many hurdles still hamper business development in Israel, rising land prices have given some of the country's investors hope in the global meltdown.
Teva Pharmaceutical, the largest component in EIS, had tested a 52-week high of $49.58 and a 52-week low of $35.89 and closed March 2 at $44.58. By technical measures, the company appears strong, and S&P recently gave the shares a very positive five-star rating. Analysts are suggesting that President Obama's new policies toward generic biotech drugs could benefit TEVA in 2009 if Congress helps to establish a regulatory pathway for generic companies. The difficulty in this process lies in the biotech drug developer's ability to effectively reproduce its own drugs—a necessary step if these drugs are going to become generic. If companies like Genzyme (GENZ) are able to successfully reproduce and manufacture their drugs in the future, the upside for generic versions from companies such as TEVA could increase with the implementation of Obama's stimulus plan.
While growth in the software industry has slowed with economic conditions, securities such as number two holding Check Point (NASDAQ:CHKP) are betting that consumers will continue to spend money protecting computer information. CHKP, a developer of firewall and security monitors, is among the five companies in IBD's software sector with a capitalization of more than $1 billion. On Friday, February 27, CHKP announced the development of a new security system designed to protect Microsoft Excel users.
In addition to EIS's liquidity shortcomings, prospective EIS investors should be mindful of security-specific risk. While no single component in EIS is permitted to compose more than 24% of the fund, the current top component is close to the maximum, composing 23.41%. EIS's top five components make up nearly 55% of the fund, so the price of the ETF will tend to track those top five securities closely. Investors should keep an eye on the top components, mindful that any major news events in these companies could impact the overall price of EIS.