Depomed (DEPO) is a specialty pharmaceutical company with three approved and marketed products: 1. Gralise tablet, a once-daily formulation of gabapentin for the management of postherpetic neuralgia. 2. Zipsor (diclofenac potassium) Liquid Filled Capsule, a non-steroidal anti-inflammatory drug (NSAID) indicated for relief of mild to moderate acute pain in adults. 3. Glumetza, a metformin hydrochloride extended release tablet, which is approved for use in adults with type 2 diabetes and is commercialized by Santarus (NASDAQ:SNTS) in the U.S. The company's product pipeline also comprises Sefelsa, which completed three Phase III clinical trials for the treatment of menopausal hot flashes, and DM-1992 that is in Phase II clinical trials for the treatment of Parkinson's disease.
The U.S. Food and Drug Administration (FDA) has set March 4, 2013, to discuss Sefelsa's approvability at the FDA advisory panel. The FDA has also established May 31, 2013, as the PDUFA date for Sefelsa.
In order to reveal the opportunity and the potential behind Depomed, I held an exclusive interview this week with Mr. Scott R Henry, CFA, Head of Healthcare Research, and Senior Research Analyst at Roth Capital Partners. Mr. Henry came to Roth Capital directly from Oppenheimer where he led coverage of the US pharmaceutical sector, and he brings 12 years of sell-side experience. He has also been affiliated with Thomas Weisel Partners, ABN AMRO and Leerink Swann & Co. His universe included specialty pharmaceuticals, large-cap pharmaceuticals and biotech, along with selective medical device names.
Ben Yoffe: Mr. Henry, the FDA's Reproductive Health Drugs Advisory Committee will discuss the Sefelsa NDA at an Advisory Committee meeting scheduled for March 4. Can you summarize the key issues likely to be at the meeting?
Henry: As always, a drug approval comes down to risk/benefit or in other words "safety" versus "efficacy." For Sefelsa, the FDA reviewer documents are now available.
I believe that safety is satisfactory. There is a spike in suicidal ideation, which will likely generate discussion at the meeting. However, the Division of Psychiatry Products only recommended standard class labeling, which would be acceptable, and likely expected for Depomed. Given that gabapentin, and this formulation specifically as Gralise is already on the market, I do not view safety as a dealbreaker.
Efficacy is the larger hurdle. The clinical package for reducing hot flashes appears convincing at 4 weeks of data, but the benefit is more marginal, and not statistically significant, at 12 weeks. The key issue appears whether having a non-hormonal drug approved with only 4 weeks data is better than the alternative of only hormonal products available. The committee will weigh heavily on how important it is to have this drug available on the market. The committee will also pass judgment on a few of the different types of analysis used when evaluating these efficacy parameters.
Yoffe: What is the probability of a positive outcome?
Henry: I continue to view this panel as a coin flip or 50% chance of a positive outcome. The failure of 12-week efficacy to meet significance is the "bear" case. The decision to have a panel even though the 12-week endpoint was missed (why bother if the drug had no chance?), and the limited non-hormonal options currently are the "bull" cases. Our conviction in either direction is limited.
Yoffe: Based on your model, how many sales could Sefelsa reach?
Henry: I view peak sales for Sefelsa in the range of $150 million, which is dependent upon marketing efforts. We continue to view this product more as a call option with it only accounting for $0.50 of our $9.00/share price target.
Yoffe: Let's discuss a little about the company's PHN treatment Gralise. How are the sales in the U.S. so far? Have they met your expectations?
Henry: I would categorize the Gralise launch as solid, but at the lower end of expectations. Our 2013-15 revenue targets for Gralise are $42 million, $83 million, and $134 million. So far, this product remains in the "single" category.
Yoffe: How strong is Gralise's patent protection?
Henry: I would categorize the Gralise patent protection as improving. Multiple generic filers have already dropped their challenges, and I would categorize the remaining threats as capable of being settled. Orphan drug exclusivity remains a wild card that I assign ~50% probability of occurring, although the market probability of orphan drug exclusivity is probably closer to 10%, in my opinion.
Yoffe: What can you tell us about the company's other products, Zipsor and Glumetza?
Henry: Zipsor is a relatively minor product, sub $30 million. The prescription data has been flat to down as of late. However, the return on investment for this in-licensed product is likely to be high given a low initial payment for the drug. DEPO would do this deal many times over, in my opinion, if available.
Glumetza, on the other hand, is a key driver for Depomed. The company receives royalties from Santarus for this diabetes drug. I calculate that this income over the 2013-15 time period could be $55 million, $60 million, and $65 million. I value this royalty stream at $3/share.
Yoffe: What is your impression of the company's Phase II data for DM-1992 in Parkinson's disease?
Henry: I thought it was more ambiguous than I would have preferred. Pending greater clarity into the future of that program, I would view this program as an immaterial driver.
Yoffe: What is the financial picture for Depomed?
Henry: Solid. Cash on the balance sheet of near $87 million, and expected to turn cash positive in 2013. The main risk, in my opinion, to the balance sheet could be launching Sefelsa without a marketing partner, which could be a good or bad thing.
Yoffe: In closing, what is your rating and price target for DEPO?
Henry: I value shares at $9/share based on a sum-of-the-parts analysis. Key contributing parts include Glumetza ($3/share), Gralise ($2.25/share), Cash ($1.25/share), Zipsor ($0.50/share), Sefelsa ($0.50/share), rest of the company ($1.50/share). I believe that the other royalty streams (Janumet XR, Nucynta ER) that are included in the $1.50/share "rest of the company" basket could be underappreciated by investors.
Note that the Sefelsa contribution is minimal at this point in time, which means the pending FDA panel is not core to my investment thesis.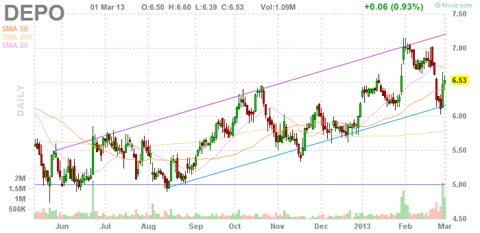 Disclosure: I have no positions in any stocks mentioned, and no plans to initiate any positions within the next 72 hours. I wrote this article myself, and it expresses my own opinions. I am not receiving compensation for it (other than from Seeking Alpha). I have no business relationship with any company whose stock is mentioned in this article.