Let's pretend you have a widget maker that is one of the best and most recognizable widget makers in the world. The number of competing widget makers is limited with few, if any, new companies looking to make widgets. Meanwhile, demand for widgets has been quite strong - growing faster than capacity can keep pace. As a result, inventories are lean and depleting as demand grows. Therefore, when it comes to estimating sales of a company that sells everything it makes, it becomes a simple question of how many widgets did the company make and at what price did it sell them. Then, for the bottom line, you merely need to estimate its costs and for the next quarter, it is once again a question of how much can the company produce.
That pretty much describes Smith & Wesson (NASDAQ:SWHC), the maker of rifles, handguns, and accessories. Demand for firearms has been quite strong for the past 15 months or so and the companies making them have had trouble keeping up with demand. This has held true during the most recent quarter as well. Thomas Millner, CEO of Cabela's (NYSE:CAB) said they saw "a surge in the sale of firearms" late in the quarter. Big 5 Sporting Goods (NASDAQ:BGFV), the fifth largest seller of firearms in the nation, recently beat expectations and raised guidance due to continued "abnormally" high demand for firearms. It is also an industry practice to raise prices at the beginning of each year, and that has been the case this year with demand so high. Therefore, the only question about sales during the quarter for Smith & Wesson is how many widgets it was able to make.
Mike Greene at The Benchmark Company said Smith & Wesson is doing everything it can to increase its capacity as fast as it can, but it can only sell what it can produce. For the fiscal third quarter, Smith & Wesson provided guidance for sales of $126.0 million to $131.0 million, which is down sequentially because it is ending its Walther business and because some of the company's recent capacity expansion has been through outsourcing, which may have been impacted by Hurricane Sandy at the start of the quarter. So, to the extent the company is able to exceed this guidance depends greatly on its ability to replace lost production in addition to its expansion. Since the company uses more outsourcing than some of its peers, it is more capable of doing so. It is worth mentioning that last quarter the company was able to produce and sell $1.6 million more than the high-end of its guidance range despite its regular two-week shutdown in production, and that brought total sales to $136.6 million. That, combined with its continued efforts to expand capacity, put the risk to the upside this quarter without such a shutdown. This is starting to get factored in though because the consensus revenue estimate has recently ticked higher from $131.1 million to $133.7 million. Still, whispered expectations are for a number north of $134.0 million.
The bottom-line has even more upside though. To begin, the company's guidance was for earnings of $0.19 to $0.21 per share. Smith & Wesson CFO Jeff Buchanan said that share buybacks were not factored into the company's guidance, but the company was authorized to buy up to $20 million worth of shares at the time of guidance. Then came the disastrous shootings in Connecticut that resulted in many large shareholders bailing on the gun maker's stock. A few days later, Smith & Wesson's board had authorized the company to buy an additional $15 million in shares - suggesting that the company defended its stock around the $8 range. Therefore, the company may have reduced its share count by up to 2.5 million, adding a penny to the bottom-line on a per share basis. In addition, the company has been able to expand margins even before its likely price increases at the beginning of January (the fiscal quarter ended on January 31, 2013). Margins are also expected to increase sequentially, so an upside to sales expectations will have an even bigger upside on earnings than in previous quarters.
The company said it expects operating margins to near 20%, which brings operating income to $26.9 million using $134.5 million in revenue. Assuming a 36% income tax rate, it results in net income of $17.2 million. With the share count likely dropping from 67.274 million to less than 65 million shares, we can back into the Earnings Whisper ® number of $0.27 per share. The consensus earnings estimate is $0.23 per share.
With the earnings announcement, the company will provide an update to its fiscal year guidance, which will likely include more specific fourth quarter guidance. The guidance will be dependent on the company's ability to boost production, because demand remains strong. It will also depend on its margin goals. Looking farther out, the chart below shows earnings estimates for fiscal 2014, which the company will guide towards when it reports fiscal year results in June. There is no evidence at this time for a slowdown in sales, so assuming sales are flat in fiscal 2014 and the company meets its operating goal of 20% to 22%, then fiscal 2014 estimates need to be revised over the next few months to $1.13 per share. Since stocks are so highly correlated to earnings estimate revisions, that means new buyers are likely to come into the market.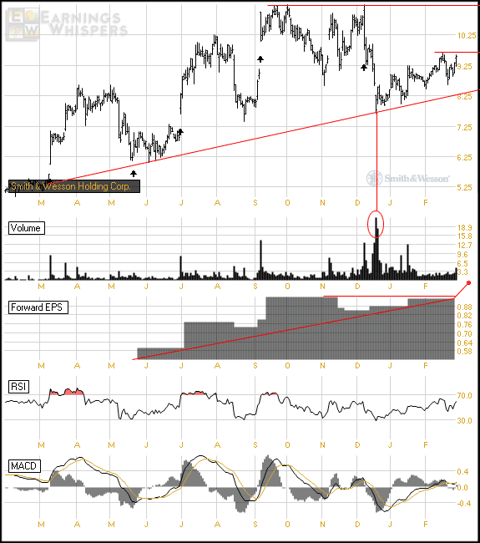 Click to enlarge
Since the stock has historically traded at 13.9 times forward estimates and estimates for fiscal 2014 are at risk of going to $1.13 per share unless something changes, there is fundamental support for the stock to see a $15 handle over the next several months. That is why last week after Big 5 Sporting Goods confirmed checks that demand for firearms has remained strong and is expected to continue into next quarter, we tweeted (something we have just recently started) that you should buy shares of Smith & Wesson ahead of its earnings release and we made the stock a long play ahead of its earnings release. This strategy is to buy the stock ahead of earnings in anticipation of a solid upside earnings surprise and look to sell either on the day before the announcement or at the open following the news. As of the close on Friday, shares of Smith & Wesson are up approximately 9.0% since our call. There is still another 14% or more upside room for the stock over the next few days if the company delivers.
Smith & Wesson is scheduled to report earnings after the market closes on Tuesday, March 5, 2013 with a conference call at 5:00 PM ET. The conference call will be made available here.
Shares of Smith & Wesson have been quite volatile in the past on earnings with an average price move of 11.4%. As of Friday, March 1, 2013, options were pricing in a 3.8% move, which favors buying the call ahead of earnings and as an Earnings Whisper Play, we suggested the in-the-money March $9 call, which opened at $0.50 on Wednesday, February 27, 2013 after we first suggested the trade. It closed on Friday at $1.00.
Disclosure: I am long SWHC. I wrote this article myself, and it expresses my own opinions. I am not receiving compensation for it (other than from Seeking Alpha). I have no business relationship with any company whose stock is mentioned in this article.
Additional disclosure: I will look to exit either before or after the earnings release.