INTRODUCTION:
Level 3 Communications (NASDAQ:LVLT), with few exceptions, has been burning through cash for most of its history. Investors have been waiting a long time for sustainable FCF (free cash flow) to arrive, only to be disappointed when it seemed just around the corner. Are we rounding that corner and how robust could FCF be? Why did interest rate swaps suddenly appear as a condition attached to 2013 FCF guidance? In an attempt to find answers we'll look at the business outlook presented by management and use this guidance as a framework to project 2013 FCF for each quarter and longer term annual FCF over five years.
OUTLOOK:
LVLT released its fourth-quarter and full-year results on February 12. The market was not pleased with results or comments relating to forward growth. Here are some highlights (emphasis added):
"For the first quarter 2013, we expect to see a slight decline in CNS revenue on a sequential basis, due to the typical reversal in the seasonally strong fourth quarter revenue. Adjusting for the special items in the fourth quarter, with the expected decline in CNS revenue and increase in payroll taxes, we expect Adjusted EBITDA to be roughly flat in the first quarter 2013 compared to the fourth quarter 2012."

"For the remainder of 2013, we generally expect sequential CNS revenue growth to be stronger compared to 2012. We expect low double digit percentage growth in Adjusted EBITDA, compared to full year 2012 reported Adjusted EBITDA of $1.459 billion. We expect to be Free Cash Flow positive for the full year, excluding interest rate swap obligations."

"GAAP interest expense is expected to be approximately $665 million, and net cash interest expense is expected to be approximately $645 million for the full year 2013. Capital expenditures are expected to be approximately 12 percent of total revenue for the full year 2013. Depreciation and Amortization is expected to be approximately $770 million for the full year 2013."

"Consistent with previous years, we expect a heavier use of cash in the first quarter 2013, primarily due to higher sequential cash interest expense, which is expected to be approximately $70 million greater in the first quarter 2013 compared to the fourth quarter 2012, as well as our annual bonus payments and other working capital requirements."
Consistent with recent history it's likely that Q1-2013 FCF will start out negative due to higher cash interest expense, annual bonus payments and other working capital requirements typical of Q1. There is a new condition attached to full year guidance, "excluding interest rate swap obligations." These swaps have been around since 2007; described in the 2012 10-K:
In March 2007, Level 3 Financing Inc. entered into two interest rate swap agreements to hedge the interest payments on $1 billion notional amount of floating rate debt. The Company had designated these interest rate swap agreements as cash flow hedges. The two interest rate swap agreements are with different counterparties and are for $500 million each. The arrangements began in April 2007 and mature in January 2014. Under the terms of these arrangements, the Company receives interest payments based on rolling three month LIBOR terms and pays interest at the fixed rate of 4.93% under one arrangement and 4.92% under the other.
Going forward the Company will reflect the change in the fair value of the swaps in "Other Income" in its Consolidated Statement of Operations until maturity of the swaps in early 2014. As a result the company recognized a non-cash loss of approximately $60 million in Q3-2012. The current swap liability was noted in the Q4 conference call:
We expect to be free cash flow positive for the full year, excluding any interest rate swap obligations. As of the end of 2012, we had a liability of $56 million related to the interest rate swaps.
The condition came as a bit of a surprise since many were expecting FCF to be higher than $56 million drawing questions on the conference call:
Colby Synesael - Cowen and Company, LLC, Research Division - I just wanted to get an understanding. It sounds like the free cash flow guidance, if you back out the interest rate swaps, is that you don't expect free cash to be greater -- free cash flow positive greater than $56 million. So I just wanted to make sure I understand that. And then, if that's true, it just seems a little bit low…
Sunit Patel - CFO did his best to back pedal although not very effectively:
But no, the interest rate swap excepting that out doesn't -- isn't meant to, in any way, signify that we are capped here or there at $56 million or any other number.
The market showed its surprise by sending the shares south by 13.6% on heavy volume on February 12. The issue followed the CEO when he presented at the Morgan Stanley Technology, Media and Telecom Conference on February 26:
Unidentified Analyst: As part of your guidance, you projected free cash flow generation in 2013, but I think there was some caveats around interest rate swaps, so maybe you can just clarify what the expectation should be for?

James Crowe - Chief Executive Officer: It was around that interest rate swap and whether we chose to settle it or not settle it. I want to be careful here. You know, a slight change in payables versus receivables, a particular bill that shows up on December 31 and gets paid versus January 1 can have a fairly big movement. I think what I would hope in the way we investors would focus on, and what we certainly look at, look at 2012, then'11 and '10, in 2012 we used 165 million of cash. So we had negative free cash flow of 165 million. If you look at our guidance, in 2013 we expect to be above the positive line. That is 165 plus swing.
Not exactly a ringing endorsement other than FCF will be above zero.
FCF ESTIMATES:
The company's guidance for growth and EBITDA expectations allow us to construct a 2013 income statement: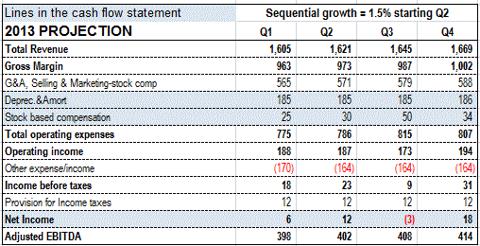 We now have important information to fill in some of the blanks in the cash flow statement on our way to FCF projections. FCF is defined as cash from operations minus capex. LVLT has provided capex guidance at 12% of total revenue. To get a better understanding concerning LVLT's cash use per quarter we can look at past results: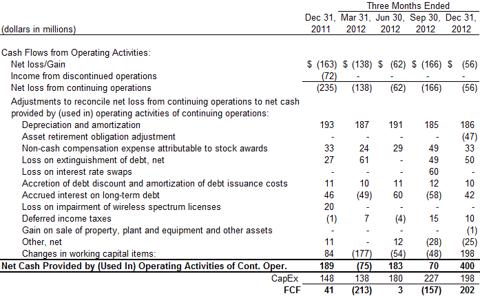 Consistent with guidance there is a high use of cash in Q1. Using results from the projected 2013 income statement and the cash flow history yields an estimate for 2013 FCF: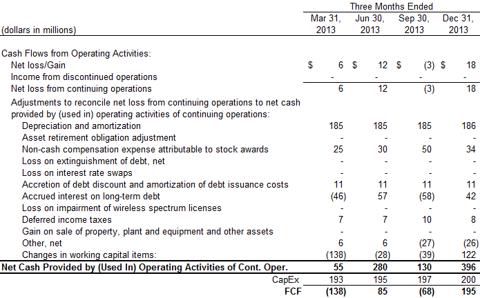 Estimated 2013 FCF is $74 million excluding the swaps; now a new source of concern.
CONCLUSION:
Anyone expecting 2013-Q1 FCF to be positive will likely be disappointed. The good news is 2013 FCF should be positive although much smaller than expected before the earnings release; assuming the swap liability does not increase. Interest rate swaps are financial derivatives being used as a hedge and can worsen if interest rates are volatile. Sunit Patel said on the Q4 conference call they do not see this occurring:
And I think, in terms of the fluctuation, unless interest rates move violently, we don't see that fluctuating much. We only have a little more than 1 year left on that liability, so don't see much variation there from interest rate changes.
It is curious management excluded swaps in relation to FCF unless they thought FCF is not going to be as high as most have thought and are trying to tamp back expectations implicit in their commentary. This analysis confirms that thesis.
There is one important lever management could pull. If they pull back on capex by 1% would increase FCF by as much as $65 million for the year.
Finally if management can ramp up revenue growth to their annual target of 8.2% (2% sequential quarterly growth) FCF will ramp as follows with the corresponding growth rates: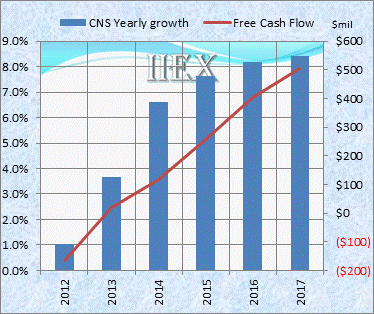 Reiterating a risk discussed in our last article LVLT has yet to establish a track record indicating sustainable revenue growth is ahead other than stating that is their goal.
Is Level 3 Communications on the cusp of sustainable FCF? It would appear they are closer now than at any point in their history.
A complete set of updated detailed financial data used in this article and longer term projections can be found here.
Disclosure: I am long LVLT. I wrote this article myself, and it expresses my own opinions. I am not receiving compensation for it (other than from Seeking Alpha). I have no business relationship with any company whose stock is mentioned in this article.