According to the Federal Funds futures as of March 1st, the Federal Reserve will increase the Fed Funds rate to 50 basis points (.50%) in October 2015!.
Earlier in February, see our article on February 15th, the 50 basis points level in the Fed Funds rate was embedded in the May 2015 contract. As early as last week, as we reported on February 26th, an increase to .50% in the Fed Funds rate was expected in September of 2015. Why is this important? The first increase in the Fed Funds rate (we assume to .50%) will mark the beginning of a gradual cycle of higher interest rates, the removal of monetary stimulus, and most importantly, the official end of the financial crisis.
Thus, there are two important messages for the market embedded in the Federal Funds futures. First, the financial crisis is far from finished and October 2015 can barely qualify as "the light at the end of the tunnel". Second, the economic expectations got even more bearish since mid-February.
So, what's the message for the markets? It appears that markets are inefficiently pricing the message from the Federal Funds futures - the stock market is near all-time highs, and gold is at the important technical support in a downtrend. Thus, we believe that stocks (NYSEARCA:SPY), (NASDAQ:QQQ), (NYSEARCA:DIA) will fail to breach the all time highs and enter a bear market - correction of 20% or more. Also, gold (NYSEARCA:GLD) is likely to bounce from the technical support at (or above) $1525 and resume an uptrend.
Figure 1. October federal funds futures contract. The implied interest rate is 100 minus the price (100-99.50=.50). Source CME Group.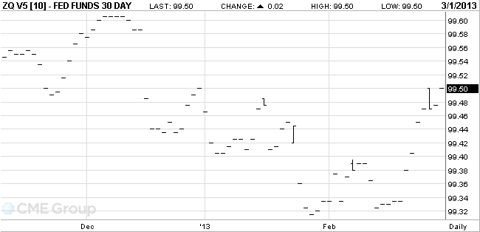 Disclosure: I have no positions in any stocks mentioned, and no plans to initiate any positions within the next 72 hours. I wrote this article myself, and it expresses my own opinions. I am not receiving compensation for it (other than from Seeking Alpha). I have no business relationship with any company whose stock is mentioned in this article.
Additional disclosure: Long gold futures, short call options on S&P futures.