Over the last few years, the Washington D.C. fear du jour has migrated from debt ceiling to elections and now from fiscal cliff to sequestration. A better term for the $85 billion triggering of automatic spending cuts (sequestration) may be "se-frustration" due to Congress's annoying inability to agree on a responsible approach to reducing our country's burdensome debt and deficits. The forced cuts getting crammed down our government's throat taste like bitter medicine, especially when the economy is limping its way back to a slow recovery (revised 4th quarter GDP growth of a meager +0.1%). Although the $1.2 trillion in cuts over 10 years may gag growth to an intensified slowdown, the good news is that the cuts will assist with the long-term health of the economy - even though most reasonable people agree there are more appropriate medicinal regimens to be offered.
The Se-Frustration / Sequestration Breakdown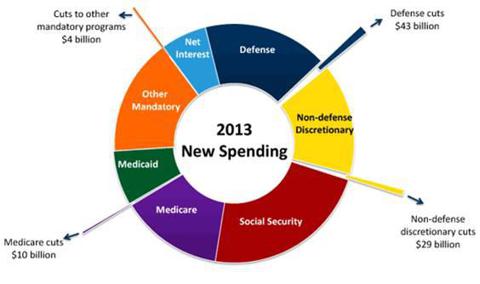 Source: Peter G. Peterson Foundation
As you can see from the pie chart above, the $85 billion in spending cuts (small slivers) associated with the sequester represent a relatively small fraction of our country's total $3.6 trillion federal budget. More specifically, the expenditure reductions equate to a meager 2.4% of 2013′s total spending tab. How is the $85 billion in painful spending medicine being administered? If Congress continues with this flawed solution, more than half of the cuts (~$43 billion) will come from defense spending.
For the balance of the cutbacks, discretionary spending is bearing the largest brunt of the austerity moves (~$29 billion). The main discretionary programs hit include scientific and medical research, national parks, education, food inspections, federal employee pay, law enforcement, grants to state and local governments, and the Head Start pre-school program. Notable exceptions to the reductions include military personnel, and Social Security beneficiaries. To a lesser extent, Medicare dollars will decline by about $10 billion, and a final miscellaneous mandatory program category will drop by approximately $4 billion.
Before you fall to your knees in tears of despair, let's put this se-frustration into better perspective. While $85 billion sounds like a lot of dough, the fact of the matter is our government is still running a $1 trillion deficit (i.e. spending > tax receipts). Even if we chose to have 10 sequestrations today, our country would still be running a deficit (see chart below):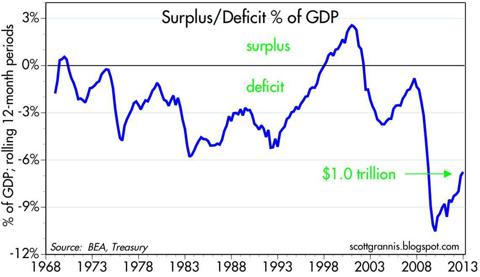 Source: Calafia Beach Pundit (Scott Grannis)
While the $85 billion in se-frustration pills taste bitter now, this far-from-ideal medicine will improve our fiscal health nonetheless. The elephant in the room remains our graying Baby Boomer population and associated explosion of Medicare costs, but a little bad medicine is still better than none.
Checkbooks Open as Merger Mania Materialize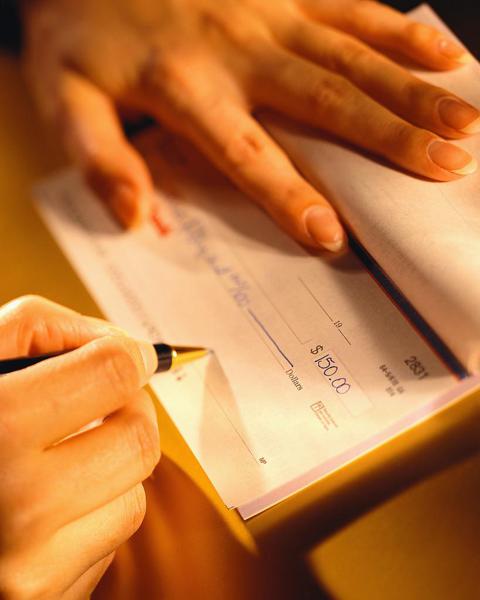 Corporations have been flush with trillions in cash over the last five years, but due to the uncertainty surrounding our economic recovery, CEOs (Chief Executive Officers) chose to keep their short arms out of their deep pockets. As we entered 2013, that mindset has begun to change. The inherent drive for companies to grow sales, earnings, and cash flows has finally surpassed the fears of contraction, uncertainty, and recession. How do we know the mindset has changed? One need look no further than the roughly $300 billion in deals announced in the first 60 days of 2013. Here is a partial sample of the higher profile transactions:
As you can see, the multi-hundred billion M&A boom of 2013 (mergers and acquisitions) has been on a tear. The fear surrounding executive board rooms has subsided, so the hunger for growth should be strong enough to keep the checkbook out and available for future company purchases.
Cornucopia Corner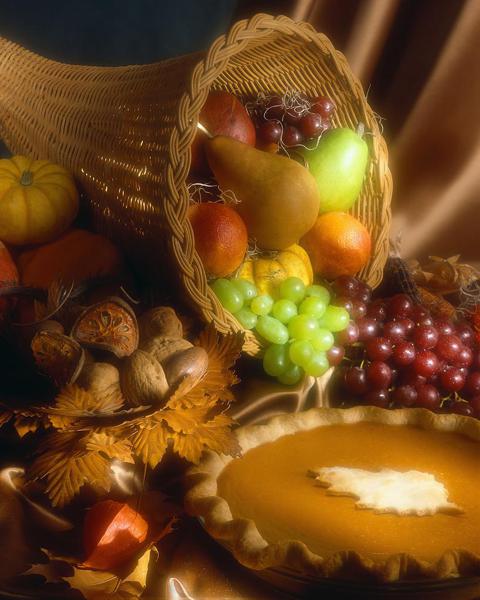 Here is a short list from an abundant set of stories over the last month:
Pope Retires: Pope Benedict XVI is resigning his Popemobile and red shoes to focus on reading and prayer. After eight years as an elected pope, the 85-year-old pontiff will be the first pope to resign since Pope Gregory XII, who stepped down in 1415.

Italian Election Like Messy Meatballs: Inconclusive election results have created a hung parliament with no signals of an imminent resolution. What's more, former Prime Minister Silvio Berlusconi is currently being investigated over bribery charges, and an Italian blogger/comedian has splintered election results further. One thing is clear, after two years of recession, voters are unhappy and want to reverse the government's austerity actions.

When Bernanke Talks, People Listen (Sort Of…): Federal Reserve Chairman Ben Bernanke updated Congress with his semi-annual testimony followed by answers provided to the House Financial Services Committee. I'm not sure what some Fed followers are smoking, but those worried about potential Fed policy changes have not been listening carefully to the Fed chief's consistent message of accommodative actions. Bernanke explicitly stated monetary stimulus will remain in place until unemployment reaches 6.5% and inflation exceeds 2.5% (neither target has yet been achieved).

Hedge Fund Managers Duke It Out Over Diet Shakes: Carl Icahn, Chairman of Icahn Enterprises, and junior Bill Ackman, CEO of Pershing Square Capital Management have recently fiercly debated the merits of Herbalife Ltd (NYSE:HLF). Ackman is short some 20 million shares and Icahn recently reported a 13% stake in Herbalife shares.

Russian Meteor: About 1,000 people were hurt when a meteor blasted over Russia.

North Korea Flexing Nuke Muscles: North Korea conducted its 3rd nuclear test and warned of more to come.
Disclosure: Sidoxia Capital Management (NYSE:SCM) and some of its clients hold positions in certain exchange traded funds (ETFs) and CMCSA, but at the time of publishing SCM had no direct position in BRK.B, HNZ, HRL, UL, T, VZ, CAR, ZIP, AMR, LCC, ORCL, APKT, DELL, MSFT, RDSA, Repsol, ODP, OMX, HLF, BUD, STZ, GE, or any other security referenced in this article. No information accessed through the Investing Caffeine (IC) website constitutes investment, financial, legal, tax or other advice nor is to be relied on in making an investment or other decision.