Groupon (NASDAQ:GRPN) will miss the vision and quirkiness of Andrew Mason. He created the daily online deals industry by finding a simple solution to a complex problem of monetizing trial. In his departure letter addressed to Groupon Inc.'s employees whom he called Groupon People he said "You deserve the outside world to give you a second chance. I'm getting in the way of that. A fresh CEO earns you that chance." His personality did not fit the dictionary definition of a CEO and he had become a convenient distraction for his detractors. I hope he does not turn out to be the distraction that was needed but unfortunately misunderstood.
If he is to be blamed for anything it would be that he never took the time to study the nuances of his business model before scaling it. Ultimately, the novelty factor dissipated and the cost of doing business with Groupon could not be justified for its business partners. It was always the business model, not the CEO, and I think they got rid of an excuse that never stopped giving. I argue that Groupon has performed very well within the constraints of its business model and the best the company can hope to get from a new CEO is better management of its operations.
The Groupon Model:
A Groupon is a coupon on steroids. They are both loss programs for merchants used to drive incremental sales, acquire and/or retain customers. With a coupon a merchant offers a discount off the sales price of a product or a service. The redemption rates and potential impact of coupons can only be accurately determined when a sales program is completed. With coupons, merchants bear the responsibility to set up a coupon program including administrative, marketing and pricing agreements. Customers who use coupons are responsible for everything in-between until they present the coupons at checkout.
Groupon Inc. took the coupon concept and made it foolproof for merchants and customers. It guaranteed merchants a minimum amount of sales (group purchases), took care of marketing, took care of monetizing the coupons (Groupons) and provided some customer data to merchants in exchange for very steeply discounted prices for their services. For example, a service that would typically cost $100 would be negotiated down to a $50 price that is offered to customers. Groupon kept half of the $50, meaning that the merchants are effectively offering their products/services at a 75% discount.
Instead of customers serendipitously finding coupons, Groupon Inc. structured the relationship and took happenstance out of it by sending deals to customers by email or through offers on their website. Customers could buy in advance and use at their convenience (digital or print) within a negotiated period. If Groupon Inc. was not able to sell a minimum amount, the deals were cancelled.
The Limitations:
The Groupon idea was always going to unravel in phases with the threat being that once the idea became mainstream, the fee structure would have to change.
Phase 1:
A novelty item and a unique way to monetize trial

Merchants and customers excited to be part of programs

Rapid adoption rate for marketing plans and attractive to small and big businesses alike

Short time frame does not allow merchants to test effectiveness of program

Rapid growth and scaling up for Groupon Inc.
Phase II:
Novelty/flash appeal wears off as daily deals become common

Merchants start measuring effectiveness of program

Pressure on Groupon Inc. to change product mix to keep customer interest

Merchant partners growth rate levels off

Competition and copycats emerge and dilutes the concept

Coupon issuers and other marketers adopt technology and fight back

Merchants struggle to retain customers due to substitution effect with similar offerings and customers unwilling to pay full price

Vendors push back on deal structures and fees

Groupon Inc. struggles to integrate acquisitions and contain expansion costs

High cash burn rate
Phase III:
Daily deals become ubiquitous and similar to coupons

Groupon forced to structure deals differently to retain merchant partners

Groupon Inc. prioritizes operational efficiency to growth

Alternative concepts emerge that drive trial (Foursquare, Facebook (NASDAQ:FB) etc.)

Consumers use Groupon for bargains rather than impulse

Revenue growth per customer flattens and overall revenue growth stalls
Performance:
Groupons performance has mirrored the phases outlined above. It started out with excitement and peaked at a market value of about $13B. Through many teething issues including accounting issues and a workforce that grew from 30 to 10,000 in about two years, its current market value is $3.35B.
The chart below shows a steady revenue growth which mirrored growth in its customer base and merchant partners. It also shows a steady growth in SG&A which turned out to be one of the sore points of Andrew Mason's tenure. Net income was always going to be a challenge as the company grew but continuous erosion of margins and an announcement of a change in the structure of deals with merchants at the last earnings call was the death stroke for Andrew Mason.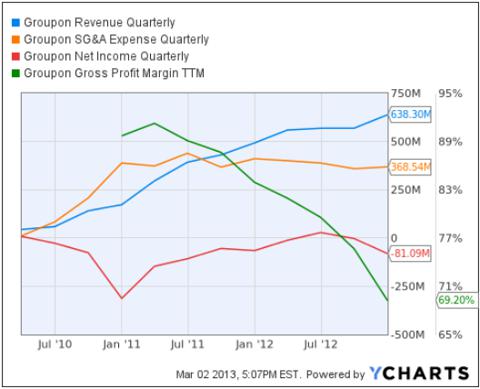 The stock has behaved similarly, except that it declined continuously through the year. It is currently trading below its 200 day moving average with a return of -73.44% in the last year alone. Per the chart below there has been a lack of consistent momentum on the buy or sell side leading to fluctuations in the price. I sometimes consider purchasing a stock by looking at the gap between a stock price and 52 week high. If the gap is huge and the event that caused the gap is not justifiable in my estimation, I do further research to validate my intuition. In Groupon Inc.'s case, the high was $19.88 but there is clearly no inertia right now to suggest that the stock can gain enough momentum to rally out of the constraint zones - upward and downward. Plus, I don't see Groupon Inc. becoming better with its current business model going forward. There are few options to become more profitable including SG&A reductions and finding other ways to monetize the traffic to its website.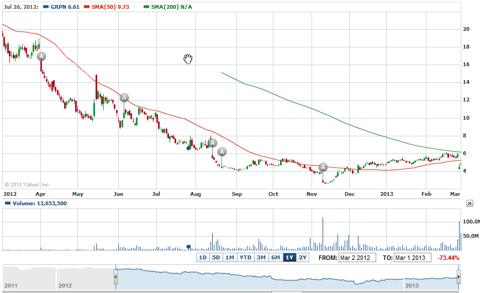 Source: Yahoo Finance
Conclusion:
I initially titled this article - From Coupon to Groupon to Croupon - because I believe the business model was too simple for coupons not to catch up to it. Coupons eventually did and customers got bored with the daily emails of similar items 5 times a week. It was always going to be hard to maintain excitement with offerings dictated by what vendors were willing to offer. Andrew Mason could have done better but you could say that about a lot of entrepreneurs and business leaders.
Groupon Inc. can only become a real company if it has some level of control of its destiny which today is in the hands of the merchants it partners with. When or if it decides to have more control of its fate, it will more than likely go the route of goods or getaways. This will put it in direct competition with Amazon (NASDAQ:AMZN) and Expedia (NASDAQ:EXPE) amongst many other established companies.
Andrew Mason may have made a lot of mistakes, but the most grievous of them is that Groupon Inc. grew too fast and destroyed a model that works better as a boutique rather than a mass retail model. Groupon got rid of an excuse, now it has nowhere else to hide.
Disclosure: I have no positions in any stocks mentioned, and no plans to initiate any positions within the next 72 hours. I wrote this article myself, and it expresses my own opinions. I am not receiving compensation for it (other than from Seeking Alpha). I have no business relationship with any company whose stock is mentioned in this article.