It is indeed the Year of the Worm. Last year, I wrote about Coronado Biosciences (CNDO) and "The Hygiene Hypothesis," a theory that explains why exposure to parasites and worms can be mutually beneficial for the survival of not only the worms, but also their human hosts.
Coronado Biosciences exists for one main reason: autoimmune conditions. The charts and diagrams posted in this article can be found on the company's website. Over the last several decades, as industrialized countries developed and improved their fight against "the bugs" with better antibiotics, anti-viral, and anti-worm medications, we claimed victory against bacteria, viruses, and parasites that have existed mutually not only in our environment but within our own body for thousands of years.
To our surprise, what we have also noticed is that while the battle is being won against the bugs, the incidence of autoimmune conditions has increased over time.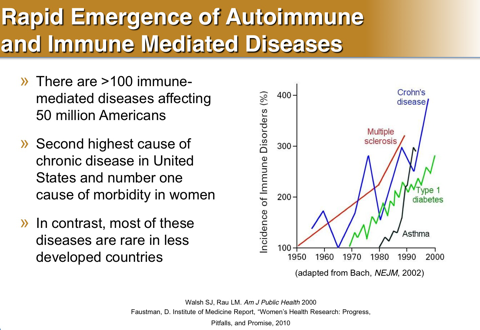 There are over 100 immune-mediated diseases; the ones that have emerged in the headlines cause high morbidity, mortality, and healthcare costs to our society. These include type 1 diabetes; multiple sclerosis; inflammatory bowel disease, including Crohn's disease and ulcerative colitis; and rheumatoid and psoriatic arthritis. Even the growing incidence of autism has been attributed to a possible immune-mediated disorder.
Autoimmune conditions are chronic. We have no "cure." The healthcare costs of treating these conditions are astoundingly high.
Abbott Lab's (NYSE:ABT) Humira, Johnson and Johnson's (NYSE:JNJ) Remicade, Teva's (NYSE:TEVA) Copaxone, Elan's (NYSE:ELN) Tysabri, Biogen's (NASDAQ:BIIB) Avonex, Pfizer's (NYSE:PFE) Rebif, Novartis' (NYSE:NVS) Gilenya, all represent billions of dollars of injectable treatment for autoimmune conditions.
Take, for example, the costs of treatment for just three conditions that require "injectable" medications (often lifelong) for maintenance treatment. We are looking at the treatment costs of only the U.S. and Japan as well as the prevalence of disease:

With these three autoimmune conditions alone, over $10 billion dollars are spent in the Annual Market Sales of medication treatments. This cost curve will only rise over time as the incidences of these autoimmune disorders increase over time, not only here in the U.S., but in developing countries around the world.
Notice the Distribution of Autoimmune Disorders around the world (see below); areas that have a high prevalence of autoimmune disorders have a low parasite/helminths infestations incidence.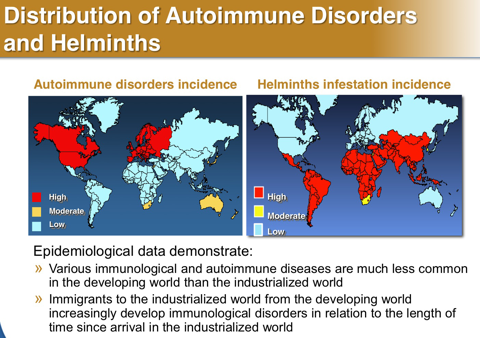 This is a very simple correlation: areas that have more worms equal less autoimmune conditions. Areas that have less worms equal more autoimmune conditions. Basically if you grew up in a "third world" country, your chances for worm infestation are high and your likelihood of developing an autoimmune condition is low.
Why do we see this correlation? The Hygiene Hypothesis explains that over the centuries, there has been a symbiotic, mutually beneficial relationship between humans and the "parasites" that live within us. In order for the parasite to survive inside its host, it "modulates" our immune system in a way that allows the host to live longer (and indirectly the parasites live longer). This "immune modulation" allows our immune system to not only avoid attacking the parasite, but prevents it from attacking our own bodies as well (autoimmune disease).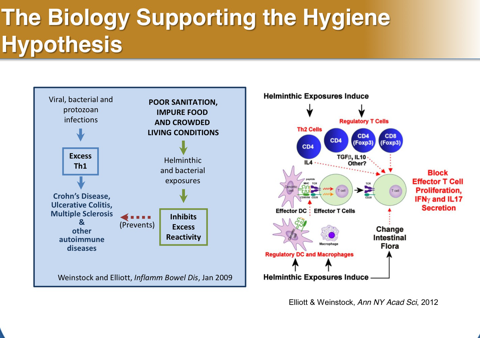 So what is Coronado Biosciences doing to address worms and autoimmune conditions? Well, Coronado has Pig Whipworm Eggs (Trichuris Suis Ova: TSO).
Four efficacy clinical trials have already been completed with positive results: TSO treatment in Crohn's disease, ulcerative colitis, multiple sclerosis, and even treatment of acute myeloid leukemia.
Here's a brief synopsis of these completed studies:
Multiple Sclerosis Study:
Five patients with MS brain MRI documented a mean of 6.6 MS brain lesions at baseline. Treatment with oral TSO was administered over three months. Follow up MRI after treatment shows the number of brain lesions decreased to 2.0. Two months after TSO discontinuation, the mean number of lesions rose back up to 5.8. No adverse reaction to TSO was noted.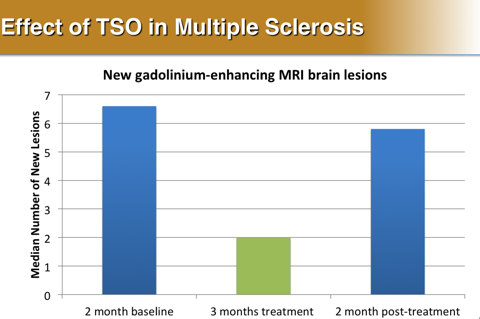 Crohn's disease study:
Twenty-nine patients with active Crohn's disease were treated with TSO orally every three weeks for 24 weeks. At 12 weeks and 24 weeks data was collected indicating that 79.3% of patients experiencing a positive response and 72.4% achieved remission. There were no severe side effects of TSO reported.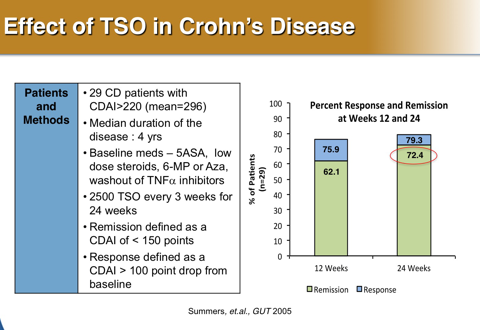 Ulcerative Colitis Study:
Fifty-four patients with active Ulcerative Colitis participated in a randomized, double-blind, placebo controlled study (some patients received placebo while others received TSO). Duration of study was 24 weeks long. The graph below shows the difference in positive response between TSO group and placebo group. The worm group had a more than doubled percentage improvement over the placebo group.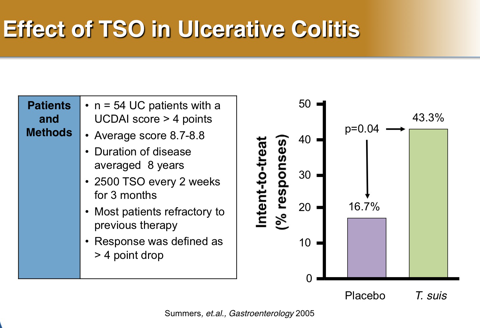 The fourth study involves treatment of AML (Leukemia) with a second product with positive results as well. I am going to skip discussion of this study to focus on autoimmune disorders.
So what's been going on with Coronado Bioscience since my last article?
Here are some milestone highlights:
June 2012:
Company receives Notice of Allowance for First US patent covering CNDO-109.
Company receives Orphan Drug Designation from FDA for CNDO-109 for treatment of AML.
Company added to Russell 3000 Index.
August 2012:
Company announces initiation of Phase 2 study for treatment of ulcerative colitis.
Company announces initiation of Phase 2 study for treatment of Crohn's disease.
September 2012:
Company granted First US patent covering CNDO -109.
November 2012:
Company announces study for treatment of Autism.
Company initiates Phase 1 and Phase 2 trials of CNDO-109 treatment of Leukemia.
December 2012:
Company acquires TSO manufacturing rights from Ovamed. This will enable production of Phase 3 supplies of TSO and establish control over TSO manufacturing.
January 2013:
Company appoints Harlan Weisman, M.D., as its new Chairman and CEO. Dr. Weisman has substantial expertise in launching novel biologics. Here is some information that was copied and pasted from the company's press release: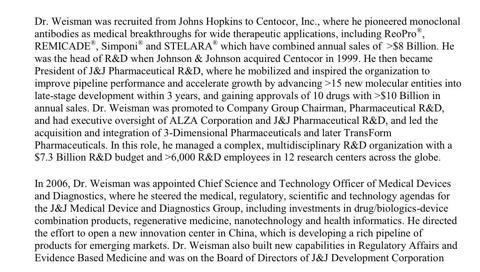 February 2013
Company announces initiation of study evaluating TSO in psoriasis.
So why is 2013 the Year of the Worm?
Three Issued US Patents with Five Additional Patents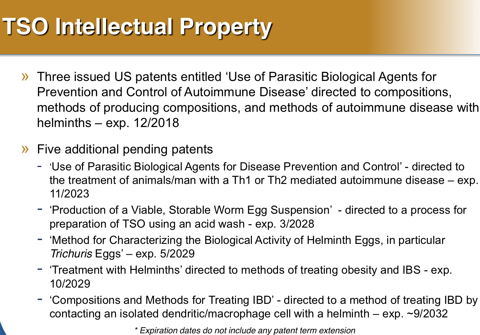 Manufacturing Rights in Place for Phase 3 Studies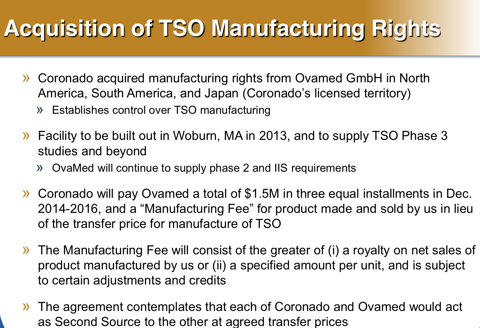 A Pipeline Full of Worms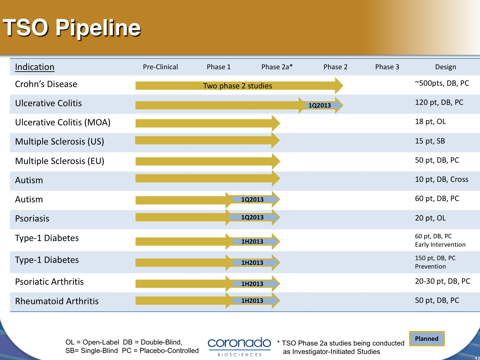 Two Major Crohn's Disease Studies Results in 2013 Involving Approximately 500 Patients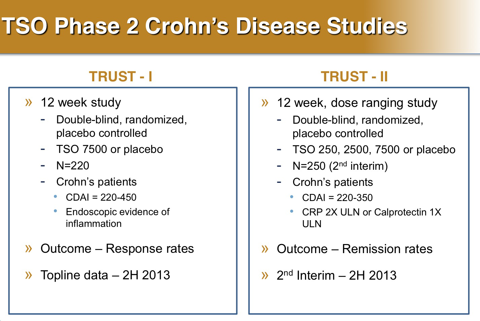 On December 20, 2012 Wedbush Securities initiated coverage on CNDO with an outperform rating and a $13 price target.
On January 3, 2013 CNDO is the top pick for 2013 by John McCamant of the Medical Technology Stock Letter with an 18-month target of $20 per share.
On January 22, 2013 Roth Capital named Coronado Biosciences a Top 2013 Biotech Pick with a one year price target of $24.
On March 1, 2013 Piper Jaffray Initiated CNDO with an Overweight with Price Target $17.
If the upcoming TRUST studies verify successful treatment of Crohn's Disease with their worms, our treatment paradigm for various autoimmune conditions may shift: shifting away from the multi billion dollars market of immune suppressing injectable medications and toward a symbiotic relationship that has lasted for centuries between human and worms.
Disclosure: I am long CNDO. I wrote this article myself, and it expresses my own opinions. I am not receiving compensation for it. I have no business relationship with any company whose stock is mentioned in this article.