The biopharmaceutical industry is known for its volatility and frenzied state of ups and downs. But among chaos exists a company that has displayed consistent growth in recent years and will surely soar in the future. Jazz Pharmaceuticals (NASDAQ:JAZZ), a specialty biopharmaceutical company, is definitely a stock to keep in your portfolios.

Background & Narcolepsy
Jazz is a specialty biopharmaceutical company that focuses in narcolepsy, oncology, pain management, and psychiatry. Its marketed portfolio of products include Xyrem (narcolepsy), Erwinaze (acute lymphoblastic leukemia with hypersensitivity to E. coli-derived asparaginase), Prialt (intrathecal infusion pain killer), FazaClo LD and HD (treatment resistant schizophrenia), and Luvox (obsessive compulsive disorder). Of these drugs, Jazz's pride and joy lies with the narcolepsy drug, Xyrem. Xyrem single handedly turned this company around in 2009 and has propelled it to success. Jazz has a virtual monopoly in the treatment of narcolepsy. Narcolepsy itself is a neurological disorder caused by the brain's inability to regulate sleeping patterns. The condition is characterized by four classic symptoms: cataplexy, sleep paralysis, hypnagogic hallucinations, and excessive daytime sleepiness. Approximately 25% of narcolepsy patients suffer all four of the aforementioned symptoms. What distinguishes Xyrem from other narcolepsy drugs is that Xyrem is the only FDA drug that treats two, cataplexy and EDS, of the four symptoms. This has enabled Jazz to monopolize the market for narcolepsy drugs to a great extent. In 2009, Jazz was trading under a $1 per share when it decided to start implementing price hikes semi annually. Today, it is trading around $58 per share.
Xyrem: Cash Cow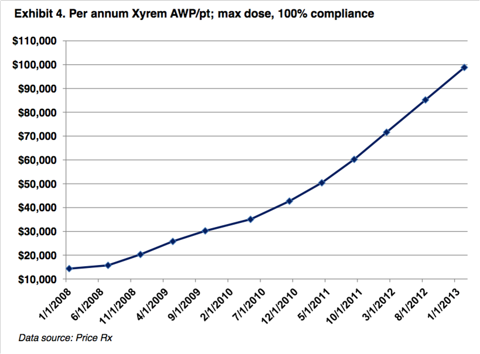 As mentioned before, Xyrem dominates narcolepsy treatment. For the past 5 years, Jazz has consistently raised prices semi-annually by around 15-20%. Just last month, the company enforced a 16% price increase. Since 2008, the cost per year of Xyrem for a patient taking the maximum dosage with 100% compliance has risen from about $15,000 to $100,000. Insurance companies cover most of the costs, so patients only need to pay a monthly copay. Xyrem's ability to generate revenue is tremendous and still accounts for a large proportion of the company's revenues even today. Jazz announced in December of 2012 that Xyrem was issued 10 additional patents. The company expects to keep its monopoly on the drug for at least another 6 years. Keeping up with past trends, Jazz will probably implement another price increase of at least 10% by 4Q2013, further increasing revenues and profits.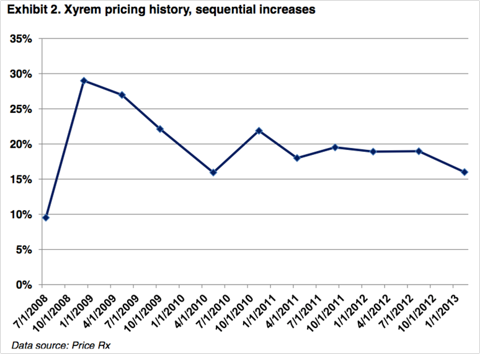 M&A
As a biopharmaceutical company, it is important for Jazz to make acquisitions to fund its R&D and also acquire new drugs to diversify its portfolio. Just last year, it made two big moves. It merged with Azur Pharmaceuticals and then acquired EUSA Pharmaceuticals. Through its merger with Azur, Jazz has domiciled to Ireland, which has a much more favorable tax structure. Both Azur and EUSA are European based companies, indicating that Jazz is looking to go abroad to generate revenues. The integration of Azur and EUSA has helped fuel growth and enabled the company to post a strong 4Q2012 performance, which was released this past Tuesday. Jazz's CFO has also expressed interested in making more acquisitions and expects to keep up the company's push internationally. The game plan seems to be to rake in more profits through Xyrem in the U.S. while expanding into Europe through acquisitions.
Competitors:
Because of Xyrem, Jazz has no true competitor. However, for the sake of comparison, two relatively close competitors are Endo Health Solutions (NASDAQ:ENDP) and Pfizer (NYSE:PFE). Endo Health Solutions is a specialty healthcare solutions company with a similar market cap to Jazz. Some of its specialty products overlap with Jazz's, such as pain management and oncology. Pfizer is a household name and a pharmaceutical giant. It is the second largest pharmaceutical company in the world, second to only Johnson & Johnson (NYSE:JNJ). Pfizer possesses an extremely diversified portfolio that caters to a variety of conditions. It manages operations through five key segments: (1) Primary Care, (2) Specialty Care and Oncology, (3) Established Prodcuts and Emerging Markets, (4) Animal Health and Consumer Healthcare, and (5) Nutrition. Obviously, the segment that competes with Xyrem is the Specialty Care and Oncology segment.
| | | | |
| --- | --- | --- | --- |
| Company | Jazz Pharmaceuticals | Endo Healthcare Solutions Inc. | Pfizer Inc. |
| Market Capitalization | 3.38 B | 3.42 B | 201.59 B |
| ROE (%) | 39.75% | 3.35 | 11.56 |
| Profit Margin (%) | 49.25% | 0.41 | 24.70 |
| P/E | 12.15 | 280.37 | 14.14 |
A basic comparison of these companies reinforces the obvious. Jazz is a great company to invest in. Jazz beats out Endo Healthcare Solutions and Pfizer in each category. For the results it posted last quarter, the stock is extremely undervalued and outperforms its competition.
Risks
As expected of any biopharmaceutical company, Jazz is currently fighting to keep its patent on Xyrem. Patent wars are a common thing in this industry as companies try to produce generic versions of profitable drugs. Jazz has been under attack since 2010 when Roxane Laboratories initiated an attempt to produce a generic version of Xyrem. Jazz of course sued Roxane. Should Roxane win the lawsuit, it could potentially start production of a generic Xyrem by second half of 2013, but a recent court report in mid-September appeared positive for Jazz. The stock price jumped 12% following the announcement. As of right now, the outcome looks good for Jazz. Another lawsuit of note is between Jazz and Amneal Pharmaceuticals. Long story short, Amneal is trying to do the same thing as Roxane. However, it will take a considerable amount of time before any actions come out of this second suit. Xyrem is "patented" up, and the courts seem to side with Jazz, so expect Jazz to keep its hold on Xyrem.
Conclusion
Xyrem is Jazz Pharmaceutical's cash cow and will continue to be its staple source of revenue in the future. Jazz has experienced double digit revenue growth every quarter for the past two years. It has consistently beaten analyst estimates and will continue to do so. Analysts forecast not a good but rather great year for Jazz in 2013, and so should you. Regarding the possibility of losing its patent on Xyrem - it seems highly unlikely. Jazz can count on Xyrem to fuel its momentum in the years to come. In addition to Xyrem, Jazz is being aggressive in its acquisition efforts. The company's actions reflect a strong desire to penetrate the European market. Jazz is still undergoing tremendous growth and will continue to post impressive results. I highly recommend you buy this stock.
Disclosure: I have no positions in any stocks mentioned, and no plans to initiate any positions within the next 72 hours.
Business relationship disclosure: Capital Traders Group is a team of Proprietary Trading and Equity Research Analysts. This article was written by Kevin Sun, one of our Equity Research Interns. We did not receive compensation for this article (other than from Seeking Alpha), and we have no business relationship with any company whose stock is mentioned in this article.