Nokia (NYSE:NOK) has struggled to live up to the expectations of its investors. The hype behind the Lumia did indeed stimulate stock price increases in Q4 2012, but it did not provide Nokia with success when 2013 rolled around. However, as I predicted in my last article regarding the Mobile World Congress, Nokia is turning around. Bold announcements, such as an extremely cheap Nokia phone, have put the company on an expansionary path for the future. Although the growth is not going to abrupt, we can expect a gradual and steady positive trend for the stock price throughout this fiscal year.
Currently in a dip, Nokia should find its way into your portfolio. Going long on the stock will be a sound decision because the recent MWC success and increasing international exposure will only bolster the company's already bright future. The current price target of $7.30 is a bit high, but it is achievable in the long run. In the upcoming months, I don't see a spike to $7.30, but I strongly believe that Nokia will rebound from $3.50 back to trading around its 52-week high of $5.57.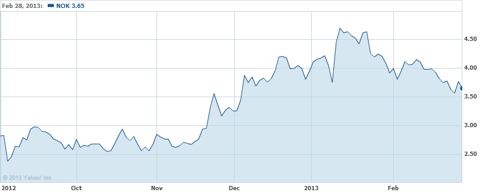 The MWC Aftermath
Investors have had their eyes set on Nokia's 2013 MWC announcements for quite some time. A host of new smartphones were introduced by Nokia to appeal to a larger consumer base, both domestically and internationally. Competitors such as Google (NASDAQ:GOOG) and Apple (NASDAQ:AAPL), who did not appear at the MWC, are recognizing Nokia's resurgence into the industry. For Nokia, this is a pivotal step in becoming a larger player next to the current titans of smartphones. Understandably, the Lumia 520 and 720 were revealed to bridge the gaps between Nokia's current models. With differing price tags and specifications, Nokia has provided strong alternatives to cater to certain consumer groups. Sadly, Nokia did not announce its EOS Pureview, but it may be to the company's advantage. The phone may have only appealed to a niche in the market. It was probably a good choice for Nokia to allow the 520 and 720 to have the limelight at the exhibition. However, I expect the Pureview to be announced because its sales will correlate with the growing demand for a great phone camera. The exponential growth of programs such as Instagram only foreshadows this possibility.
It is true that there was plenty of attention on the intricate and expensive Lumia models, but that it was only one side of Nokia's business model. Ironically, the simplest phone in Nokia's product line made me recognize the possibilities for this company. The Nokia 105 and 301 will serve as launching pads for Nokia in emerging markets across the world.
Simple is better?
Although the cheaper phone models are not smartphones, they will be an anchor for Nokia in emerging markets. The Nokia 105 sits at a very modest price tag of around $20, but do not assume that this phone is an outdated piece of technology. The 105 offers FM radio, a speaking clock, pillowed keys, a flashlight, dust and splash proof case and most importantly, a battery that can last as long as 35 days. Looking at these features we can see that this isn't a Nokia phone from the 20th century, but rather, it is an innovative product that provides 21st century technology at extremely low prices. The 301 is only $40 dollars more expensive but it also provides 3.5G data connections with video streaming and phone features similar to the Lumia product line.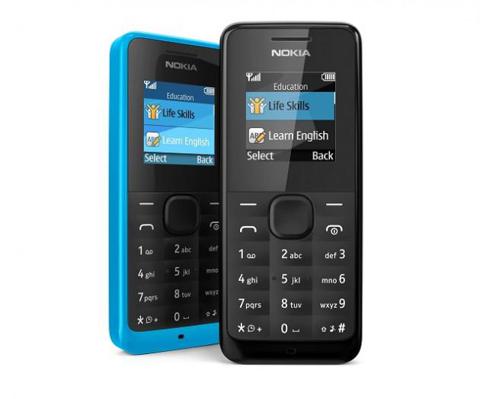 Personally, I see this as a strong development for Nokia's strategy because they are taking an alternative route in the extravagant smartphone market. If we take a step back and look at the current integrity of the industry, there have been diminishing returns. Innovations in smartphone hardware have drastically slowed down. The greatest future growth will stem from either software breakthroughs or expanding the consumer base. Nokia has pursued the latter. The company has taken its success with the Lumia and provided an affordable piece of hardware for lower-income consumers. This is not to say that the Nokia 105 and 301 will be a ubiquitous phone that will penetrate all of the emerging markets, but it at least puts Nokia's name out there.
One of the largest factors in purchasing merchandise, especially technology, is the cost of the product relative to current disposable income. The current trend in increasing income coupled with a drop in phone cost will just create a larger user-base of Nokia phones. This development works perfectly for Nokia because all of their phones are logically released as upgrades from the previous models. I can see 105 users switching to the 301 because they want to enjoy smartphone features at a cheap price. With this trend, I see residents of emerging markets may eventually getting their hands on Lumia smartphones.
Final Thoughts
Nokia is approaching the mobile market correctly. Choosing to market a cheaper phone to a broader audience is the correct choice at this point in time. Overtly battling companies such as BlackBerry (NASDAQ:BBRY), Samsung (OTC:SSNLF), and Sony (NYSE:SNE) in the smartphone market is not the most cost-effective way of gaining market share. In relative terms, the extremely difficult race for hardware innovation will not generate as much revenue or recognition compared to Nokia's emerging market approach. With Nokia currently dipping down to $3.50, it is a perfect time to go long on this stock before it begins its slow and gradual climb to the price target of $7.30.
Disclosure: I have no positions in any stocks mentioned, and no plans to initiate any positions within the next 72 hours.
Business relationship disclosure: Capital Traders Group is a team of Proprietary Trading and Equity Research Analysts. This article was written by Scott Shi, one of our Equity Research Interns. We did not receive compensation for this article (other than from Seeking Alpha), and we have no business relationship with any company whose stock is mentioned in this article.