Bioprinting is new technology that is still evolving, but the process of bioprinting remains the same. Bioprinting uses cells from a moving printer head to place the cells in the correct location. The objective is to produce layers of living cells in a predetermined form that is functional. Just like inkjet printers with which we are all familiar, cells are printed in tiny spheres or cylinders (known as"bio-ink"), contiguously placed spheres fuse in the same fashion as drops of liquid. Bioprinting relies on the principle that groups of individual cells can generate larger aggregates and, if two or more compatible aggregates are placed next to each other, they can be made to combine to produce larger and more complex structures. When the cells are stacked onto a mold, tissue liquidity can be used to produce 3D living structures in specific shapes.
Organovo Holdings (NYSEMKT:ONVO) designs and creates three-dimensional human tissues which can be used for medical research as well as therapeutic applications. The company collaborates with partners from academia as well as the pharmaceutical industry to develop three-dimensional biological disease models. These 3D human tissues have the potential to accelerate the process of drug discovery and enable treatments to be developed more quickly at lower cost.
What is driving earnings?
The 3D bioprinting technology market is already generating revenue through dental fabrication of crowns, bridges, and implants, and prosthetics manufacturing. Dental fabrication enables dental labs to print out porcelain bridges, for example, by taking a digital scan of the patients teeth. This process allows for greater affordability and precision. 3D printing has also significantly changed the process of constructing and customizing prosthetic limbs.
Organovo's NovoGen MMX Bioprinter is a hardware and software platform at the cutting edge of bioprinting research and development. It takes primary or other human cells and turns them into 3D tissues which are superior to animal models. The functional human tissue that is created is also superior to current disease models.
A big positive for Organovo is that the printed organs or tissue are made from the patient's own cells rather than those of a donated organ, so there is less risk of an immune response, which lessens the need for debilitating immunosuppressive drugs.
Organovo needs to stay focused on bringing down manufacturing costs along with passing rigorous clinical trials. Industrial 3D printers can range from $50,000 to well over $200,000. According to Organovo Chairman and CEO Keith Murphy, NovoGen costs a "few hundred thousand dollars."
Organovo has a big opportunity to sell its platform to multiple markets. The primary market for its platform currently is academic institutions, but that will change. It is likely that medical clinics and hospitals will use this platform in the future. According to Technavio Insight's Global Life Sciences Tools and Services Market 2009-2013 report, "The Life Sciences Tools and Services market is expected to grow at a CAGR of 10.1 percent, with Americas (including North America and Latin America) having the largest market share of 59.6 percent." Cellular biology currently contributes 30% of total sales in the life science tools industry, making it the largest revenue contributor in this market. The cellular biology market was projected to be a $14 billion market by 2012.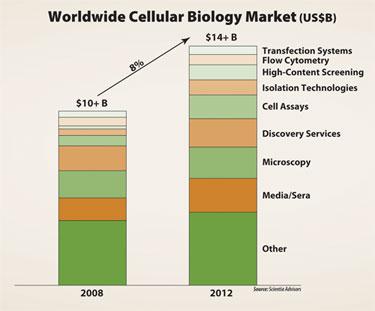 The NovoGen MMX Bioprinter can be used in three areas. First, as we discussed above, the bioprinter has the ability to produce 3D human tissues that can be used in modeling a specific tissue physiology or pathophysiology. For example, the company has already created human blood vessels and tissue containing capillary structures. This will broaden Organovo's scope for creating tissue used in related applications such as cardiovascular disease, oncology and fibrosis.
Second, the NovoGen MMX Bioprinter can aid the research process, specifically with absorption / distribution / metabolism / excretion (ADME) testing. ADME testing determines which factors impact how a drug compound reaches the blood stream. For example, ADME testing can show how age, genetics and other factors, which can all influence the metabolism of a compound, impacts how well a compound gets into the blood stream. Toxicology testing determines the damage new drug compounds could do to specific tissues. Since the NovoGen MMX Bioprinter creates 3D living human tissue, researchers are able to better test the toxicity of a compound by seeing how it reacts with a living organism, and it can do this over a longer period of time.
Lastly, the NovoGen MMX Bioprinter has the precision and flexibility to create 3D tissue for use in regenerative medicine. In cases of damaged tissue or organs, the bioprinter can generate 3D structures without the use of scaffolding or biomaterial components, which enables tissue to be generated in a configuration that is compatible with surgical delivery methods. This enables better restoration of significant functional mass.
Recent strategic alliances
The most significant of these alliances is a partnership with Autodesk (NASDAQ:ADSK). Autodesk will be developing CAD tools in collaboration with the company which can be used to design new blood vessels, liver tissue and other parts for the human body. Organovo's bioprinters allow scientists to use cells to grow functional human tissues for use in drug discovery. The bioprinters are very powerful and state of the art hardware, but, sadly, the software is not of the same standard. As a result, a scientist who wants to create tissue on them has to spend more time on writing code then concentrating on the research work.
Autodesk, which is the dominant CAD software company, has established itself in many professional activities and its users range from architects to industrial designers. With this new partnership, it will be developing programs that can create living tissue by combining their software expertise and the bioprinter hardware expertise. Integration for the partnership will begin in 2013, but it will almost certainly be some time before we see the fruits of the collaboration. Nevertheless, the involvement of Autodesk adds a great deal of credibility to the Organovo technology.
Organovo and ZenBio, which is a leading provider of advanced cell-based solutions and services, have formed a partnership to produce three-dimensional human tissues for drug discovery and advanced tissue therapies. ZenBio will provide unique, validated cellular inputs which will be used by Organovo along with its NovoGen bioprinting technology to produce living, three-dimensional tissues. Organovo has also formed a collaboration with the Knight Cancer Institute at Oregon Health & Science University (OHSU), a national leader in translational oncology research to develop more clinically predictive in vitro three dimensional cancer models. These new biological models can replicate human cancer and malignant disease with greater accuracy and thereby enhance our understanding of how cancer develops and migrates.
Looking ahead
Bill Gates is supposed to have said that he couldn't imagine why anybody would ever want or need a computer in the house. He thought that computers were only for use in the workplace. However, when computers became affordable and people became familiar with what they could do, nothing would stop them from buying computers for the home.
Futuristic technology takes a fair amount of time to realize its market potential because it needs to be clearly understood by consumers and yet be affordable. Despite the fact that Microsoft (NASDAQ:MSFT) introduced the tablet PC in 2002, it took the launch of the iPad by Apple (NASDAQ:AAPL) in 2010 for demand to explode to the point where tablets may well outsell notebooks. In the case of 3D printing, we are starting to see giant corporations such as Disney (NYSE:DIS), Ford (NYSE:F), Boeing (NYSE:BA) and GE (NYSE:GE) using the technology in their manufacturing processes. Though Organovo is the only public company in the field of bioprinting, it is not difficult to foresee a similar growth trajectory if bioprinting proves to be successful. Already, 3D printing is considered to be one of the hottest technologies, and 3D Systems (NYSE:DDD) and Stratasys (NASDAQ:SSYS), the two biggest players in the industry, have seen significant upside recently.
United Network for Organ Sharing (UNOS) is a non-profit organization under contract with the federal government that manages the nation's organ transplant system. According to Anne Pachke, a UNOS spokesperson, "Only 1 to 2 percent of the population dies in a way that makes them potential organ donors. So we are left with a situation where people are waiting, hoping and, sadly, dying. Any technology, including 3D bioprinting, that ends up reducing the need for donated organs will simply save a lot more lives."
Conclusion
There are several factors that mitigate the risks of investing in Organovo. First, Zacks has already initiated coverage in Organovo, which is rare for a company of this size. Second, even though the production of replacement organs and tissue may be several years away, the company is working on developing alternate revenue streams which could materialize in the short-term future. Third, Organovo has already worked on successful partnerships to supply tissue for research with Pfizer (NYSE:PFE) and United Therapeutics (NASDAQ:UTHR), and there is lots of potential for more partnerships. Organovo is proposing to launch cell assay kits for the drug discovery market for applications such as ADME/TOX/DMPK studies. The old model of 2D cell assay presents problems that could be solved by Organovo's 3D model. Investors looking for exposure to 3D bioprinting should conduct further research on Organovo to see if it fits within their portfolio goals.
Disclosure: I have no positions in any stocks mentioned, and no plans to initiate any positions within the next 72 hours. I wrote this article myself, and it expresses my own opinions. I am not receiving compensation for it (other than from Seeking Alpha). I have no business relationship with any company whose stock is mentioned in this article.