In the wake of the recent fight in Washington over new gun control regulations, gun stocks have been making enormous gains. Many politicians, including President Obama, have made proposals for new gun control laws. These proposals have resulted in guns flying off the shelves, causing a massive shortage, and with it massive price increases.
To get an idea of the scope of the enormous increase in demand for guns and ammunition over the past few months, take a look at these statistics released by the FBI regarding firearm background checks. In December 2012, there were nearly 2.8 million background checks, the most background checks in any month in U.S. history. Of these background checks, only about 10,000 (0.36%) were denied their firearm purchases. Not surprisingly, major gun manufacturers have been doing very well over the last few months. The chart below details the three major publicly traded gun manufacturers in the U.S.
| | | | |
| --- | --- | --- | --- |
| Company | Market Cap (in millions USD) | P/E | Share price increase (60 days) |
| Alliant Techsystems Inc. (ATK) | 2,150 | 8.26 | 5.5% |
| Sturm, Ruger & Co. (NYSE:RGR) | 1,040 | 17.34 | 25.2% |
| Smith & Wesson Holding Corp. (SWHC) | 622 | 10.64 | 15.3% |
Information from Reuters
Sturm, Ruger & Co.
Ruger in particular has clearly had an incredible run during the last 60 days. Gun enthusiasts are scrambling to try to get their hands on popular models like the Ruger SR-556 (pictured below), which has been almost instantly selling out in gun stores across the nation. Ruger's 25% increase over the past 60 days has been a steady climb, and its momentum has shown no signs of slowing down. Ruger's investment potential does not just exist for the short term either; the company's share price has shockingly increased by over 800% since January of 2009. If such gargantuan gains seem beyond impossible to you just take a look at the chart below. There were some sharp downward spikes along the way, generally happening immediately after news of a tragic shooting, but Ruger has been very consistent in recovering quickly after each retracement.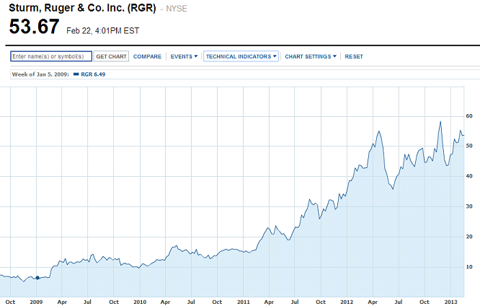 Chart from Yahoo! Finance
Smith & Wesson Holding Corp.
Smith & Wesson, one of the most famous gun brands in the world, has not only gone up 15.3% in the past 60 days but has also more than tripled since November of 2011. Like Ruger, it has experienced some sharp retracements but has recovered consistently. There is real long term potential here; Smith & Wesson's fundamentals are looking excellent. Its revenue and sales projections for 2013 show a strong trajectory of growth over the last several years. The company had a very large decline in 2007 and still has not surpassed its all time peak in October 2007, which suggests that the company is currently undervalued given the unprecedented boom in sales. There is still a lot of room for it to continue to grow, and its fundamentals and technicals are both shining a very favorable light upon that possibility.

Chart from Reuters
Alliant Techsystems Inc.
Alliant's gains have been more modest, but 5.5% is still a very significant increase for a mere 60 days. However, Alliant is different from both Ruger and Smith & Wesson because gun manufacturing is only one of its four major divisions. It also manufacturers aerospace systems, armament systems, and missile products. Additionally, some of Alliant's guns are manufactured exclusively for military use. Clearly, Alliant's success has a significant dependence on defense spending. This raises some red flags, as there have been various cuts to defense recently, with more possibly to come in the near future. Regardless, Alliant's sales have had some improvement over the past two years, which makes sense given the large explosion in demand for guns. Regarding Alliant's long term potential, it has had a distinct downward trend since late 2007, when it peaked at about $119 per share. My take on Alliant is that even though it has had some short term success over the last few months, the increased sales due to increased gun demand will not be enough to reverse the long term downward trend.

eBay
As unbelievable as this seems, one company that has surprisingly benefited from the large increase in demand for guns is eBay (NASDAQ:EBAY). Yes, eBay, everyone's favorite online marketplace. As guns fly off the shelves of gun stores, consumers are resorting to the internet to fill their arsenals. While eBay does not allow the sale of guns specifically, it does allow the sale of gun parts and gun accessories, such as scopes and magazines. In the past 60 days, eBay's share price has increased by 9.5% in a steady climb with only minor retracements. Its long term trend is even more promising, having increased by over 400% since March of 2009, again with only minor retracements along the way. Additionally, eBay just released a same day shipping program in several major cities in the U.S., along with a new smartphone app for mobile shopping. eBay's fundamentals are looking good as well. In both revenue and earnings per share, eBay has consistently outperformed itself over the past year.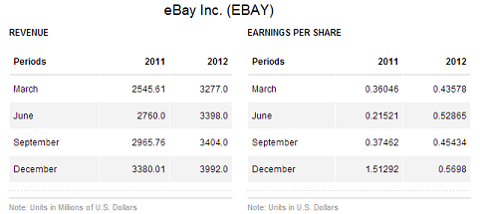 Chart from Reuters
Wrap up
In short, my stance is: bullish on Ruger, very bullish on Smith & Wesson, bearish on Alliant, and bullish on eBay. Ruger has had a strong upward trend over the last several years, quickly recovering from any retracements. The same goes for Smith & Wesson, but the company's huge explosion in sales suggests that it is currently very undervalued when the current share price is compared to the price back in 2007. My bearish stance on Alliant results from the following: the company's overall downward trend over the last several years, its recent successes have not been as large as its competitors, and its dependency on defense spending at a time where defense is likely to be cut. eBay has been doing very well with some amazing increases in revenue over the last two years. Its long term trend has been climbing steadily since it bottomed out in early 2009, and it is showing no signs of stopping anytime soon.
Some investors may be worried that if the new gun control proposals are successful, the gun industry will suffer. However, any new gun control legislation will first have to pass through Congress, which political analysts believe is very unlikely. Additionally, the battle over gun control is fading away as new political crises emerge, such as immigration reform or the next sequester.
Regardless of what your stance is on the gun control issue, it is undeniable that gun stocks have been shooting through the roof. While economic woes are continuously causing many sectors to suffer, the gun industry has shown itself to be bulletproof.
Disclosure: I have no positions in any stocks mentioned, and no plans to initiate any positions within the next 72 hours.
Business relationship disclosure: Capital Traders Group is a team of proprietary trading and equity research analysts. This article was written by Chris Johnson, one of our Equity Research Interns. We did not receive compensation for this article (other than from Seeking Alpha), and we have no business relationship with any company whose stock is mentioned.