It seems that Google (NASDAQ:GOOG) has stolen Apple's (NASDAQ:AAPL) mojo, and it doesn't have any intentions of giving it back anytime soon. The technology stock world is fast paced, driven largely by unrealistic expectations. If you're one of the "cool" kids on the block, then your earnings multiple expands even faster than your earnings do, every dip gets bought, and the analysts keep on trying to outdo each other in the "who's got the bigger price target" game. In 2011 and most of 2012, Apple was the technology world's darling.
Do you remember how many people claimed that they owned Apple at $5 and hadn't sold a share? Or how about the guys who thought that Apple was a surefire bet to run to $1000 because valuation was still cheap? Let's not forget the analysts such as Mr. Brian White of Topeka who slapped a $1,111 price target on the stock, only to cut the target to $888, with the expectation that the earnings multiple will expand.
After the guidance given at the last earnings report, the Street is now in "show me" mode. The faith that Apple can keep its high margins and keep market share from eroding is gone, and the Street now isn't particularly happy with Apple's management of cash. In short, Apple is now unloved, and investors are moving into Google.
The Apple Money Is Going To Google
It doesn't take a genius to see what's going on here: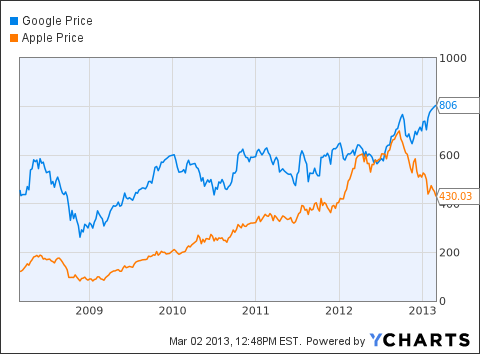 The Apple money seems to have flowed right into Google (among other growth names).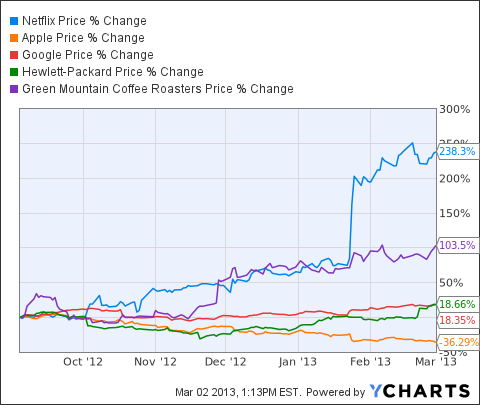 So, just why is that the case?
1. Motorola Mobility Division Can Be An 'Apple' Itself
The most obvious reason why Google's now ripping is that the Motorola Mobility/Nexus devices can essentially make Google an "Apple" of itself. The major components to build a phone/tablet/laptop are commodity, Google has its own OS (Android/Chrome OS), and a very rich application ecosystem thanks to the ubiquity of Android devices worldwide.
There was an interesting quote from Google CFO Patrick Pichette that stated that the pipeline of products from Motorola Mobility were,
"not really to the standards that what Google would say is wow - innovative, transformative."
This implies that Google's plans to really push on the envelope on its own smartphone designs going forward. This is important because the official Google/Nexus branding resonates well with Android buyers. If Google is able to put out unequivocally superior devices, then this not only builds brand equity for the Google/Nexus line, but it will be a rising tide that lifts all boats in the Android ecosystem, especially as the Android vendors look to Google's own devices as the "gold standard" to try to beat.
2. Google Search Rules The World
Google's bread and butter, search, still rules the world. Recent market share numbers indicate that Google still owns 66.7% of search (with Bing gaining slightly at the expense of Google). This is an extremely reliable income stream that, I believe, will continue to be bolstered as the world goes Android for mobile. The Android ecosystem is a perfect vehicle by which to grow search/ad revenue, and with smartphones/tablets quickly becoming ubiquitous worldwide (mostly powered by Google), it seems difficult to envision this revenue stream being anything but vigorous for the foreseeable future.
3. Google Builds Brand Equity With Service Ubiquity
Google Maps
Google Earth
Google Docs
GMail/GTalk
Google Chrome
YouTube
This is a list of some of the services and tools that the vast majority of internet connected folks can/will use at some point in their lives. Google's "ecosystem" is far more universal and widespread than even Apple's, especially as non-Google product users can still use them. This is very powerful for consciously (and subconsciously) building brand equity, and will pay dividends in the future as Google expands its brand to compete more directly with Apple.
4. Management Is More Credible With Wall Street
In the eyes of Wall Street, the folks at Google may be geeks, but they deeply understand technology and how to profit from it. Management has the Street's respect, and that goes a long way to justifying any sort of premium valuation.
The Street doesn't trust Apple's management, as evidenced by the cries to return cash and the continued pressing about different form factor/price point iPhones. Tim Cook isn't terrible, and I think he gets too much of the blame for Apple's stock price collapsing, but he has the nearly impossible task of filling Steve Jobs' shoes. Steve Jobs didn't let Wall Street push him around. Tim Cook, with the enactment of the token dividend and buyback program, seems to be doing just that.
When you invest in a company, you are putting your money in the hands of a management team to help give you returns. If people don't trust management, it doesn't matter how much money you make or what iDevice you come up with -- your stock is going to be shorted on every flimsy excuse that the rumor mill can come up with.
Conclusion
Google is viewed as a much more viable company than Apple, as evidenced by the relative valuations. Google doesn't pay a dividend and it makes no excuses for what it does. Management has Wall Street's trust, and there is a lot more upside/growth to come from the business going forward.
Apple makes great products, but it's so vulnerable to competition that nobody really knows where the bottom is going to be for gross margins and market share. That's the kind of uncertainty that Apple has to deal with that Google doesn't. And that's why the masses have fled Apple and flocked to Google, plainly and simply.
Disclosure: I have no positions in any stocks mentioned, and no plans to initiate any positions within the next 72 hours. I wrote this article myself, and it expresses my own opinions. I am not receiving compensation for it (other than from Seeking Alpha). I have no business relationship with any company whose stock is mentioned in this article.