After almost a quarter into 2013, expectations for the future continue to remain on the fence. Yet now five years after the market tumble, a slow recovery appears to be underway. The global economy remains in a fragile state, although the American economy appears to be on track for tepid growth. Even with the market approaching its all-time highs, many companies continue to trade at valuations that fail to fairly represent their worth going forward.
For many industries, the effects of the Great Recession have not yet ended. In some cases, this has even allowed the market to severely discount leaders in these industries. Despite having book values above the current share price, these companies continue to dwell near all-time lows as investors appear unwilling to respect the valuations without clarity into the economy's outlook. The following five companies offer discounted valuations that investor simply should not ignore going forward.
| Company Name | Market Cap. | Price/Book Ratio | Fwd. P/E Ratio | Fwd. Div. Yield | Industry |
| --- | --- | --- | --- | --- | --- |
| Alcoa Inc (AA) | $9.03 Billion | 0.69 | 9.70 | 1.4% | Aluminum |
| DryShips Inc (DRYS) | $744.77 Million | 0.27 | N/A | N/A | Shipping |
| Corning Inc (GLW) | $18.43 Billion | 0.86 | 9.78 | 2.9% | Specialty Glass |
| ArcelorMittal (MT) | $22.49 Billion | 0.45 | 9.49 | 1.4% | Steel & Iron |
| Delhaize Group (DEG) | $4.74 Billion | 0.69 | 8.39 | 3.4% | Grocery Stores |
While each industry is distinct in itself, the fact that these companies continue to list more value on their financial records than the market is willing to portray could offer an opportunity for long-term investors. With the exception of DryShips, each of the companies above continues to operate with positive earnings. Likewise, they continue to pay shareholders to hold onto their stock as they continue to offer a dividend.
Some Thoughts To Consider:
DryShips remains in an industry that has resorted to scrapping ships in order to reduce the amount of supply on the market. Despite the often disappointing actions of management, DryShips still remains in a favorable position. With the ability to tap into its majority ownership of Ocean Rig (ORIG), DRYS has been able to keep its head above the water much more comfortably than the market appears willing to acknowledge.
ArcelorMittal recently received several analyst upgrades. The company attributed its recent earnings shortfall on Europe's woes, but gave a rather upbeat forecast going forward.
When it comes to Alcoa, the aluminum industry is often correlated with economic prosperity. Yet even without the economy's immediate recovery, there remains an overarching growth trend for the metal. With both the automobile and aircraft industry on the prowl for favorable strength-to-weight ratios, aluminum's use continues to recover.
In the case of Corning and Delhaize, the ongoing operations at the two companies continue to bring in steady amounts of cash flows. In doing so, the two companies are thereby able to support their dividends and even raise them. The dividend yields of the two companies have also been growing as the share prices of both have lingered over the past few years. A look at the two charts below help illustrate the trend.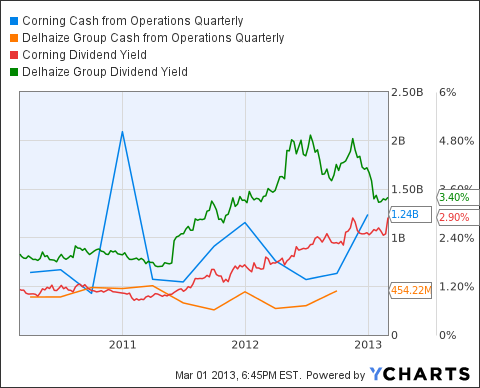 GLW Cash from Operations Quarterly data by YCharts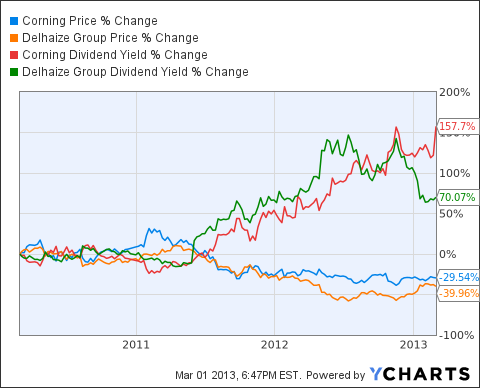 Conclusion:
Despite the poor market performance of these companies over the past five years, investors should continue to remember that there are several ways to measure value. The fact that these companies continue to trade at large discounts to their book value indicate that growth is being forsaken altogether. This remains a strange concept when one considers that each of these companies continue to produce positive earnings with the exception of DryShips. Likewise, they continue to pay investors to hold onto shares through dividends.
In the case of DryShips, the company now has practically $4 in book value for every $1 being reflected on the market. Additionally, the company has begun to shed assets thereby unlocking some of this value. Most recently, management reduced its stake in ORIG to 59.4% in order to raise approximately $126.4 million. Investors should feel less comfortable in holding onto this stock without a clear outlook of the industry. But with such a large discount to book value, one has to wonder if the market has fairly represented the worth of DryShips going forward.
Disclosure: I am long AA, DRYS, GLW, MT. I wrote this article myself, and it expresses my own opinions. I am not receiving compensation for it (other than from Seeking Alpha). I have no business relationship with any company whose stock is mentioned in this article.