Wells Fargo & Company (NYSE:WFC) is a play on the market regaining confidence in the banking sector, as well as investing in one of the best run banks at a bargain valuation. Despite having spent most of my career in New York in the financial industry, I confess that I rarely purchased financial stocks. They were simply never that cheap pre-crisis, and having started my career at a prop desk at an investment bank, I knew firsthand that banks were run for the benefit of the employees, not the shareholders. Some may dispute this, but when 50-60% of revenue goes to employees via comp, and 10-20% to the shareholders, it doesn't take a genius to realize that top management knows where its bread is buttered.
Sure, stock options and stock grants were always awarded to incent the masses, but back in the day, these percentages were low, say 10-20%. Anyway, since the financial collapse in 2008/2009, banks continue to be a sector much maligned by the investing world. Concerns of diminishing Net Interest Margins (NIM), onerous regulations & future Basel III requirements, and weak loan demand continue to dog this group.
Nevertheless, the best bank stocks perform well in good times, and in bad. In Wells Fargo's case, the company has performed admirably for the past 5 years (or decades for that matter). At its core, Wells Fargo is a "compounder." This is why Buffett continues to buy Wells Fargo, and why it is Berkshire's (BRK.A) biggest position. Berkshire now owns 8.7% of the company.
What do I mean by compounder? Simply that cash returns on equity continue to not only be positive in bad years, but also high and impressive in arguably mediocre times like today. This is a stock that will continue to grow earnings and compound its book value/share, regardless of the cycle, as cash continues to roll into the bank's vaults.
A quick look at Wells' 2012 financial results paints overall an impressive story. Revenue grew 6%, earnings 19%, loan chargeoffs have reverted back to 2007 levels (1.05%). Returns on equity (ROEs) are near 13%, while at the same time the company's balance sheet is as conservatively capitalized as it has ever been. Tier I Common Equity has grown to 10.2%, and under Basel III rules is estimated to be 8.18%, just a hair shy of the potential 9% rule.
Does this sound like a company that should trade at 9x earnings, and at a very reasonable 1.28x book? The loan book is as solid as it has ever been, earnings and book value are growing at double digit rates, and Wells is taking market share in loans & deposits. Not to mention over half of its earnings are from non-interest, fee-based income. Money managers with more volatile fee based income trade at 15-20x earnings, and 3-5x book value!
I have gotten ahead of myself a bit, so let's back up.
Basics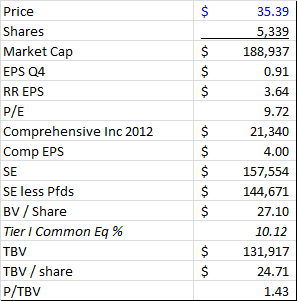 Company
From the 10K: "At December 31, 2012, we had assets of $1.4 trillion, loans of $800 billion, deposits of $1.0 trillion and stockholders' equity of $158 billion. Based on assets, we were the fourth largest bank holding company in the United States. At December 31, 2012, Wells Fargo Bank, N.A. was the Company's principal subsidiary with assets of $1.3 trillion, or 89% of the Company's assets. At December 31, 2012, we had 269,200 active, full-time equivalent team members."
Wells Fargo is a market share leader in many of its products, and like GE is in the top 1 or 2 spots in most of its businesses. Link is here: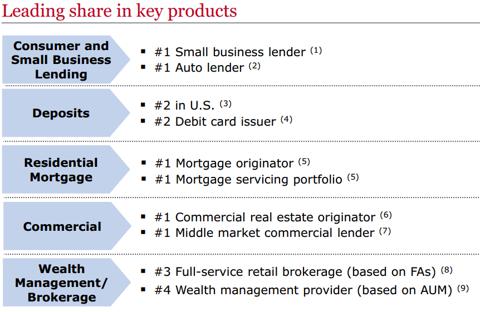 The company is also heavily diversified, with consumer and commercial loans approximately evenly split, and with 52% of its income derived from various fee-based categories and businesses.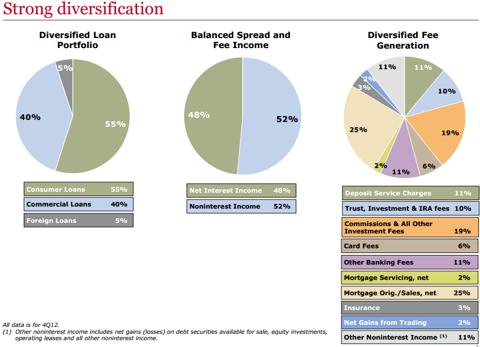 Even more impressively, the company has continued to grow its book value, year in and year out. Indeed, over the past eight years, through arguably the worst banking cycle we will see in our lifetimes, book value per share (BV/s) has grown at a compounded annual growth rate of 12%.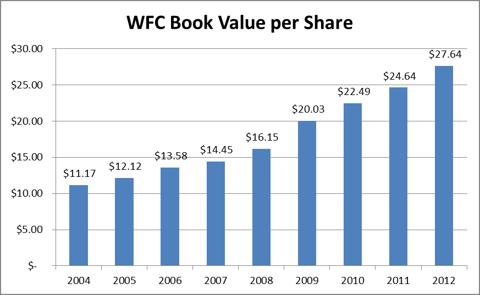 Returns on equity are recovering, and while not terribly likely to reach 20% again, arguably with efficiency ratios continuing to improve, Wells could easily see continued improving Returns on Equity.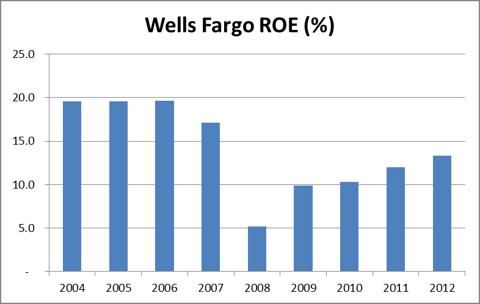 Try to imagine if this was a mutual fund, and these were your annual returns. It would be extremely hard to find a fund that generated such positive returns every year over the past 8 years. My long term view is that Wells will continue to hit its 12-15% ROE targets, meaning at the low end, book could likely reach $54.50 per share in 5 years, at year end 2018. At 1.4x book, WFC could easily trade at $76/share, or 176% higher than today. That is a 14.3% annual return on the stock.
The biggest argument against owning banks today is the declining levels of NIM. And while Wells Fargo is not immune to this, it is noteworthy that despite NIM declining 18 bps in 2012, its absolute level of net interest income still increased by $472mm last year.
Cash Earnings
I have never lost money investing in what I call free cash flow machines. Wells is such a business. What is interesting is a comment that Buffett made in his letter that came out over the weekend. And that is, that many companies have expenses that generally are non-economic, non-cash expenses. The classic one of course is amortization of intangible assets (or goodwill).
In acquiring businesses, banks often book intangible assets referred to as core deposit intangibles (CDI), which then are amortized over a max 10 year period. Technology companies like Hewlett Packard (NYSE:HPQ) and IBM (NYSE:IBM) also create intangible assets too when purchasing businesses. In earnings releases, they then legitimately exclude these costs from their reported earnings, and analysts regularly and appropriately focus on these "cash earnings". Since past acquisitions are expenses already paid for, i.e. not to recur, then reducing future EPS doesn't really make a lot of sense for money already out the door.
While I quibble with excluding stock based comp (a recurring item), I do not quibble with excluding amortization of intangibles, or excluding amortization of CDI from earnings. In Wells' case, they amortized $1.4BB in core deposit intangibles last year (see Note 10 of the financial statements). As Buffett points out, it doesn't really make a lot of sense to expense CDI when its depository base continues to grow.
At a big picture level, in 2012, WFC's depreciation and amortization expenses totaled $2.8BB, much from amortizing CDI. But cash capex was only $930mm. That means, from a cash earnings perspective, Wells actually earned $3.77 in cash earnings last year, compared to a reported figure of $3.36. Here is the math: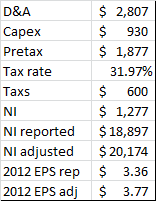 That means on a TTM basis, WFC currently is trading at a 10.7% FCF yield, quite amazing given the high quality nature of the business and management.
Valuation
Here are the comps: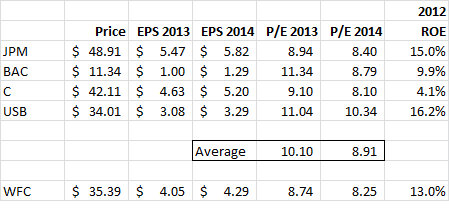 I did adjust WFC's EPS for its non-cash CDI expenses, which are projected in the 10K for the next few years. Generally speaking, I view Wells and JPM as top tier, conservatively run banks. US Bank (NYSE:USB) is a slightly different animal, more of a custody bank, one which generates slightly higher ROE's and thus trades a little better. Citigroup (NYSE:C) and Bank of America (NYSE:BAC) are names not for me. Management issues, low returns on equity, continued problematic loan books, never ending litigation, these two are turnarounds that seem not to trade at turnaround valuations. JPMorgan (NYSE:JPM) is still a solid buy today (see my write up here where I recommended it last year amidst the whale losses).
Perhaps more important than comp levels at this moment is where WFC has traded over the past 5 years. The average P/E has been 12x, with a low of 8x and a high of 15x. Using these numbers I get a range of valuations below. By the way I conservatively reverted back to Street estimates for 2013 of $3.60, below my cash EPS estimates of $4.05.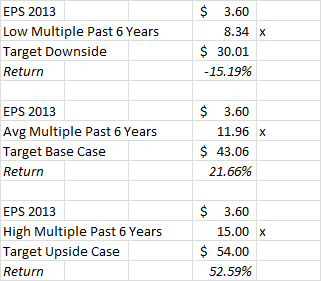 Conclusion
There are obviously a lot of moving pieces to valuing a company like Wells. The black box element doesn't worry me too much here as underwriting standards have always been top notch.
Management is solid too; it is hard not to like them when you listen to the conference calls. Admittedly there are legitimate concerns of a few headwinds in 2013. The mortgage refi boom is winding down, and reserve releases will slow this year. Basel III's implementation fortunately is a gradual one, with final measures of liquidity and tier I capital not required until 2018. I fully believe that the company can improve its efficiency ratios to offset the remaining regulatory drag on ROEs over time. The company seems on track to reach a 55% efficiency ratio (which is the company's non-interest costs as a percentage of revenue). The Q4 blip below (the $894mm) relates to an IFR settlement and a couple other one-time items, but the trend is clear.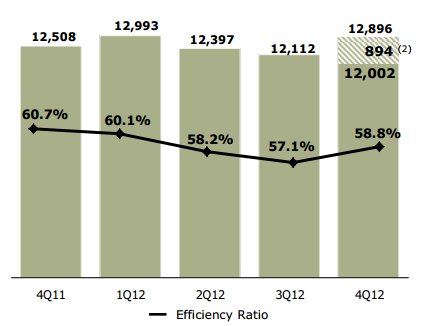 Finally, as for shareholder friendliness, Wells recently submitted a plan to its regulators for approval to increase capital returns to shareholders. I fully expect bigger dividends and buybacks over the next few months, providing a bit of a catalyst to WFC. That is, in case Warren Buffett's endorsement isn't sufficient.
Disclosure: I am long WFC. I wrote this article myself, and it expresses my own opinions. I am not receiving compensation for it (other than from Seeking Alpha). I have no business relationship with any company whose stock is mentioned in this article.
Additional disclosure: Long Berkshire and JPM too.