RadioShack (NYSE:RSH) is a leading retailer of mobile technology, as well as products related to personal and home technology and power supply. Its retail network includes more than 4,600 company-operated stores in the United States and Mexico, 1,500 wireless phone centers in the United States, and more than 1,000 dealers and other outlets worldwide.
The company is deeply undervalued. Its market cap of $306MM is half of its year end Book Value ($598.7MM), or a mere 57% of its cash position ($535.7MM) at the same date. The stock is trading at $3.06 per share, which compares to the $15 or $20 levels where it used to trade no so long ago.
Average EPS for the last 10 years has been $1.21 per share, which could easily justify up to $10 or 15 per share if there was the feeling that the company could come back to its average historical performance.
That is why I have been looking into the company. I have been waiting for the release of the Q4 2012 results note that came out two days ago, to check for an update on the business and the financial situation of the company.
What is going wrong?
In my opinion, nothing more than competitive forces in what happens to be a very tough industry that has become even tougher in recent years. The inability to evolve as a brand has put the company against the wall.
RadioShack is not the first retailer, and surely will not be the last that faces the fundamental question of what is the value that it brings to customers, and how, if somehow, it can create value out of a high number of stores.
The company faces a high degree of competition from very strong players such as Wal-Mart (NYSE:WMT), Best Buy (NYSE:BBY) and Amazon (NASDAQ:AMZN) when trying to sell to its customers. Price transparency and product brand predominance add to the aggressiveness of this competition.
Unluckily for the company, this degree of competition does not repeat itself in the field of its suppliers, notably when it comes to mobile technology. Top selling products belong to a hawk in capturing value like Apple (NASDAQ:AAPL), which leaves any retailer with little or no negotiation power. This is especially harmful for players such as Best Buy and RadioShack with a less diversified product range.
Financial translation.
All if this, at the end, translates into margin erosion. Historically, the operative margin (EBIT/Revenues) had its highest point in 2000, when it reached 13.1%. Since then, it has cyclically come down to progressively lower levels. In 2002, it reached 9% and slowly recovered from there until 11% in 2004, only to fall down to 4% in 2006. The next peak was in 2007 at 9%, and from there it started a new downward cycle, still unfinished, reaching a negative value of 1.4% in 2012.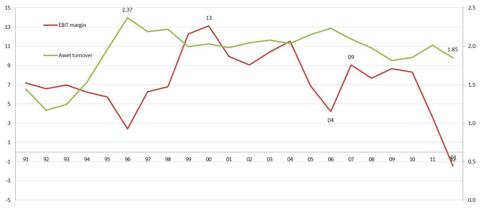 Company's response
The response from the Board, to no surprise, has been to try out new management. As published on Bloomberg, "RadioShack hired Joseph C. Magnacca, 50 years, as its fourth chief executive officer in three years, tapping a drugstore marketing expert to help revive the unprofitable chain." He joins the retailer from Walgreen Co. (8,000 stores) where he served as executive vice president in charge of marketing and merchandising.
Whether new management will be able to cope with the competitive forces underlying the industry, is to be seen. Normally, it is the industry that wins over the management, but it is true that bringing a chain specialist, rather than product specialist, is what the company might need.
Strategic crossroads
As of today, the company is at a crossroads, with a lack of choices and pressure for making decisions and implementing them. Most probable alternative scenarios might be the following ones: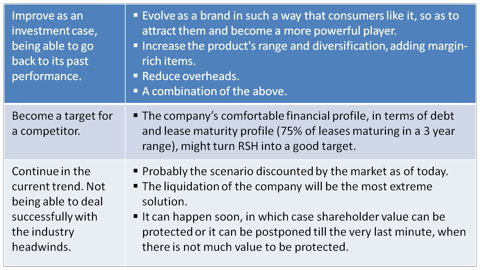 I am quite skeptical of the company being able to achieve a full turnaround in its strategic position, but it is not impossible and we cannot fully discard it.
The current valuation is really interesting for any competitor buying into the RadioShack store chain, since all of the investment could be financed with the company's own cash and still there would be some left to amortize some debt, or to invest in expansion.
This wouldn't work in such a straight way since there are legal protections to avoid that from happening, but alternatives would be found to circumvent those protections without damaging RadioShack shareholders.
There is no big controlling shareholder in the company (see table below), since there are plenty of top-gun financial institutions that will certainly try to get out as much as possible for their investment. I think this scenario is probable.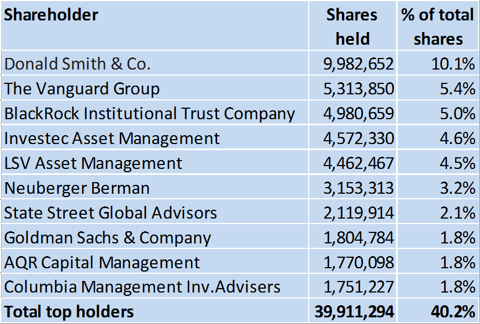 Valuation and investment character
The company has been trading at much higher multiples than the current ones. Since I have kept records (1991), there has never been such a low multiple of Price to Book Value like the 0.5 that the company is trading at lately.
Only the cash position of the company, as of December 2012, would justify a move up to $5.3 per share. The current share price is 43% below that reference. The share price is almost 50% below book value and 75% below a 10 times PER to 10-year average EPS.

What could be the value of the company if broken up or liquidated?
It is difficult to say, since there are many assumptions to be made and a proper item by item review would be required. I made a generic exercise based on the Balance Sheet at 31st December 2012, and came up with a value of $4.1 per share, assuming different adjustments on asset and liability lines of the balance sheet, as shown in the table below.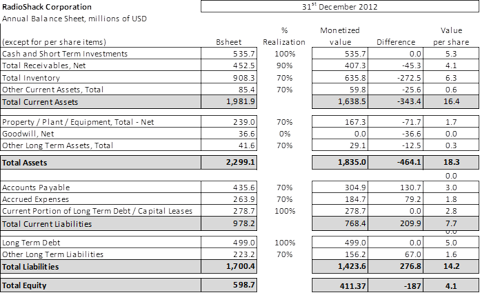 In my view, the company is worth more than the market pays for it.
Nevertheless, I wouldn't award this stock, even at current prices, an "investment" status. If things remain the same, the value of the company can only diminish.
An improvement of its status as an investment can only come from favorable events yet to happen, and there are some possible scenarios from which our value cannot be protected.
Having said that, the deep discount the company trades at, would support a speculative acquisition where the risk of falling into a value trap is compensated by the discount of our entry level.
Our best scenario would be either that the management is successful, which I doubt, or that the Board finds alternative solutions for the retail chain before too much value is destroyed.
Therefore, I will buy some RSH shares, but think of it as a risky acquisition of speculative nature, and not devote to it more than a marginal proportion of my portfolio.
Disclosure: I have no positions in any stocks mentioned, but may initiate a long position in RSH over the next 72 hours. I wrote this article myself, and it expresses my own opinions. I am not receiving compensation for it (other than from Seeking Alpha). I have no business relationship with any company whose stock is mentioned in this article.