Boy, four years seems like a lifetime. It was just around 52 months ago that Bloomberg reported that Developers Diversified Realty Corp. was scrapping its quarterly dividend payment. As the story unfolded in the (October 24, 2008) Bloomberg article:
Developers Diversified shares have plummeted 48 percent from Oct. 20 through yesterday and 76 percent since Sept. 19. The company faces more than $3.5 billion in debt payments from 2010 through 2012, S&P said yesterday when it lowered the real estate investment trust's credit rating…

The decision not to make dividend payments in the fourth quarter will add $80 million to the company's balance sheet this year and a total of $230 million this year and next, Developers Diversified said in a statement. The company's 2008 total dividends now will be $2.07 a share and $1.50 a share for all of 2009, paid quarterly, according to the statement.
As illustrated below, shares in the Beachwood (OH)-based shopping center REIT tumbled from a high of $67.20 (on July 31, 2007) to a low of $1.81 (on March 3, 2009) - almost four years ago. Developers Diversified, now known as DDR, Corp. (NYSE:DDR), commenced operations as a publicly-listed REIT on February 3, 1993 and today the company is the owner and manager of 454 value-oriented shopping centers representing 116 million square feet in 39 states, Puerto Rico and Brazil.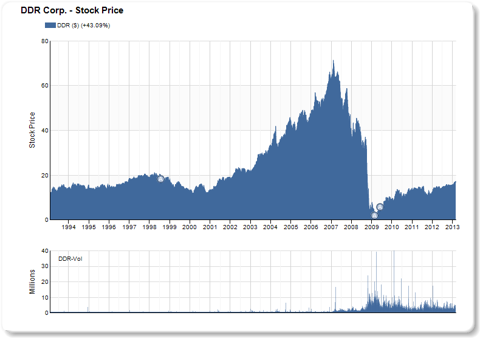 Developers Diversified, a REIT with significant leverage in 2008 ($5.867 billion at Q4-12), opted to suspend its fourth quarter (2008) dividend so that the company could enhance liquidity, or free up around $230 million for debt reduction. At the end of 2008, Developers Diversified had a debt to overall market capitalization ratio of 81.8%. Simply said, the REIT was loaded with lots of leverage…and investors paid the price.
DDR Corp. - A Phoenix Forming
In 2009 DDR, Corp. came crashing down and in Greek mythology we would call the newly branded bird a Phoenix - or as Wikipedia defines: "a long-lived bird that is cyclically regenerated or reborn." Let's take a deeper dive into the "newborn" bird's rise from the ashes.
At the peak of the wave (in 2008), DDR had just around $9.02 billion in assets and now (Q4-12) the company has just over $8 billion in holdings.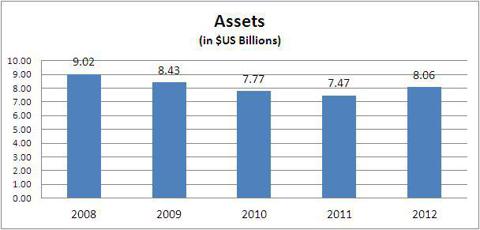 To reduce debt, DDR has been actively selling off non-core properties and reinvesting back into more "critical" shopping center properties. This aggressive recycling program has improved portfolio fundamentals and enhanced overall credit quality of the company's cash flows.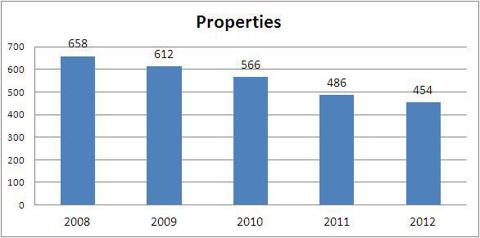 Since 2007 DDR has sold off around $3.1 billion in property - including $347 million of non-operating assets and $107 million of non-income producing assets in 2012. As part of the company's strategic recycling initiatives, DDR has disposed of 147 non-prime assets from 2010 through 2012 YTD; the top three tenants generating base rent in the properties sold were Rite Aid (NYSE:RAD), Kmart (NASDAQ:SHLD) and Tops.
Over the last few years, DDR has reduced debt by over 35% - from $5.87 billion to around $4.32 billion (as of Q4-12).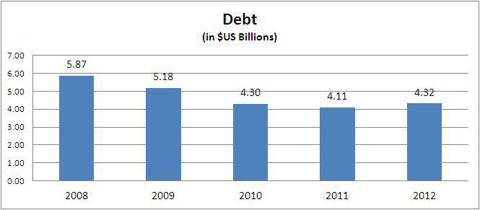 In addition, DDR has significantly reduced its debt to market capitalization. As of the latest quarter (Q4-12) DDR had a debt to market cap of 44.67.
As a result of DDR's strategic capital recycling initiatives the company has seen considerable improvement in its portfolio quality. For example, the overall portfolio occupancy as of the latest quarter (Q4-12) is 94.2%, 301 basis points higher than the lowest occupancy reported in 2009 (of 91.4%).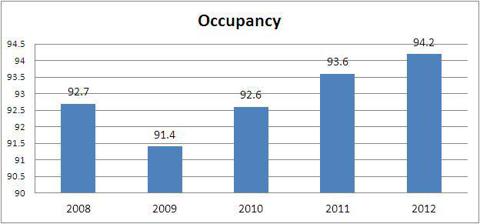 Overall, DDR has had significant improvements in occupancy (now 94.2%), same-store NOI (now 4.3%), debt to EBITDA (now7.6x), liquidity (revolver at 79% availability), and investment grade bond rating (S&P and Moody's).

Perhaps the biggest overall improvement to DDR's "turnaround" has been its significantly reduced exposure to tertiary markets and retailers with poor credit ratings. By reducing exposure in the smaller cities, DDR has been able to selectively rebalance its portfolio to include more risk-aligned high-quality assets.
DDR's shopping center portfolio is well balanced with the top 5 markets (in order of highest exposure) of New York, Florida, North Carolina, Georgia, and New Jersey.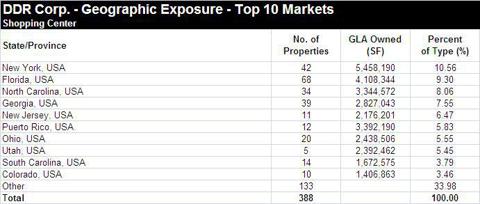 Also, DDR owns 34 free-standing properties in 12 states. At one time, the company had significant exposure to Rite Aid; however, many of the drug stores have been sold and the number of stand-alone properties (owned by DDR) should continue to diminish.

The company still owns a handful (14) of regional malls - 8 of which are in Brazil.

As well as a few land parcels (one in Russia?)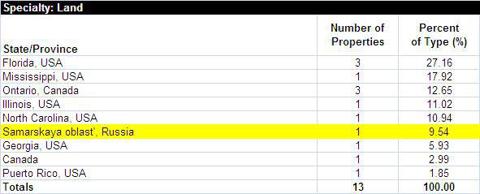 Show Me The Money
As part of the company's recycling strategy, DDR has scaled down its rental income from a high of $831 million to a more recent annualized level of $750 million (as of 2012).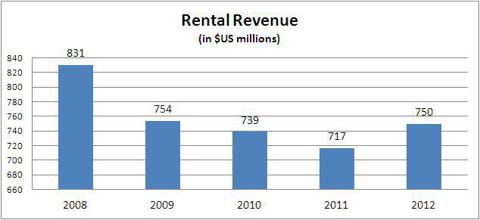 The revenue today consists of a very well-balanced portfolio of retailers with the top 5 rent payers being Wal-Mart (NYSE:WMT), TJ Maxx (NYSE:TJX), Bed Bath & Beyond (NASDAQ:BBBY), PetSmart (NASDAQ:PETM), and Kohl's (NYSE:KSS). Wal-Mart is the only tenant with over 3% concentration and the top 20 tenants comprise 32% of DDR's overall revenue.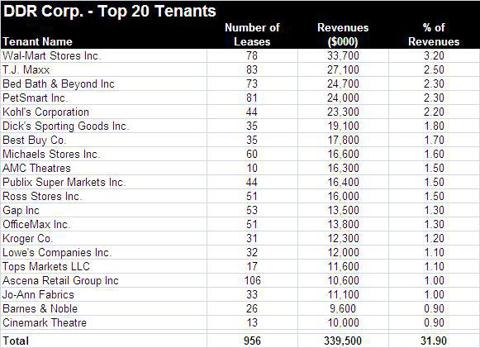 A few weeks ago I wrote a Forbes.com article (Barnes & Noble Should Start Thinking Outside of the Big Box) explaining the risks associated with the book store model and specifically the threat of Amazon (NASDAQ:AMZN) and other related e-commerce competitors. As I wrote:
It's clear to see that the Barnes & Noble storefront is under attack and in addition to downsizing its larger "big box" stores the company must continue thinking "outside of the box". Amazon and Apple will continue to serve their customers more efficiently and Barnes & Noble must find a stronger model that delivers more than a comfy couch, a great book, and a grande vanilla latte. The answer lies in the adaptability of the digital storefront as well as the more efficient retail storefront. Perhaps Barnes & Noble can successfully navigate both worlds but in the words of Bill Gates, Barnes & Noble must "innovate or die.
According to SNL Financial, DDR has 26 Barnes & Noble leases with just under 1% of total revenues.

Investors should consider this tenant a risk, however, I am not too concerned about the exposure for a few reasons: (1) DDR has demonstrated that the company can manage re-leasing risks effectively and, in fact, the company has been proactive in mitigating future vacancies by uncovering possible downsizing opportunities. Essentially this means that DDR could possibly benefit by sub-dividing space and leasing out for a higher cost per square feet. (2) Barnes & Noble is in play. The retail stores are more valuable than the Nook. I suspect that Microsoft (NASDAQ:MSFT) will come to the table in the form of credit enhancement or maybe even an all-out acquisition. Wouldn't that be nice to have Microsoft as a tenant? (3) Barnes & Noble has problems, but I would not get concerned about bankruptcy any time soon.
However, what about the electronic stores? DDR has 53 leases with the top two electronic chains: 35 Best Buy (NYSE:BBY) leases and 18 hhgregg (NYSE:HGG) leases. Combined, DDR has around 2.3% of electronic store concentration.

Again, much like bookstore chain Barnes & Noble, I am not overly concerned with DDR's exposure to electronics. First off, Best Buy is not dead. I would argue that the chain is struggling but there is still demand, granted it's smaller. I believe the chain will evolve with a smaller footprint and that means that DDR could benefit by sub-dividing space and leasing to tenants that pay more rent (per square foot).
There are many retailers expanding today and DDR could benefit from the downsizing opportunities with Best Buy. For example Petco, ULTA, Tuesday Morning (NASDAQ:TUES), Dollar Tree (NASDAQ:DLTR), Kirkland's (NASDAQ:KIRK), Aaron Rents (NYSE:AAN), Hibbett Sports (NASDAQ:HIBB), and many others have announced plans to add stores in 2013 and beyond.
But what about the recent merger news with Office Depot and OfficeMax? I was the first to report on the impact for REITs in Forbes.com (Are REITs Overexposed To The Big Box Office Supply Chains? ):
Notwithstanding the fact that OfficeMax's 900 retail stores and Office Depot's 1,700 stores would provide twice the customers of the combined entity, the cannibalization - stores too close to one another - could lead to reduced wages and a reduction in overall store count.

It is plain to see that the brick and mortar model is under significant pressure due to online shopping. Even more, the office supply sector is worse off with Staples (NASDAQ:SPLS) and these two companies going head-to-head not only with online retailers, but with each other.
Indeed, DDR has exposure with the two merging office supply chains: 51 OfficeMax leases and 33 Staples leases.

Clearly, the exposure with OfficeMax could have the biggest impact to DDR's revenues; however, it is highly unlikely that ALL of the stores will become dark. In addition, the leases are all staggered so DDR should be in a better position to re-lease the spaces prior to future lease expirations. In addition, DDR's portfolio is large enough to withstand a potential torpedo - assuming all OfficeMax leases don't renew (just 1.3% of revenues).
Now, we all know why dividends are cut or suspended. Quite simply, it's because funds from operations decline. So here is what happened to DDR's FFO before, during, and after the Great Recession: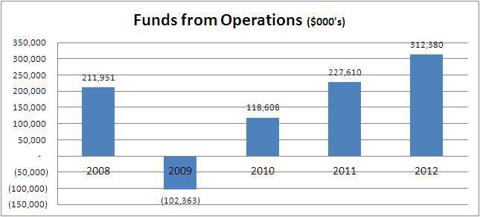 And here is snapshot of FFO per (common) share: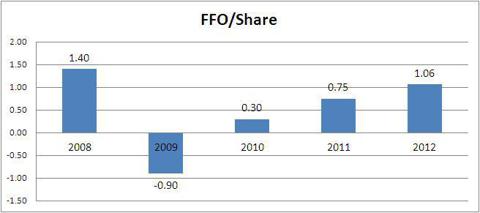 Now. This is the ugly chart…nobody likes to see this - especially if you owned shares (in 2009) in a retirement account:

A Phoenix? Yes. A SWAN? No.
DDR has done a terrific job of clawing back from the troubles of the past. Since 2011, the company has begun a rapid deployment of dividend increases. In 2011 DDR paid $.2200 per share and in 2012 the company paid $.4800 per share:

And more recently, DDR announced (on January 7, 2013) that it was increasing its dividend by 12.5% from the fourth quarter of 2012. The common stock dividend is payable on April 2, 2013 to shareholders of record at the close of business on March 14, 2013. As David J. Oakes, DDR's president and CFO explained in a press release:
We are pleased to announce another increase in our dividend to an annualized rate of $0.54 per share. The significant increase reflects the strong operating results that our portfolio is generating. Our payout ratio remains relatively low and affords considerable free cash flow that can be invested into attractive opportunities that position us for continued strong dividend growth in the coming years.

DDR's current dividend yield is 3.11%. Still less than the peer group (except FRT) that includes Kimco Realty (NYSE:KIM), Regency Centers (NYSE:REG), Excel Trust (NYSE:EXL), Retail Opportunity Investment Corp. (NASDAQ:ROIC), Equity One (NYSE:EQY), Federal Realty (NYSE:FRT), Weingarten Retail Investors (NYSE:WRI), AmREIT (NYSE:AMRE), Whitestone (NYSEMKT:WSR), Inland Real Estate (NYSE:IRC), Urstadt Biddle (NYSE:UBA), and Retail Properties of America (NYSE:RPAI).

As the FAST Graph below illustrates, DDR's dividend fell hard (dividends are illustrated with the shaded light blue area) along with the share price (black line):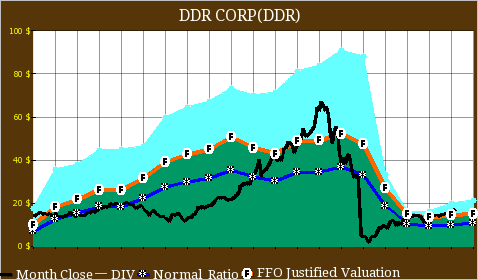 However, as the 4-year FAST Graph shows us, DDR's dividend has begun to follow a steady FFO trend (FFO is the orange line). The current price of $17.35 (black line) appears to be moderately valued making shares not cheap, but not expensive.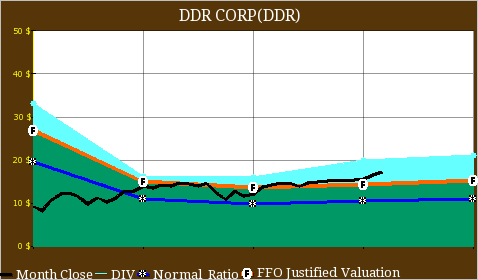 Based on 2013 FFO estimates of $1.10/share, DDR currently trades at a multiple of 15.5x compared to the community center group median of 16.6x. Overall, DDR has made significant progress, and 2013 should be another year of similar improvement. DDR's year-over-year total return performance was 25.15%, compared with the S&P 500 return of 13.02%. Nice work.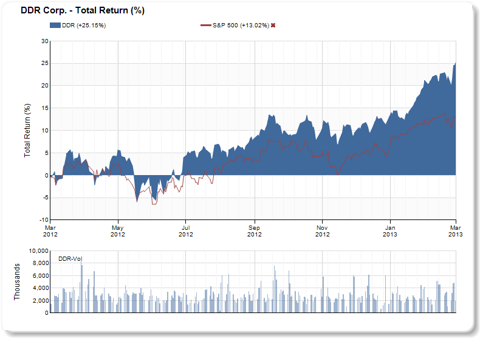 In a recent article, fellow Seeking Alpha writer, Dane Bowler, wrote about DDR:
Overall, DDR's power center portfolio has reduced susceptibility to cyclicality, delinquency and vacancy. While we must keep in mind that only about 55% of DDR's overall assets are power centers, I believe this portion of DDR will provide sufficient cushion from the dangers of retail that it can be placed firmly in the category of blue chip.

DDR Corp's financial outlook also seems secure as it recently sourced over $1.15B of refinancing. Its new $750mm credit facility is set at LIBOR + 140 bps, which is 25bps cheaper than its former facility and a new term loan at LIBOR + 155bps saves 15bp compared with the former version. While the savings, even when fully drawn, are fairly small, the larger benefit comes with the extension of maturity dates. DDR now has ample liquidity through April of 2017.
During the company's recent (Q4-12) earnings call, DDR's CEO Daniel B. Hurwitz said:
Retailers continue to seek new store growth in a supply constrained market and our portfolio has become a first look for several of the fastest-growing, most financially successful retailers. As a result, we expect to increase our portfolio lease rate to 95%, grow same-store NOI between 2% and 3%, while improving our credit quality of cash flow beyond the current historic levels.

Additionally, our revamped balance sheet and reduced cost of capital from its prudent transactional volume, and we continue to find attractive investment opportunities relative to current market pricing. We are not done growing our portfolio, improving our balance sheet or executing any of our strategic objectives. As a result, 2013 will be the continuation of our effort to actively monitor and participate in market opportunities as we prudently pursue the creation of long-term shareholder value.
In closing, DDR has done a fine job of climbing from the bottom of the abyss to become a formidable REIT contender. Although I can't call DDR a SWAN (sleep well at night) REIT yet, I will give the $5.47 billion REIT high grades for getting back on stable ground. We would all like to see a higher dividend yield (3.11% ain't much); however, I like the progress that's unfolding and the potential for more dividend increases.
I will likely include DDR's Class J perpetual preferred (the company replaced the Class I 7.5% shares last year) in my Intelligent REIT Investor portfolio. I believe that the yield is safe and I will consider a common equity position if shares trade closer to a $15 - $16 handle (when the dividend yield is 4% or higher). So investors who got in early (after 2010), congratulations. This bird is movin' on up! It's no Swan. It's A Phoenix From Afar Named DDR.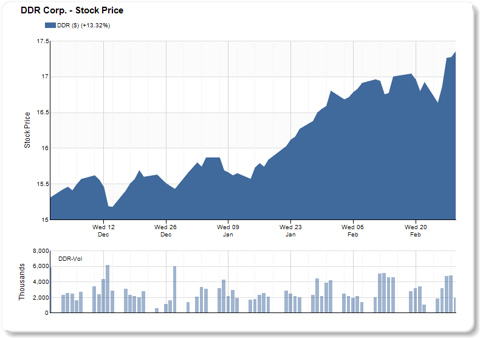 Source: FAST Graphs, SNL Financial, DDR Website
Disclosure: I have no positions in any stocks mentioned, and no plans to initiate any positions within the next 72 hours. I wrote this article myself, and it expresses my own opinions. I am not receiving compensation for it (other than from Seeking Alpha). I have no business relationship with any company whose stock is mentioned in this article.