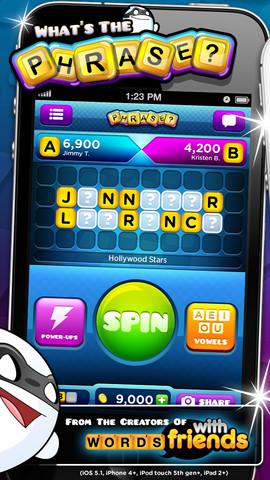 Back in March, I wrote about Zynga's (NASDAQ:ZNGA) acquisition of OMGPop, the maker of the popular "Draw Something" social game. The company's $180 million buyout of OMG seemed like a good deal at the time, but has since led to a write down by the company and also a decrease in users. Could a new game from the same studio power shares of Zynga back to double digits?
The newest game from OMGPop is "What's the Phrase". The game is similar to "Wheel of Fortune", a television show where contestants guess words based on the letters revealed on the board. Currently, the game is available for Apple (NASDAQ:AAPL) iPhones and iPads. Zynga has announced that the game will soon be available for Android devices (NASDAQ:GOOG) as well.
At the time of the acquisition of OMGPop, shares of Zynga were still trading in the double digits. Investors liked the move at first with shares up on the news. Once investors soaked in the high cost and the relative one hit wonder status of the developer, they began to question whether the purchase was worth it. At the time of the acquisition, 13.3 million people were playing "Draw Something" each day. The game had been downloaded over 35 million times. Currently, the game is played by 5 million people each month on Facebook (NASDAQ:FB) and just passed 100 million total downloads.
Another positive for the OMGPop acquisition is a future television show that will center around the "Draw Something" game. Ryan Seacrest Productions will bring a show to CBS (NYSE:CBS) that sees contestants and celebrities take turns drawing pictures and guessing the answers to win prizes. Back in June, I compared the show to "Who Do You Think You Are" and its companion company of Ancestry.com (NASDAQ:ACOM). The show helped boost the number of subscribers for Ancestry.com as viewers wanted to find out more about their family trees after watching celebrities explore their own.
I'm not saying that Zynga shares will be up huge on the television show, but it should help renew interest in the "Draw Something" show that saw huge downloads and drawing numbers at the time of its peak. Renewed interest in the game should help Zynga in its attempt to cross promote other games including "What's the Phrase".
In December, I highlighted the potential of online gambling and its impact on Zynga. At that time shares were near all time lows and traded at $2.42. Since that article, shares are up 42% and continue to see large swings based on gambling legislation. If the gambling legislation fails, investors will see lower buy in prices for Zynga stock. However, if games like "What's the Phrase" and others continue to do well on top of the potential from long term gambling, investors will not see these low single digit prices again.
Better cost controls helped Zynga post a surprise earnings beat in the fourth quarter. With new games coming, the company might be able to beat fiscal 2013 estimates. Analysts on Yahoo Finance see the company posting a loss of $0.05 in fiscal 2013 and a loss of $0.01 in fiscal 2014.
Fourth quarter monthly active user and daily active user counts were down from the company's third quarter. However, when compared on a year to year basis, Zynga actually had more people playing its games each day and month. Revenue of $311 million was also even with the prior year, despite a decline in in-game purchases.
Shares of Zynga can be purchased for less than $4. In fact, shares of Zynga haven't been over the $5 mark since July of 2012. Over the last fifty two weeks, they have traded hands between $2.09 and $14.48. Investors who have a big risk appetite should go long Zynga before it's too late.
Disclosure: I have no positions in any stocks mentioned, but may initiate a long position in ZNGA over the next 72 hours. I wrote this article myself, and it expresses my own opinions. I am not receiving compensation for it (other than from Seeking Alpha). I have no business relationship with any company whose stock is mentioned in this article.