The Dow Jones Industrial Average is now solidly above 14,000 but many investors are worried that sequestration and poor unemployment reports will derail the rally. The ratio of puts-to-calls has shifted toward put ownership, indicating that investors are becoming bearish. As a result, many investors are pursuing high yielding equities because of their generally strong financial position and ability to generate income. While some investors are buying Italian ten-year bonds yielding less than five percent, I would suggest considering relatively safe American equities with comparable yields.
This week there are 10 candidates, four of which have been analyzed below based upon SA readership criteria. Note that the six utility companies going ex-dividend this week have been analyzed in a separate article to better address the intricacies in the utility market. Out of the four companies analyzed below, two are financial service firms. Uncharacteristically, this week there are no yields above six percent. Three of the firms have market capitalizations below two billion dollars but Reynolds is four times larger than those three combined. I prefer that my ex-dividend candidates have market caps greater than five billion dollars but that is not a requirement. Three of the opportunities go ex-dividend on Wednesday with the remainder on Tuesday.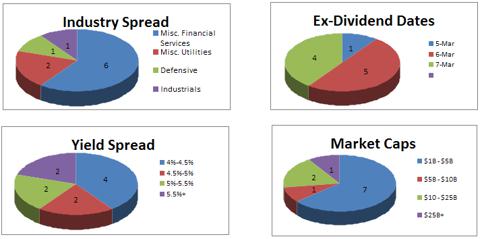 For details of the strategy and my screener details, please consult my methodology on the topic (last modified 1/21/2013). In brief, the screen focuses on relative stable equities with a concentration on liquid companies at affordable valuations. This is summarized below:
Dividend Yield ≥ 4.0%
Ex-Dividend Date = Next Week
Market Capitalization ≥ $1B
P/E Ratio: 0-20
Institutional Ownership ≥ 15%
Ideally Modest YTD S&P 500 Underperformance
Minimal European Exposure
After applying this screen I arrived at the equities discussed below. Depending on your belief in the investment hypothesis, you may decide to only hold long enough for the dividend or to make the stock a longer-term holding. The information presented below should simply be a starting point for further research in consultation with your professional financial advisor before making an investment decision. My goal is to present new companies to you and provide a brief overview of their recent developments; this should not be considered a substitute for your own due diligence.
TAL International Group (NYSE:TAL): 5.39% Yield; Ex-Dividend 3/5
TAL International is one of the leading container leasing companies that specializes in leasing containers to shipping line customers. TAL is a top five company for dry and refrigerated containers and is the market leader in specialized construction shipping. Revenues have been growing at a 21% CAGR over the past three years but virtually all of the expansion is occurring in Europe and Asia. Over 40 percent of revenue relates to Europe but Asia is poised to become TAL's largest market. Revenues should grow further in 2013 as TAL has reentered the Tanks and Chassis markets. Approximately 70% of the lease portfolio as of September 30, 2012 is long-term (3.75 years), which mitigates some of my concerns related to the Eurozone crisis.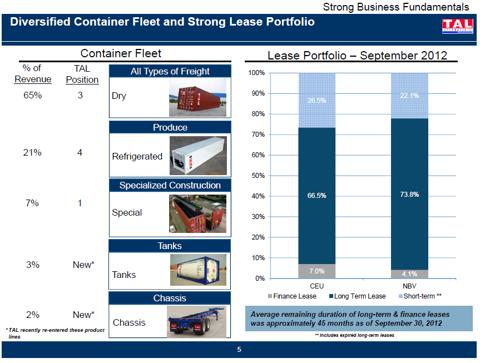 (Source: TAL November 2012 Investor Presentation)
I like both the leasing business and TAL's financials, thus I am willing to stomach the European exposure. TAL surged 27% the past quarter and has climbed 19% in 2013; this strong growth has pushed the dividend down from 7% to 5.4%. Despite the drop in yield, the payment has been rising steadily and is currently 40% of adjusted pretax EPS. Based upon recent history, management appears to keep a relatively conservative payout so further increases may not be as large. This past week TAL announced a secondary offering by affiliated private equity ("PE") owners. The stock has appreciated 24% in the past two years so it is likely just a case of PE firms taking profits but I always get a little apprehensive when I see so much insider selling.
AllianceBernstein Income Fund (NYSE:ACG): 5.86% Yield; Ex-Dividend 3/6
This closed-end fund offering from Alliance Bernstein has the objective of generating high current income to outperform the broader bond market with a side objective of preservation of capital. This is a very popular market segment recently and the fund has appreciated more than 5 percent this year. The fund's portfolio is available here as of January 31 and there are no unexpected holdings. Sixty-two percent of holdings are government securities with nearly seventy percent of the portfolio rated triple-A, so you may be wondering how the robust 5.9 percent yield is achieved.
The answer is primarily leverage: the fund has 43 percent leverage, which boosts the returns. The use of leverage in this low-interest rate environment may be prudent but this is a red flag for dividend capturing as the trade could very easily turn against you. Both the leverage and government allocation have been uncharacteristically volatile for this type of fund, both exhibiting 3 percent swings in a few months. The fund charges 65 basis points, which brings the overall yield closer to 5.2 percent.
United Bankshares (NASDAQ:UBSI): 4.73% Yield; Ex-Dividend 3/6
United Bankshares is a commercial and retail bank with over one hundred locations in the Northeastern United States. UBSI looks like a standard regional bank, but the high P/E is alarming for the beaten down industry. Furthermore, the dividend has appreciated minimally since 2008. The big red flag for UBSI is that the company has trouble meeting earnings targets: the company has failed to meet estimates in the past five quarters. I lack confidence in the bank's ability to meet forecasts and I would like to see two consecutive quarters of earnings beats before considering a long position. I also avoid UBSI because the yield is not spectacular for the risk assumed and there are better options this week. United Bankshares announced that it would be purchasing Viriginia Commerce Bankcorp for nearly $500M. This is an enormous acquisition for the $1.5B UBSI and the deal will increase assets by one-third.
Reynolds American (NYSE:RAI): 5.44% Yield; Ex-Dividend 3/6
Reynolds is the other "big tobacco" company like Lorillard (NYSE:LO), which I covered last week. RAI is the second largest US tobacco company with brands including Camel and Kool. I have invested in tobacco companies over the years and the investment hypothesis is very similar: U.S. cigarette volume is declining, but tobacco is still a strong worldwide seller. Furthermore, declines in cigarettes are being partially offset by demand for smokeless tobacco and other products such as eCigs (electronic cigarettes).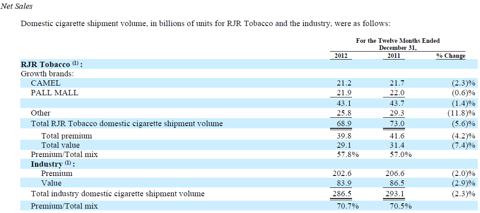 (Source: Reynolds 2012 10K)
Tobacco companies are both mature and safe, which presents the opportunity to return money to shareholders via dividends and share repurchases. Reynolds recently announced a lackluster year, which saw Reynold's US market share decline 1.1%. The dividend has remained flat for the past year but the payout ratio over 100% makes future increases questionable. Tobacco stocks have been pressured recently due to the appointment of an anti-tobacco regulator to the FDA as the head of the Center for Tobacco products. Despite these negative headwinds, Reynolds has a 12.8 forward P/E, 22.1% return on equity, and is yielding 5.44%. I believe the stock is attractively priced and Reynolds is a strong ex-dividend opportunity.
Honorable Mention: Gannett Co, Inc. (NYSE:GCI): 3.96% Yield; Ex-Dividend 3/6
Gannett's dividend yield slipped below four percent late last week but it meets all other criteria. Gannett Co. is a media conglomerate that owns numerous newspapers and news websites, including USAToday. The company has faced tremendous difficulty adapting to a digital society, which is reflected in its stock price. The company has made recent steps to increase its digital offerings, but this will not be a quick turnaround story. Earnings have been steadily decreasing as declines in publishing have been offset by growth in digital and broadcasting.
The company touts its twenty percent non-GAAP earnings growth of twenty percent but some of the adjustments are a bit broad. For example, a $108M "facility consolidation and asset impairment charge" was excluded from non-GAAP earnings. Based upon Gannett's troubled history and reliance on legacy operations, I do not believe that these costs are extraordinary. Furthermore, no adjustment was made for the "substantial increase in political advertising" that occurred during the year due to the presidential elections. Consequentially, the broadcasting segment experienced 43.9% growth that will likely evaporate next year. If management is going to normalize for non-recurring expenses, it should treat highly cyclical revenues in a similar manner to be conservative.
The dividend history is equally rocky as it was slashed in 2009 from $0.40 to $0.04 per quarter. The dividend has been restored to $0.20 per share now, but the company will have to improve its earnings to maintain such a payout going forward. The stock has unexpectedly jumped 38% in the past six months. Gannett might look attractive with a 4% yield and 11 P/E, but I would avoid this company until it is able to prove that it can grow GAAP earnings.
The information presented has been summarized below. I make no guarantees regarding the information in the chart as industry classifications are frequently imperfect. Orange and green represent "avoid" and "consider" classifications, respectively. All utilities in blue have been analyzed in a separate article.

Please refer to profile page for disclaimers.
Disclosure: I have no positions in any stocks mentioned, but may initiate a long position in TAL over the next 72 hours. I wrote this article myself, and it expresses my own opinions. I am not receiving compensation for it (other than from Seeking Alpha). I have no business relationship with any company whose stock is mentioned in this article.