In Part 1 of Five Mortgage REIT Preferreds to Consider, we took a look at a preferred stock issued by hybrid mREIT Apollo Residential (NYSE:AMTG). In Part II we switched gears to look into the agency mREIT universe and analyzed Annaly Capital Management's (NYSE:NLY) 7.50% Series D fixed rate cumulative perpetual preferred stock. In this piece, we are going to go back to the hybrid mREIT space once again and take a look at AG Mortgage Investment Trust (NYSE:MITT).
Outstanding Preferreds
AG Mortgage has two preferreds outstanding - the 8.25% Series A (ticker: MITT-A) which was issued in July 2012 and the 8.00% Series B (ticker: MITT-B) which was issued a few months later in September 2012. Both positions began trading Ex-Div on Tuesday, February 26, which has allowed investors favorable entry points into the preferreds.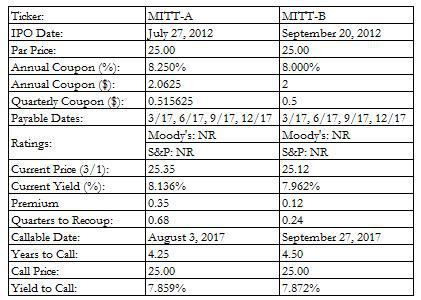 MITT-A is trading at a $0.35 premium to par while MITT-B is trading at a $0.12 premium. This results in MITT-A and MITT-B having current yields of 8.136% and 7.962%, respectively. While they are both trading at a slight premium, both are within one dividend payment of par. MITT-A is callable in August 2017 and has a yield to call of 7.859% while MITT-B is callable in September 2017 and has a yield to call of 7.872%.
Price History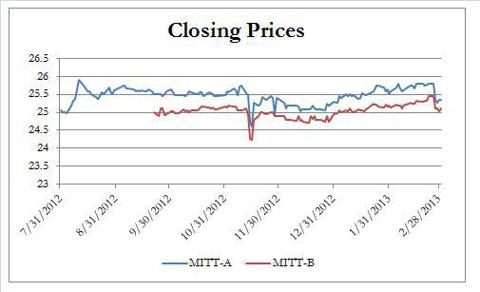 MITT-A and MITT-B trade in a similar pattern with MITT-A having the higher price due to the higher coupon.
Current Yield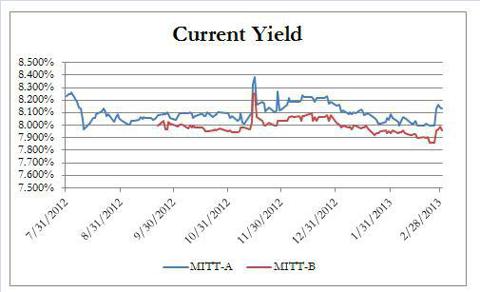 While the difference in current yield is not much, it should be noted that MITT-A has consistently traded with a higher current yield than MITT-B.
Liquidity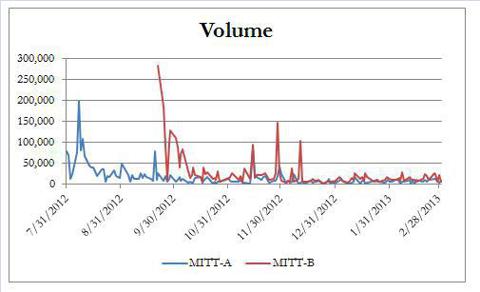 Based on the above chart, it looks like MITT-B has been more liquid than MITT-A. When both were new issues it's clear that they were heavily traded and as time has gone on, both have become a little less liquid.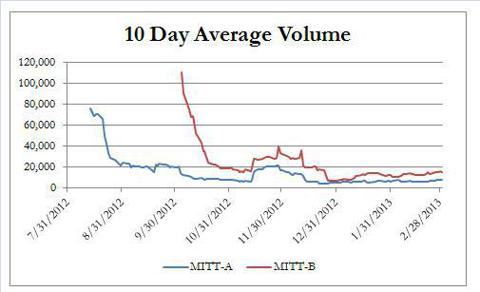 This 10-day average volume chart further highlights the above two points that MITT-B is more liquid than MITT-A and that both issues were traded much more when they were first issued than they currently are.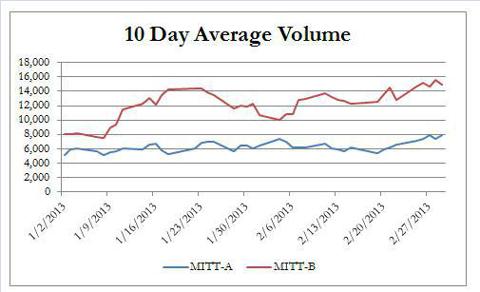 By taking out the early trading volume and analyzing the 10 day average volume in 2013, we are able to get a much clearer picture of the discrepancy in liquidity between the two issues. Neither is particularly liquid but MITT-B has been trading about twice as many shares on average than MITT-A. This is not overly surprising given the difference in share count between MITT-A and MITT-B - MITT-A has 1.8 million shares outstanding while MITT-B has 4.0 million.
By analyzing the 10 day average volume as a percent of the outstanding shares, it's clear that there is not much of a difference between the two issues in terms of the float.
Final Thoughts
Both MITT-A and MITT-B make compelling arguments for being the better investment. MITT-A has a higher coupon and current yield while MITT-B has more volume on a daily basis (although this is a function of the number of shares outstanding). The two positions have a yield to call that are virtually identical (MITT-B has the better YTC by 1.3bps). The main difference between the two positions is the current yield. Given that both positions are trading with premiums that will be recovered in the June dividend payment (since both have already traded Ex-Div for the March dividend payment), MITT-A's excess 17.4bps in current yield makes it the right investment choice between the two.
Earnings
It should be highlighted that AG Mortgage Investment Trust is set to release earnings for the fourth quarter of 2012 on Tuesday, March 5.
Ticker Reference Table: To help find preferred stocks on your trading platform, please see the Preferred Ticker Reference Table.
Disclosure: I am long MITT. I wrote this article myself, and it expresses my own opinions. I am not receiving compensation for it (other than from Seeking Alpha). I have no business relationship with any company whose stock is mentioned in this article.
Additional disclosure: This article is for informational purposes only, it is not a recommendation to buy or sell any security and is strictly the opinion of the author. Investors are strongly encouraged to do their own research and discuss potential investments with an investment professional.