How does Oceaneering International, Inc. (NYSE:OII) stack up against other oil field services companies? That may be a deep question. The company describes itself as a global oilfield provider of engineered services and products, primarily to the offshore oil and gas industry, with a focus on deepwater applications. Through the use of its applied technology expertise, Oceaneering also serves the defense and aerospace industries. It stands out as one of the largest providers of remotely operated vehicles (ROVs) used primarily for deep and ultradeep water oil and gas exploration and development. Oceaneering's current market cap is $6.81 billion. Having developed almost 50 years of experience in the deployment and operation of ROVs in some of the most hostile environments on earth, OII also works with defense and NASA on projects requiring remote operations expertise. It provides services for these fields ranging from rocket thermal protection to robotic systems design, maintenance, operation, and training.
Historic Performance Review:
Let's start by seeing how OII's performance stacks up against other global oil and gas service companies.
Total return for Oceaneering International, Schlumberger (NYSE:SLB), Baker Hughes (NYSE:BHI), Cameron International (NYSE:CAM), and FMC Technologies, Inc. (NYSE:FTI) are shown in the chart below. Historic performance shows that two companies-- OII and FTI-- stand out, rewarding investors with 2.5 to 3 times better than what the competition accomplished. Not only have these two generated returns of 1002% and 988% respectively over the past 10 years, they have outperformed their peers consistently all of that time, through both the upswings and downturns of the industry.
The steepening of the return curve and increasing divergence of these 2 companies from the others demonstrates clearly that OII and FTI not only outperform for the 10 year period but do better and better versus the others for the more recent years. This is a trend that continues right up to this day. Even the much larger and more diverse Schlumberger has failed to keep up performance since the market crisis of 2008 and continues to fall further behind the two leaders.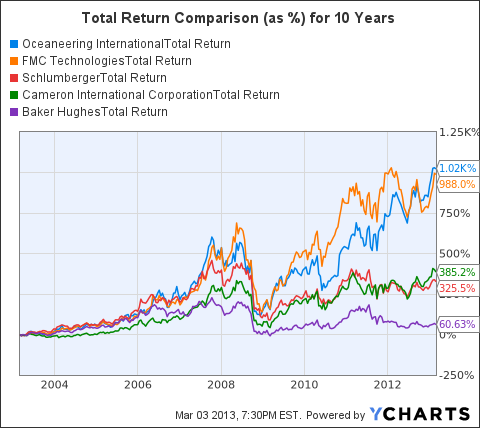 OII Total Return Price data by YCharts
Comparison of fundamental metrics for OII and FTI:
Having identified 2 clear leaders that stand out from the pack, let's drill down into each of those company's details. The two companies stack up with similar metrics with Oceaneering outperforming somewhat in many key ratios. This may, in part, be a reflection of its smaller size and less diverse scope of services and products.
The one metric that stands out both in contrast and as an absolute number is the debt/equity ratio. FMC's 88.54 ratio is staggering. Not only is this a very heavily leveraged operation, it leverages with a return on assets of 7.96%, making it potentially vulnerable to a spike in interest rates at some future time.
| Key Metric | Oceaneering | FMC Technologies |
| --- | --- | --- |
| Market Cap | $ 6.81 billion | $ 12.23 billion |
| Forward P/E | 16.28 | 17.46 |
| Profit Margin (2012) | 10.39 % | 6.99 % |
| Operating Margin (2012) | 15.40 % | 10.53 % |
| Return on Assets | 10.38 % | 7.96 % |
| Return on Equity | 17.14 % | 26.42 % |
| Qtrly Rev/Earnings growth (YOY) | 36.0%/ 38.2% | 22.7%/21.4% |
| Debt/Equity | 5.18 | 88.54 |
| Annual Dividend | $0.72 (1.1%) | none |
| Payout Ratio | 26.00% | n/a |
| | | |
FMC Technologies historically shows the better yield on earnings from operations, averaging 8% to 9% compared to Oceaneering's 6.5% to 7% historic average.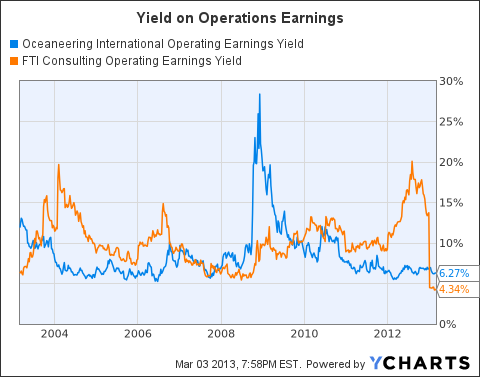 OII Operating Earnings Yield data by YCharts
A look at revenue growth shows that both companies continue to expand at a healthy pace.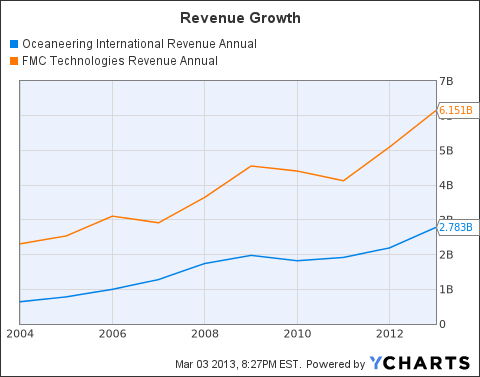 OII Revenue Annual data by YCharts
However, when revenues are examined on the rate of growth, Oceaneering is the clear winner. It has seen revenues more than triple in the past 10 years, twice the growth rate of FMC .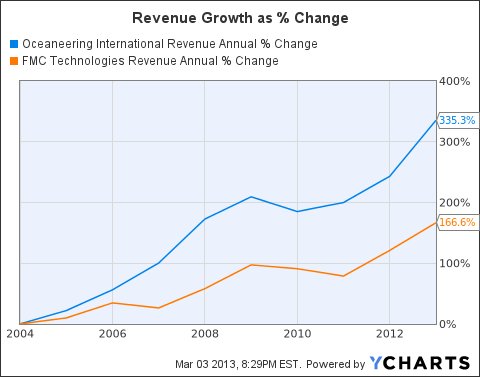 OII Revenue Annual data by YCharts
Both companies show a very strong correlation of earnings per share to operating income. The rate of growth for these metrics shows OII to be clearly on top. OII in the most recent years is clearly growing both operating income and EPS at a faster rate than FTI. It is also doing so more efficiently, with an EPS of $2.66 generated from $428.6 million versus only $1.78 EPS generated from the far greater $604.8 million earned from operations by FMC.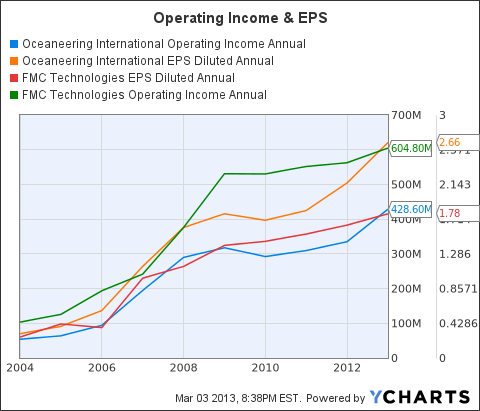 OII Operating Income Annual data by YCharts
Industry Future Outlook
The capital investment now and in the future is becoming ever more focused on Oceaneering's primary area of expertise and services, the deep and ultra-deepwater offshore. This is the only place left where the world's future reserves of oil and gas exist in large enough supply to replace existing reserves as they are produced and at cost and sustainability levels stable enough to meet the needs of both the consumer and the exploration and production industry.
Infield.com's market forecast report can be summarized with these highlights:
As the key growth market within the offshore oil and gas sector and the most capital intensive area for development, the emerging trends within the deep and ultra-deepwater sector reflect the dynamic state of the industry and the level of operator optimism going forwards. ... International Oil Companies (IOCs), Independents and National Oil Companies (NOCs) are all looking ahead to an increasing number of prospects within the deepwater market, in both established areas of deepwater development, and in areas previously deemed to be of marginal value.
Brazilian giant Petrobras (NYSE:PBR) is expected to continue its dominance of the deepwater sector with its projected share of expenditure to 2016 forecast to reach 26% of the total global Capex expenditure. The operator's deep water spend will predominately centre upon pre-salt assets within the Santos Basin. Expenditure is also expected to remain high for Supermajors: Chevron (NYSE:CVX), Total (NYSE:TOT), Shell (NYSE:RDS.A), BP (NYSE:BP) and ExxonMobil (NYSE:XOM). The combined investment by the Supermajors and Petrobras is expected to reach 65% of the global deepwater Capex expenditure over the course of the forecast timeframe.
Independent operators, such as, Anadarko (NYSE:APC), Noble Energy (NYSE:NBL), Hess (NYSE:HES) and Tullow (

TUWOY.PK

) are also expected to substantially increase their proportion of capital expenditure within the deepwater market over the forthcoming five years. For Anadarko, the rise in investment is particularly significant, with key projects including the Gulf of Mexico's Lucius project, and exciting new projects offshore Africa.
From a regional perspective, the share of reserves coming on-stream is expected to be highest from the Latin American region - forecast to be 39% of total global reserve additions during the 2012 to 2016 period, with over 60% of such reserves anticipated to be located in Brazil's pre-salt basins. However, the largest deepwater field development expected on-stream during the period is located offshore Australasia at a depth of 1,300 metres

. The ExxonMobil-Chevron joint development at Jansz (Greater Gorgon) prospect, is expected to commence production in 2014 with reserves totaling some 2,800mmbble. Offshore Africa, Infield Systems anticipates strong deepwater investment to continue, with the region holding an equal global deepwater Capex share to that of Latin America at 30% across the 2012-2016 timeframe. Comparatively, North America's Capex share of the market is expected to stand at 21%, followed by Europe and Asia.

Infield Systems expects the largest proportion of deepwater investment to be directed towards pipeline installations; comprising 39% of total global deepwater expenditure. Latin America and Africa are expected to account for the greatest proportion of deepwater pipeline spend; whilst the single most capital intensive pipeline project is anticipated to be the Gazprom South Stream development at a water depth up to 2,200 metres, a project approved by Russia in December 2011. Deepwater Subsea expenditure is also expected to remain high with projects offshore West Africa forecast to comprise the largest share of Subsea demand over the period.
OilandGas-Investing.com reports in part:
While presenting the industry with its biggest challenges, deep water exploration and development yields the greatest potential rewards and healthy profit margins to the oil service companies involved.
The market fundamentals for oil service companies remain solid...
By 2020, offshore oil production is expected to account for 34% of the global output up from 25% in 1990.
Last year, 23 discoveries were announced in 12 different countries in an average water depth of 6,200 feet representing the sixth consecutive year of 20+ announced discoveries. Successful exploration results pave the way for development drilling over the coming years, which is another factor in driving future demand.
Petrobras (a Brazilian semi-public multinational energy company) will be renting 26 rigs for the next 15 years in order to develop its deep water oil field discovered back in 2006. The oildfield known as Tupi holds an estimated 8 billion barrels of light sweet oil.
In contrast to Brazil's newly discovered deep water prospects, the Gulf of Mexico is an established deepwater region which is also seeing rising activity levels. The industry expects drilling activity to reach and surpass the pre-Macondo level of about 30 wells by early 2013. Ultra-deepwater rig demand is expected to increase dramatically through 2016 as exploration activity drives future development demand growth. Even with the construction boom, the ultra-deepwater utilization is expected to remain tight in the coming years.
Not surprisingly, deep water's contribution to global oil output is expected to reach 13% by 2020 up from 0% in 1990. Declining production from large onshore oilfields has to be replaced somehow and the era of easy to extract cheap oil is behind us.
Standard & Poor's CreditWeek.com for December 16, 2012 reports:
Petrobras and Pemex have plans to spend $340 billion on deepwater E&P
Conclusions and Recommendations:
The deep and ultra-deepwater offshore are both the near and far term future for the oil and gas exploration & production industry. Service companies that offer specific expertise and services in this area will remain in tight supply and command premium prices for their critical products. Oceaneering International, Inc. is particularly well suited to continue to benefit from this trend.
A significant open market buy on February 26 by Hughes D Michael who is Director at Oceaneering International, Inc.. He reportedly bought 5,139 shares at $60.85 per share for a total value of $312,683. The shares recently traded at $63.26, up $2.41, or 3.96% since the insider buy. This should be taken as a strong buy signal at current prices.
Fundamentals for Oceaneering indicate it is trading at a fair to slightly discounted price at this time. Its historic P/E multiple averaging 16.5 to 17.0 makes the current forward P/E of 16.28 price at the low end of its share value. Given the growth rate metrics of revenue and earnings and their consistency over the past decade, the company deserves a higher P/E ratio than the overall Oil Industry Services segment (P/E of 14.59) and the S&P500 (P/E of 17.27). I would suggest that a company with the growth history of Oceaneering and the future growth outlook for its market suggest that a P/E in the 20 to 25 range is conservative. This would indicate a fair price of $77.38 to $96.72 based on the forward looking earnings forecast. Most analysts currently value shares in the $70.00 to $70.78 range. At its current trailing P/E of 23.68, the shares can be considered fair priced at the current $62.99.
In the past week, in response to the good earnings report, Sterne Agee of Barron's issued an upgrade from neutral to buy with a target price of $75.00.
Based on the strong near and long term outlook for the company, I recommend buying on pullbacks or using cash covered puts at or very near the money to begin accumulating a position immediately.
I want to add one further note. This is a relatively smaller cap company in the overall offshore oil and gas services segment and therefore subject to more volatility. These factors may make it not suitable for some investors.
Disclaimer: I am not a licensed securities dealer or advisor. The views here are solely my own and should not be considered or used for investment advice. As always, individuals should determine the suitability for their own situation and perform their own due diligence before making any investment.
Disclosure: I have no positions in any stocks mentioned, and no plans to initiate any positions within the next 72 hours. I wrote this article myself, and it expresses my own opinions. I am not receiving compensation for it (other than from Seeking Alpha). I have no business relationship with any company whose stock is mentioned in this article.