I believe the Team Alpha Retirement Portfolio has many of the mega cap, blue chip, dividend winning, super stocks that can make a retirement portfolio sing. When investors are seeking dividends, for either re-investment or for immediate income, having a wide swath of dividend winning stocks, that pay consistently, increase dividends regularly, and have enough money on hand to grow the payouts well into the future, it makes for a far more secure financial outlook.
Chevron (NYSE:CVX) optimizes what a dividend winning stock is all about, and I will be adding shares to the Team Alpha portfolio on the next trading day.
Our Team Alpha portfolio now consists of Apple (NASDAQ:AAPL), McDonald's (NYSE:MCD), Exxon Mobil (NYSE:XOM), Johnson & Johnson (NYSE:JNJ), AT&T (NYSE:T), General Electric (NYSE:GE), BlackRock Kelso Capital (NASDAQ:BKCC), KKR Financial (KFN), Procter & Gamble (NYSE:PG), CSX Corp. (NYSE:CSX), Realty Income (NYSE:O), Coca-Cola (NYSE:KO), Annaly Capital (NYSE:NLY), Cisco (NASDAQ:CSCO), Bristol-Myers Squibb (NYSE:BMY), Healthcare Select Sector SPDR (NYSEARCA:XLV), General Dynamics (NYSE:GD), and iShares S&P U.S. Preferred Stock Index Fund (NYSEARCA:PFF).
Chevron Is A Dividend Dynamo
Call them what you may; "Dividend Aristocrats", "Dividend Dynamos", or just plain "Dividend Winners". Any stock that has a chart such as this one, is a stock I think should be in every dividend seeking investor's portfolio.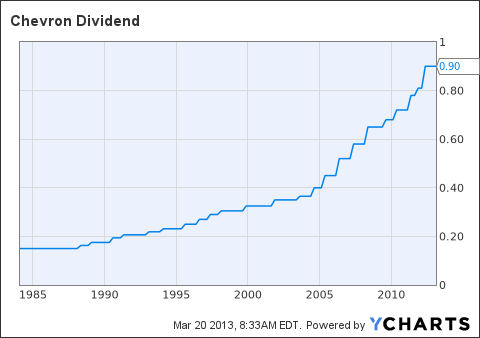 CVX Dividend data by YCharts
As outlined this article, Chevron has been named the top dividend stock of the Dow:
Chevron Corporation (CVX) has been named as the ''Top Dividend Stock of the Dow'', according to Dividend Channel, which published its most recent ''DividendRank'' report. The report noted that among the components of the Dow Jones Industrial Average , CVX shares displayed both attractive valuation metrics and strong profitability metrics. For example, the recent CVX share price of $115.96 represents a price-to-book ratio of 1.7 and an annual dividend yield of 3.1% - by comparison, the average dividend paying stock in the Dow yields 2.7% and trades at a price-to-book ratio of 3.3. The report also cited the strong quarterly dividend history at Chevron Corporation, and favorable long-term multi-year growth rates in key fundamental data points.
The powerful combination of price to book of only 1.7, and a growing dividend as shown in the chart above, makes this as compelling a value stock as any other stock around.
While the current yield is "only" 3.15%, the company has increased the dividends every year for more than 25 consecutive years as of now. Not to mention that CVX is one of the most profitable public companies in the United States (as of 2011, it was number two, just behind Exxon Mobil, and in 2012 it was number 3, behind Apple and Exxon).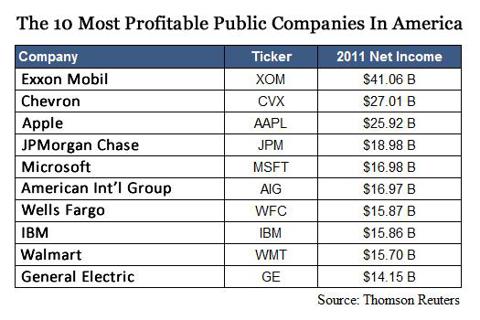 While size does not ALWAYS matter, when it comes to dividend winning stocks, size does matter, a lot.
Revenue, profits, dividends, and the obvious potential for future capital appreciation as well as dividend growth, makes Chevron an easy fit in just about anyone's portfolio.
Future Potential Is Strong
As gasoline prices rise, it should come as no surprise that the profits of the big oil companies increase even faster. Take a look at this chart: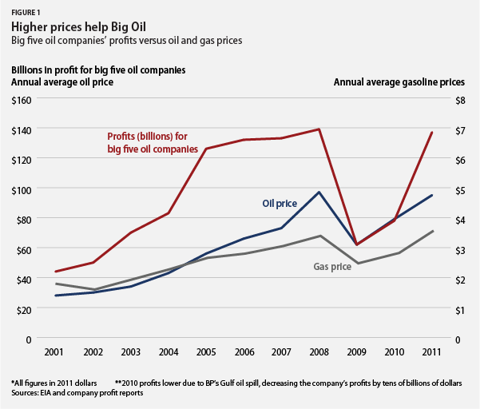 As just about everyone knows, the price of gasoline at the pump has sky-rocketed in the last 6 months. While the chart above only shows a graph through 2011, anyone could see that we are once again on the upsurge in both gasoline prices and profits. This article might be a year old, but the major beneficiaries of surging profits are still very much the same:
Just the five largest oil companies - ExxonMobil, ConocoPhillips, BP, Chevron, and Shell - booked a combined profit of $137 BILLION in 2011, even though these companies produced 4 percent less oil in 2011. And of course Big Oil's record profits are directly related to increasing pain at the pump for American consumers
Keep this in mind also; 2012/2013 saw an increase in oil production as well as an increase in gasoline prices. So much for the law of supply and demand! With surging supplies, surging profits, and more places to actually recover oil, who can tell what the next round of earnings reports will bring, and Chevron is right in the heart of all of this.
The number of oil drilling rigs in the U.S. hit a record last week, having quadrupled in number over the past three years. Between oil and gas drilling rigs, the U.S. now has more rigs at work than the rest of the world combined. The current oil boom has buoyed the projections of some leading oil industry analysts:
"It's staggering," said Marshall Adkins, who directs energy research for the financial services firm Raymond James. "If we continue growing anywhere near that pace and keep squeezing demand out of the system, that puts you in a world where we are not importing oil in 10 years."
It's also not just about oil and gasoline, take a peek at the trajectory of natural gas production by CVX: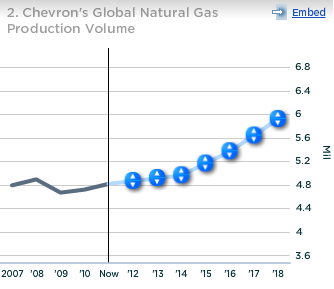 As the price of natural gas rises at some point, and production comes to fruition, then every analyst around will be trying to figure out a truer P/E, rather than the current ratio of 8.78, and a future P/E of 9.40. With that should come a higher share price than it currently is.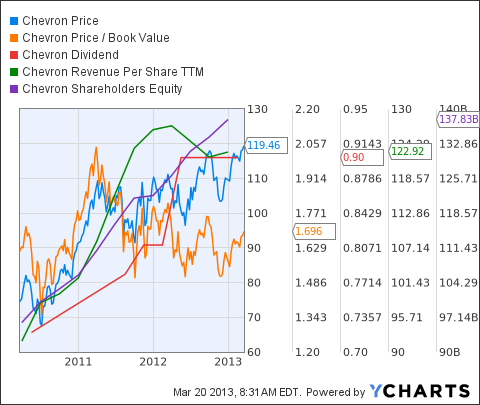 I love this chart. Every metric I look at first is headed in the same direction; up. Of course one metric has gone down, and that is price to book value. I believe the stock is still cheap.
Think Global For Even Greater Growth
Chevron is involved all over the planet of course, and this article would be too long to go into every venture. I would suggest visiting the company website for all of the current activity around the world.
The Gorgon project is one of the largest:
Gorgon is a story of energy and the environment as well as technology and expertise. It is one of the world's largest natural gas projects and the largest single resource project in Australia's history. The Gorgon Project will develop the Gorgon and Jansz-Io gas fields, located within the Greater Gorgon area, about 130 kilometres off the north-west coast of Western Australia.
Romania has solid potential as well:
Chevron holds licenses to explore more than 2.2 million acres of land in Romania for shale gas. The country has already witnessed public protests against the company's plans to begin exploration near a town called Barlad. Chevron is proceeding cautiously with its shale exploration plans in Europe and has said that it may require three to five years to decide whether it would consider shale exploration outside the U.S. A large-scale shale exploration in Europe could have a major impact on natural gas production volumes of companies like Chevron.
Emerging markets are abundant also:
Chevron has been particularly aggressive in its growth in emerging markets. The company now holds more than 50% of its total natural gas reserves in the Asia Pacific region. The company plans to sell most of the gas output from its projects to utility companies such as Tokyo Electric.
Chevron should also increase its liquids output with additions from the U.S. Gulf of Mexico, Kazakhstan, Brazil, North Sea Claire Ridge project and deepwater prospects in Africa. Chevron is also rumored to be in talks with the Kurdish Regional Government regarding exploration in the semi-autonomous territory within Iraq.
The risks of course are also of a global nature.
A global recession could put a strain on prices and profits.
Lower demand could impact both the top and bottom lines.
Governmental interference from any country could impede projects already under way. That would also impact earnings, since money has been paid to get these projects moving.
Environmental restrictions could hamper future projects, or even current ones.
All of these risks obviously need to be taken into consideration when evaluating a stock to buy or sell. That being said, I believe that Chevron offers an outstanding opportunity for both dividend income and capital appreciation over the long term.
Please be certain to do your own research and due diligence prior to making any investment decision. The opinions expressed here are my own and not a recommendation to buy or sell any security.
Disclosure: I am long AAPL, BKCC, BMY, CSCO, CSX, GD, GE, JNJ, KFN, KO, MCD, NLY, O, PFF, T, XLV, XOM. I wrote this article myself, and it expresses my own opinions. I am not receiving compensation for it (other than from Seeking Alpha). I have no business relationship with any company whose stock is mentioned in this article.