A fellow Seeking Alpha author, Larry Smith, recently wrote an article titled, Berkshire Hathaway Is A Sell. However, I disagree; first, to say Berkshire Hathaway (NYSE:BRK.A) (NYSE:BRK.B) "is a sell" implies that an investor, or institution holds a share or multiple shares. To say that the company is a sell indicates that there is a reason to disown the company, not simply profit take.
Mr. Smith seems to imply that investors should disown Berkshire, in reaction to Buffett's recently published shareholder letter, which highlighted the company's underperformance relative to the S&P:
To date, we've never had a five-year period of underperformance, having managed 43 times to surpass the S&P over such a stretch. (The record is on page 103.) But the S&P has now had gains in each of the last four years, outpacing us over that period. If the market continues to advance in 2013, our streak of five-year wins will end.

Berkshire Hathaway 2012 Shareholder Letter
However, Berkshire still gained 14.4% while the S&P increased by 16%.
Investors Should Not Disown Berkshire
I believe every investor should consider having exposure to Berkshire Hathaway, in some way. This could be through a mutual fund or closed-end fund; through class A or class B shares of the stock, or through exposure to the company's bonds. I believe the allocation should be 2.5% - 10% of the portfolio, including equity and bonds.
Investors should also review the company annually and consider adding to their holdings. Though Warren Buffett is 82 years old, Berkshire Hathaway has the potential to thrive throughout the 21st century.
Here are a few of the points from Mr. Smith's article, and some rebuttals to those points:
"The sheer size of Berkshire makes it difficult for anyone, including the greatest investor of all time, to generate large gains."
Berkshire Hathaway has approximately 288,500 employees, and approximately 20 people work in the home office. By comparison, Wal-Mart (NYSE:WMT) has approximately 2,000,000 employees. Berkshire is a large, valuable company that still manages to focus on expanding. The company generates large amounts of profit each quarter, and thanks to senior leadership, it makes major acquisitions each year. Acquisitions and major investments are targeted to maximize profitability, and like any investments, some are successful and some are not.
Another point Mr. Smith made was:
"Berkshire has the difficulty of getting all the pieces of the puzzle to perform well."
Berkshire tends to invest in well established businesses, like IBM (NYSE:IBM), Wrigley, Coca-Cola (NYSE:KO) and most recently Heinz (HNZ). These companies, and Berkshire's other major investments, were chosen because they perform well, compete globally and many make products that are essential or enjoyed by consumers in daily life.
Since Berkshire generates income from many different investments, if one piece of the puzzle underperforms, the entirety of the business is not as adversely affected. To Mr. Smith's credit, he cites Berkshire's investment in home construction companies underperforming during the economic downturn; he also cites Berkshire's diversification, and concludes:
"...what that means overall for the company is that the most likely scenario is average returns."
Let's take a quick look at Berkshire's performance relative to the S&P since 1990 (keep in mind S&P 500 companies' dividend reinvestments are not calculated in):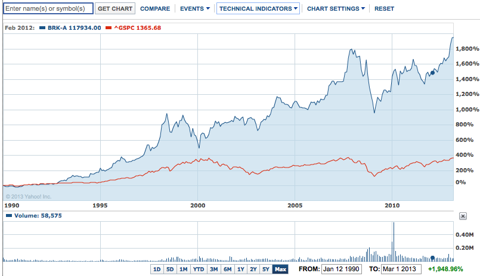 You must also realize that the S&P has constantly shuffled companies throughout this period of time (for instance Berkshire Hathaway replaced Burlington Northern.) Similarly, Berkshire has added to, and tailored its portfolio. The S&P has the ability to cherry pick and toss out the bad ones, whereas Berkshire (under Buffett) has made far more successful long-term investments that continue to generate profit every single day.
I will group the last few points in Mr. Smith's article together:
"...there is a risk that Buffett will not have the same energy and foresight moving forward as he has had in the past."
"Berkshire Hathaway does not pay a dividend..."
"The risk in owning Berkshire is that when Mr. Buffett passes away the stock has a significant fall, which may take years to recover from..."
Though Berkshire does not pay a dividend, the company's bonds do generate fixed income. Investors who want Berkshire to pay them cash can simply invest in the company's Aa2 rated bonds, though a 2.5% - 4.5% yield is well below 14.4%.
| | | | |
| --- | --- | --- | --- |
| | callable | price | yield |
| Berkshire Hathaway Finance Corp 4.4% 2042 (cusip: 084664BU4) make whole call | yes | $103.10 | 4.3% |
| Berkshire Hathaway Inc Del Sr Nt 3.4% 2022 (cusip: 084670BF4) | no | $105.47 | 2.7% |
| Berkshire Hathaway 3.25% 2021 (cusip: 084670BC1) | no | $108.72 | 2.5% |
The fact is that Mr. Smith raises several excellent points. As an investor in Berkshire Hathaway, I consider many of the variables raised in his article. There is a leap of faith element to investing in a company with one central figure, regardless of their age.
Still I know businessmen who are active well into their 90s. I am a proponent of making investments that do not play the "how long will people live" guessing game. Suffice it to say if Berkshire Hathaway offered a century bond, I would buy it. Though Warren Buffett might not be around for the full duration of the bond, I trust that he is capable of establishing a framework for the future.
Berkshire's Polarity & Potential Achilles' Heel
"Power tends to corrupt, and absolute power corrupts absolutely. Great men are almost always bad men."

John Emerich Edward Dalberg Acton, first Baron Acton 1887
The problem with Berkshire is not the potential for major investors to sell their stock in an exodus. The problem is the potential for future leaders to create new self-serving policies. The day new leadership awards itself large stock option packages and pays itself a large percentage of quarterly profits, is the day Berkshire will have lost everything Warren Buffett built.
It was a rare, old-fashioned concept to build value for shareholders. These days many investors have experienced losses, while a handful of executives have raked in tons of money. Most often the executives who cheat investors never make as much as they would have. In fact, many times those so-called business people find themselves on the other end of multiple legal problems.
Those who understand the concept of investing in very large businesses, to literally own them -- not to make a quick profit -- should see why Berkshire is not a disown, or sell. However, investors should allocate properly. Here is an example that includes Berkshire Corp. bonds, Berkshire stock, and a mutual fund or CEF that holds Berkshire stock and / or bonds:
| | | | | | |
| --- | --- | --- | --- | --- | --- |
| portfolio size | Berkshire Hathaway Corp. Bonds | Berkshire Class A | Berkshire Class B | Mutual Fund or CEF | total / % |
| $50,000 | $2,180 | - | $300 | $250 | $2,730 / 5.4% |
| $500,000 | $4,360 | - | $1,500 | $450 | $6310 / 1.2% |
| $5M | $8,720 | $152,000 | $2,000 | $750 | $163,470 / 3.2% |
| $50M | $17,440 | $454,000 | $3,000 | $2,500 | $476,940 / 0.9% |
| $500M | $34,880 | $1.5M | $5,000 | $5,000 | $1,544,880 / 0.3% |
As you can see, with this sort of allocation an investor should receive income, and have exposure to the stock. If something were to happen to the company (such as an act of corruption or bankruptcy) the overall portfolio would not take too big of a hit.
Most importantly, you don't have to play any guessing games about how long anyone is going to live for. Because that is not a productive, or profitable use of time. For instance once a 45 year old lawyer thought he made the deal of the century. He entered into a contract with an 80 year old woman to pay monthly rent on her property, so that when she died he would own the property. Only problem was she lived into her 120s, and he died when he was 77 -- his family continued to pay her the rent.
If you have any thoughts on Berkshire Hathaway or this example strategy please leave a comment below.
Disclosure: I am long BRK.B. I wrote this article myself, and it expresses my own opinions. I am not receiving compensation for it (other than from Seeking Alpha). I have no business relationship with any company whose stock is mentioned in this article.
Additional disclosure: I am long Berkshire Hathaway Corp. bonds. This article is not a recommendation to buy or sell, please consult a financial adviser to determine proper allocations (if any) to suit your personal objectives.