I wrote an article a few days ago, "An Education on Bridgepoint Education," making a case for Bridgepoint Education (NYSE:BPI) as an appealing investment. Since then, the company has received news that is critical for any investor interested in the company.
The SEC 8K filing is dated February 28, 2013 and reads:
On February 27, 2013, Ashford University received a letter from its accreditor, the Higher Learning Commission of the North Central Association of Schools and Colleges, or HLC, stating that on February 21, 2013 the University was placed on Notice due to concerns about its capacity to meet the newly revised criteria effective January 2013 and its current non-compliance with HLC's substantial presence policy. Ashford University remains accredited. Notice is a Commission sanction indicating that an institution is pursuing a course of action that, if continued, could lead it to be out of compliance with one or more criteria for accreditation. At the end of the Notice period, which runs from February 2013 until the February 2014 meeting of HLC's Board of Trustees, HLC may remove the University from Notice or, in the event the identified concerns have not been satisfactorily addressed, place the University on probation or take other action, which could include a show-cause order or withdrawal of accreditation.

In its letter, HLC reported its determination that Ashford University is not currently in compliance with HLC's substantial presence policy and set forth procedures and a timeline for evaluating the University's implementation of its previously reviewed plan with respect to substantial presence in the event Ashford University does not gain accreditation from the Accrediting Commission for Senior Colleges and Universities of the Western Association of Schools and Colleges, or WASC. On or before July 10, 2013, Ashford University must provide an interim report to HLC stating whether or not the University has gained accreditation from WASC. If the University has not by such time been accredited by WASC, the University will also be required to host a focused evaluation no later than October 1, 2013, to evaluate whether the University has completed specific steps, following its December 2012 plan, to establish presence in the Commission's region as required pursuant to the Commission's jurisdictional requirements.

In addition, Ashford University will be required to host a focused evaluation on or before December 15, 2013 to examine retention, graduation and the University's progress in resolving the identified issues. This evaluation will take place whether or not the University gains WASC accreditation if HLC remains the gatekeeper for Ashford University's Title IV funds or if the University has not voluntarily resigned its HLC accreditation.

Further information is available in the Public Disclosure Notice on Ashford University, which will be published on HLC's website at ncahlc.org under "HLC Institutions - Public Disclosures.
What This Means for the Company
I have BPI on my watchlist, and I've noticed that since the current report was released, the stock has hardly changed, despite opening about 4% higher the following day.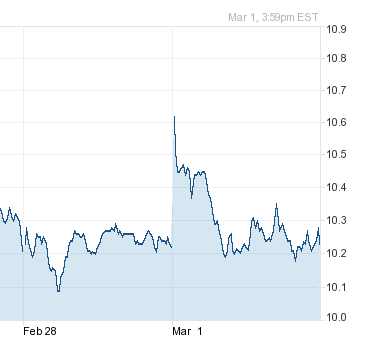 I'm a little surprised; the news is good, and so I thought there would at least be a 5-10% jump. Investors either don't care or don't know what to make of the news. For this reason, I feel it is worthwhile to follow up on my last article and give some insight on what this means for Bridgepoint.
Up until now, it was very unclear and relatively unknown how long Bridgepoint would have to restructure itself to maintain accreditation with HLC. Now we definitely know that Bridgepoint has until February 2014, at least. Let me be clear, this is very good news. Accreditation is no longer an immediate problem for the company. This removes much of the risk from BPI that still exists for other for-profit companies.
Reading the report also confirms a notion I had that I mentioned in my last article. I wrote that I thought the likelihood of for-profits losing accreditation was probably less than what most investors think it is. My reasons behind this bold statement were:
I have yet to actually hear of a college belonging to a major for-profit fully losing accreditation.
If a school loses accreditation, current students are left in the dust with credits that likely won't transfer elsewhere, if they can even get accepted elsewhere.
Denying a school accreditation means destroying jobs.
The Federal Government in its Congressional Report against for-profits made it clear that actions would be taken to change the business models of the companies, but the report never mentions anything about closures.
Everything I read on this industry, whether it be the Congressional report, letters from accreditors, or direct filings from companies, seems to be written in such a way as to assume for-profits will continue to exist. Several for-profits, Bridgepoint included, seem priced for bankruptcy, but the company's incredibly strong balance sheet and what I just mentioned make bankruptcy and closure seem unlikely. That is why I'm interested in this company.
Another point I'd like to make regarding the 8K is that Bridgepoint was not placed on 'Notice' primarily because of anything to do with poor educational quality, corrupt business model, etc. HLC's reason for placing BPI on notice is that the majority of the company's operations are in San Diego and its colleges are in Iowa and Colorado. HLC is a regional accreditor that deals primarily with colleges in the Chicago area. Because of this, HLC believes accrediting BPI is out of its jurisdiction unless more of the company's operations are based in the Chicago area. There were some stipulations involving educational quality and such, but the regional jurisdiction issue was the primary reason for the notice.
HLC clearly wants BPI to stay accredited. BPI will now have time to reapply for accreditation from WASC. HLC has asked for official updates regarding this endeavor. If BPI does not manage to get accreditation from WASC, then it will have to comply with some performance standards set by HLC and move some of its operations to the Chicago area.
What Else You Need To Know
There are a few things I did not mention in my last article that I want to take the chance now to mention.
Bridgepoint was originally privately held by Warburg Pincus LLC. Pincus now owns 64% on the shares outstanding.

This is significant, because the company could quite possibly go private at some point in the future. If it does, you can bet the bid price will be higher than it currently is, because BPI is deeply undervalued. Assuming annual revenue declines of 5% for the foreseeable future and margin consolidation, the stock is still selling under 40% of fair value.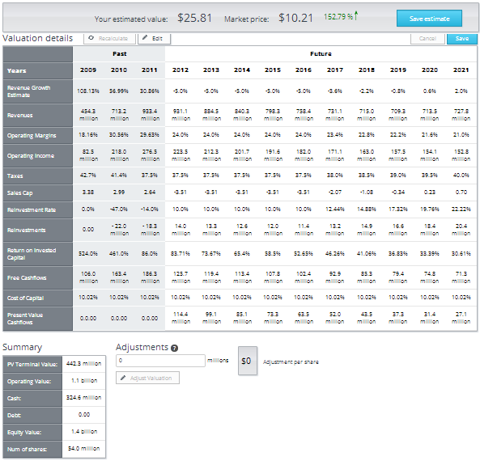 Another important thing I missed in my last article was a critical advantage that BPI has over its competitors. Because it only costs roughly $53,000 to get a Bachelors degree from Ashford (significantly lower than almost any other for-profit), Bridgepoint's students can fund their tuition almost exclusively through federal loans. This being the case, Bridgepoint has never had to create risk-share agreements with private loan providers to make funding available to students. While many other companies like ITT Educational Services (NYSE:ESI) and Apollo Group (NASDAQ:APOL) pay tremendous amounts of money to these loan institutions for all the students who defaulted, Bridgepoint has not suffered from any of these charges. Being a low cost provider in of itself is a huge advantage, and the Congressional report even admits that BPI has this going for it.
What to Expect
If you do end up investing in BPI, be prepared for earnings to decline between 10% and 30% next year. You should also be prepared and waiting to hear the results of the 'qui tam' lawsuit against the company related to commission-based recruiter pay in the past. Expect the share price to jump at some point when the market recognizes the value of the company and the significantly lower accreditation risk present now that the company got placed on notice. Expect the company's focus for the next year to be almost exclusively on getting accredited from someone, whether it be HLC or WASC.
Educational expenses will likely rise and revenues will decline slightly, which will cause the decline in earnings I mentioned. Expect a definitive turning point in the next 2 years, when the bleeding is finally stopped and growth resumes. Price multiples will expand as a result of the growth, and if you buy at this price, the shares will very likely be trading significantly higher than they are now by that time. Expect accreditation. This company may be less profitable in the future because it will do what is necessary to appease the accreditors. Expect high compensation of CEO Andrew Clark to continue (One of my biggest problems with the company).
I believe that between this article and my previous article, I have presented everything you need to know in order to decide to invest in BPI. I think its a great moneymaker that is also greatly undervalued. It will make less money in the near future, but its price more than accounts for the decline. My biggest concern until now has always been the risk of impending accreditation loss, but those fears are now alleviated for at least 1 year. Capitalize on this moment.
Disclosure: I may initiate a position in BPI in the next 72 hours. I have no positions in any stocks mentioned, and no plans to initiate any positions within the next 72 hours. I wrote this article myself, and it expresses my own opinions. I am not receiving compensation for it (other than from Seeking Alpha). I have no business relationship with any company whose stock is mentioned in this article.