Introduction
In earlier article, I discussed one of the most important metrics to analyze the silver industry, the actual cost of mining an ounce of silver, which can help an investor figure out whether it is time to buy SLV and/or the silver miners. In that analysis, I used the 3Q 2012 financials to calculate the combined results of a number of publicly traded silver companies and come up with the average cost it takes to mine each ounce of silver. Once the 4Q FY12 reports from all gold and silver miners are out, we will be posting the consolidated true production cost calculations for both gold and silver, so investors who are interested can follow me and you will receive that report.
In this analysis, we will calculate the real costs of production of Agnico Eagle (NYSE:AEM), a mid-tier producer with mines in Canada, Mexico, and Finland. Also, the company is led by Mr. Sean Boyd, one of my personal favorite CEOs in the mining industry.
Calculating the True Mining Cost of Gold - Our Methodology
In a previous article about Goldcorp's (NYSE:GG) cost of production, I gave a thorough picture of the current way mining companies report their cost of production and why it is inaccurate and significantly underestimates costs. Then we presented a more accurate methodology for investors to use to calculate the true costs of mining gold or silver. Please refer to that article for the details explaining this methodology, and I would encourage all precious metals investors to understand this important concept. It is important for investors interested in miners or those who focus on gold and silver as a commodity investment, because the true costs of production will show where a possible floor exists for a commodity (the production cost) which is important to gold (GLD investors) and is also an obvious way to differentiate miners.
Real Costs of Production for AEM - 4Q 2012 and FY2012
Now let us use this methodology to take a look at AEM's results and come up with their average cost figures. When applying our methodology for the most recent quarter and FY2012, we standardized the equivalent ounce conversion to use the average LBMA price for Q4FY12. This results in a silver ratio of 52.7:1, copper ratio of 480:1, and a zinc ratio of 1957:1. We like to be precise, but realistically minor changes in these ratios have little impact on the total average price; investors can use whatever ratios they feel most appropriate represent the by-product conversion.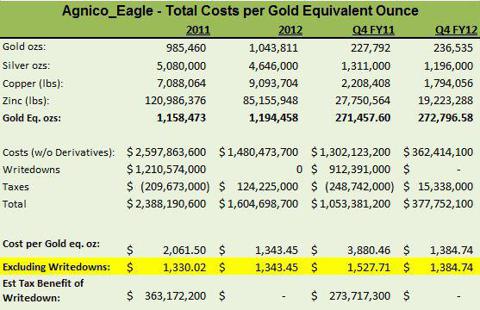 Click to enlarge
Observations for AEM Investors
The first thing that investors should take note of is that the costs to produce an ounce of gold for AEM are $1343 for 2012 and $1384 for 4QFY12, which is on the higher end of the mid to large tier producers. For example, GG a had a cost of $1082 and Barrick Gold (NYSE:ABX) had a cost of $1277 as their annual total costs of production for 2012 - so AEM is producing gold at a little more expensively than these two competitors.
In terms of production, it looks like AEM is slightly increasing gold production (about 6% year over year) and copper production (28%), but this has been slightly offset by a reduction in both zinc (-29%) and silver (-8.5%). For 4Q FY12, investors should pay attention to the fact that the production numbers are a little lower than the expected quarterly amount to keep up with the 2012 yearly totals. For example, 4Q gold production of 236,000 extrapolated over a full year would only yield around 960,000 ounces, which is a little short of the 1,050,000 needed to keep up with FY12 production. Though I want to stress that these are not necessarily red flags, because they may be related to temporary closures or seasonal variances, but it is something for investors to take note of and investigate in the quarterly and annual reports.
Finally, investors should note that the 4Q production costs rose to $1384, which is higher than the yearly average of $1343, but is lower than the 4Q 2011 costs of $1527. So this may be signaling that AEM is streamlining operations, since the quarter-over-quarter costs are down significantly. The fact that the 4Q costs were higher than the average FY12 should not worry investors, and yes it does signal that costs are rising, but this is being experienced across the whole mining industry, and is pretty standard in the gold mining industry
Conclusion
For a mid-tier miner, AEM did a good job streamlining operations from its poor performance on a quarter-over-quarter basis, and held down its FY12 cost increases to a mere 1% ($1343 vs. $1330) - which is an excellent job on a year-over-year basis. But investors should also note that AEM's costs are on the higher end of the mining industry and that production numbers need to be eyed for future quarters to make sure that 4Q production levels can be increased to maintain their FY13 production numbers.
For investors interested in gold as a commodity (GLD investors take note), AEM's report echoes what we have seen across the gold mining industry - increasing production costs and little to flat production growth. The industry's margins are being significantly pressured as costs rise, and as miners try to limit cost increases, production may suffer. This may be bullish in terms of the gold price, because lowering gold supply due to cost pressures may provide a solid base for the gold price and GLD investors.
Disclosure: I am long SGOL, PHYS, GG, SIVR, PSLV. I wrote this article myself, and it expresses my own opinions. I am not receiving compensation for it (other than from Seeking Alpha). I have no business relationship with any company whose stock is mentioned in this article.