India is home to more than a billion people with a burgeoning middle class, and is expecting economic growth of more than 6% for the next couple of years. Like other emerging markets that have grown rapidly in the last decade, India needs lots of fuel to pump its economy, but big oil has largely shied away from making significant investments in the country. However, in February, two of the leading European oil firms announced their Indian investment plans worth billions of dollars.
The Anglo-Dutch oil major Royal Dutch Shell (RDS.A), has decided to invest around $1 billion to develop a floating liquefied natural gas terminal off the coast of Kakinada in the state of Andhra Pradesh as early as 2014 through a joint venture with the Indian billionaire Anil Ambani's Reliance Power, India's biggest private sector power generation firm. Shell currently has an LNG import plant in the state of Gujarat which has a capacity of 3.6 million tons, which will be gradually upgraded to 10 million tons by the end of next four years. The demand for natural gas in India has been growing, and is expected to increase by 280% from the current levels to 220 billion cubic meters by 2020. There are increasing opportunities in the country's upstream oil and gas sector.
More recently, the British energy behemoth BP Plc (BP) has announced a joint venture with Reliance Industries (RLNIY.OB), which has significant representation in Invesco PowerShares India Portfolio ETF (PIN). Jointly, they will spend more than $5 billion in the next three to five years to increase the gas output from D6 block in Krishna Godavari basin. The two companies plan to extract 113.26 billion cubic meters of already discovered natural gas.
The deal was already expected, because the two companies have a history of joint ventures and Bob Dudley, BP Group's CEO, was with the British Prime Minister David Cameron who went to India on an official visit in February.
Reliance has been working for several years on the aforementioned block, which is often referred to as to the biggest gas find in India's history, but output from it has been woefully short of expectations. In the previous nine months ending 31st December, Reliance's output from D6 slumped by 37% to 7.78 billion cubic meters. Although some of this decline can be attributed to natural causes, the primary reason appears to be that extraction has been far more complex. Reliance know its limitation and it had signed a $7.2 billion agreement about two years ago with BP, according to which the British firm acquired 30% stake in Reliance's 21 blocks at Krishna Godavari basin. The Indian firm owns 29 blocks at the region. According to the terms of that agreement, BP has been providing its upstream deep water technological expertise.
The current deal is also crucial for India as D6 alone could fulfill a quarter of the country's gas needs and could potentially reduce the nation's gas import bill significantly. Currently, the output from the region is 19 million standard cubic meters a day (MSCMD), which is seriously short of Reliance's target of 80 MSCMD. The companies have announced that they would increase their exploration and development activities as soon as they receive the necessary approvals, with actual output going up from as early as 2014; however, industry analysts have also identified that the hopes of both Shell and BP are closely tied with an upward revision in gas prices, which are expected in April, 2014.
Unless that happens, it is difficult to envision significant progress being made on these new deals. Currently, the Indian government sets different prices for different fields, which is $4.2 per million British thermal units for the Krishna Godavari block. Some government officials are calling for a new uniform pricing model for the country. If that happens in the coming months, then the gas prices for Krishna Godavari would automatically increase.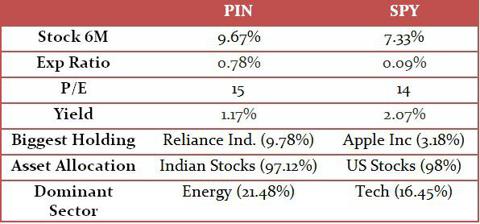 Click to enlarge
In the last six months, the ADRs of Shell and BP have gone down by 6.58% and 3.58% respectively. On the other hand, PIN, as a proxy for Reliance Industries, has been up by 9.67%, ahead of even SPDR S&P 500 ETF (SPY), which is up 7.33% in the same period. Reliance Industries is the biggest holding of PIN and has a weightage of 9.78%. The ETF has recorded net inflows of $39.91 million since the beginning of 2012.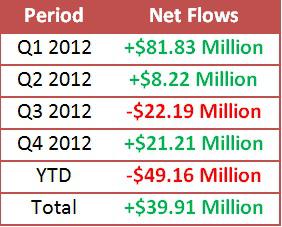 Disclosure: I have no positions in any stocks mentioned, and no plans to initiate any positions within the next 72 hours. I wrote this article myself, and it expresses my own opinions. I am not receiving compensation for it (other than from Seeking Alpha). I have no business relationship with any company whose stock is mentioned in this article.