This article focuses on Golub Capital (NASDAQ:GBDC) and compares it to the 12 BDCs covered in my previous articles including:
Business Development Companies (BDCs) lend to small and mid-sized businesses, with limited financial leverage, paying out most of their income to investors and paying little to no corporate tax.
These are the five general criteria I use to evaluate BDCs:
Profitability (EPS to cover dividends, growth)
Risk (diversification, volatility, leverage)
Payout (sustainable, consistent, growing)
Analyst Opinions
Valuation (P/E, PEG, NAV)
For more information about BDCs, how I evaluate them, and my BDC investment philosophy, please see this article.
Below is an oversimplified chart evaluating the companies I have reviewed among my universe of 30 BDCs giving them a relative score between 0 and 10 (10 being the best). In reality I use different weightings for each criterion. In future articles I will add the new companies to this chart as well as update info.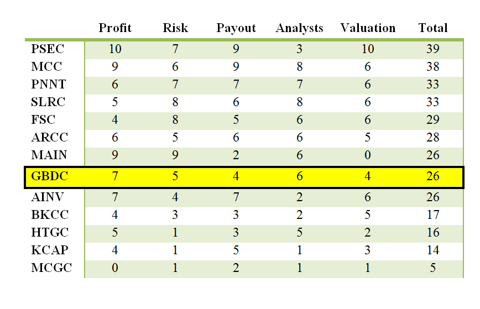 Golub Capital
Market Cap: $544 million
Div Yield: 7.8%
Div/EPS: 94%
Div/Proj. EPS: 103%
P/E: 13.8
Price/NAV: 1.12
Debt/Equity: 0.95
Recent Developments
January 15 - priced a public offering of 4,500,000 shares of common stock at $15.87 per share, raising approximately $71.4 million in gross proceeds and granted the underwriters an option to purchase up to an additional 675,000 shares to cover over-allotments.
February 19 - announced it has increased the size of its term debt securitization by $50 million.
Profit
GBDC is one of the newer BDCs and over the last two years has come close to paying its dividend with net investment income. In Q1 2013 it had EPS of $0.34 covering its $0.32 dividend but is expected to drop to $0.31 in Q2 because of the new shares issued in January. As the proceeds from the offering are deployed along with its aggressive use of debt GBDC is expected to grow EPS in the coming quarters.
Risk
GBDC has an average level of industry diversification in its portfolio but very little in financials, basic materials, and energy (see chart below). Non-accruals account for 1% of the portfolio at fair value which is low and floating rates loans account for 85% investments.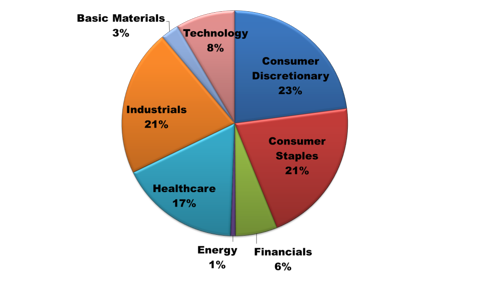 It's difficult to break out senior loans from the riskier subordinated/mezzanine because they have "one stop" loans that combine the characteristics of traditional first lien senior secured loans and second lien or subordinated loans.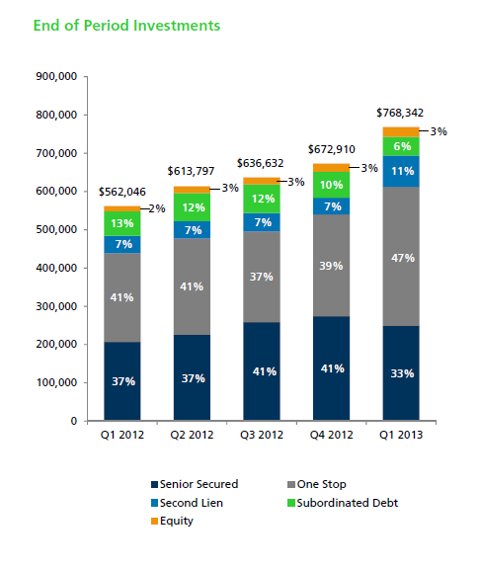 One of my primary concerns with GBDC is the amount of leverage it uses, with one of the highest debt-to-equity ratios of 0.95 as of December 31. So far the stock seems to have low volatility ratios but with less than three years of trading history it's difficult to compare with the other BDCs.
Payout
The current dividend yield of 7.8% is one of lowest in the industry and has not been raised for the last two years. With the slow expected growth of quarterly EPS the possibility of dividend increases in the near future are unlikely.
Analysts
GBDC has been recently upgraded by analysts currently ranging from a hold to buy with a target price of $15 to $16.
Valuation
The stock is currently trading 12% over NAV and a P/E of 13.8 which is higher than the group average.
Summary
GBDC is a 'Maybe' BDC until quarterly earnings are able to support higher dividends and/or there is a pullback in price driving the yield higher and more favorable valuation multiples.
Disclosure: I am long MCC, PSEC, MAIN, ARCC, PNNT, SLRC. I wrote this article myself, and it expresses my own opinions. I am not receiving compensation for it (other than from Seeking Alpha). I have no business relationship with any company whose stock is mentioned in this article.