A few days ago I did an article on financial risk, expressing concerns about my holdings of Hartford Financial Group (HIG) due to the presence of correlated risk and volatility on both sides of the balance sheet, as well as concerns about downgrade vulnerability. Thinking about reducing or eliminating the position, I am hesitant to sell out at what may be a market bottom. With that in mind, I did the following weighted average calculation based on multiple outcomes:
click to enlarge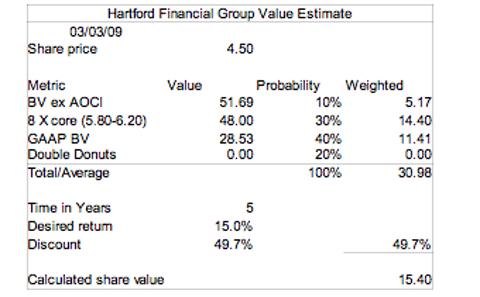 The thinking is, looking forward 5 years, there is a range of possible outcomes, and the possibility of going to zero cannot be discounted. Based on the comparison of market value to book values, HIG is trading in a range that has been typical of companies that implode and go to zero or near zero in a welter of short-selling, government mis-interventions, and amazing revelations. The two versions of book value were taken from the latest quarterly supplement, and their use reflects the belief that a financial in reasonably good shape should trade at 1 X book value. The "core" earnings is another nonGAAP metric, 2009 guidance from 4th quarter earnings release. I pulled the probabilities out of the air.
Downgrade/collateral/derivative risk - S&P just did a downgrade, placing the insurance financial strength ratings of the Hartford's insurance units at A, down from AA- as of 2/10/2009. Here is a relevant quotation from the 10-K:
After taking into consideration rating agency actions through February 10, 2009, a downgrade of three levels below our current insurance financial strength levels could begin to trigger potentially material collateral calls on certain of our derivative instruments and could also trigger counterparty rights to terminate derivative relationships, both of which could limit our ability to purchase additional derivative instruments. If any of these negative events were to occur, our business, results of operations, financial condition and liquidity may be adversely affected.
This sounds an awful lot like the type of thing that brought down AIG. The information provided is not detailed enough to quantify that particular risk so it is something of a wild card. In any event, I came up with an exit price for HIG of 15.40, based on the weighted average scenarios and the desire to earn 15% annualized over a 5 year period, my guess at what the market will yield for the next 5 years. Is there a better way?
S&P 500 Risk – a large part of HIG's risk is generated by guarantees in its variable annuity business, which are linked to the S&P 500. Accordingly, HIG goes up or down with the S&P 500, but with more volatility. Rather than compounding that risk with the downgrade/collateral/derivative risk, it may make more sense to use leverage on the S&P. This can be done by buying long-term calls on SPY: OBMLH SPY Dec11 60 calls look attractive compared with HIG. There is the possibility of a good size profit if the S&P can recover from its recent lows in the 700 area. There is quite a bit of time value involved, but it would be possible to recover some of that by selling an equal amount of shorter expiration calls, the June 80s look good for that purpose.
MBS and CMBS risk – Hartford runs the risk that the mark to market values on various asset backed securities it holds will prove to be correct, and that the values will not revert to what management regards as their intrinsic worth. This risk also is compounded with the downgrade/derivative/collateral risk as a liquidity crunch could force fire sales of assets at distressed values, or government mis-intervention along the lines of what happened to AIG. AIG's mark to market exposures wound up in Maiden Lane 2 & 3, where the USG will get the benefit of any recovery in value.
As a practical matter, most of the problems in financials stem from the same source as HIG's MBS and CMBS exposures: the underlying residential and commercial properties are losing value. As such, the financial sector spyder XLF would be another way of playing for a recovery or stabilization in the underlying asset values. Again, options are available: perhaps a diagonal spread would make better sense than being long HIG and provide an equal amount of possible upside.
Talks with Sun Life (SLF) – Bloomberg and the WSJ report that Hartford is in discussions to sell a large part of its life insurance operations. Such an outcome would resolve many of the the risks associated with the downgrade/collateral/derivatives exposure, at the expense of realizing a lot of mark to market. In the event of a sale, share prices would resolve upward toward the book value of the remaining units.