We pointed out in our other article this morning the strength in the US dollar versus other currencies and this could very well be playing a role in the weakness in gold and silver. After the US dollar levels out against the other currencies we could see an opportunity to move in and make a trade or two, but until then it is difficult to trade these names simply on a currency and/or inflation trade.
The inflation trade is at least a year off and with the US dollar showing the strength it has it will be a while before all the money the Fed has injected into the economy can play a role in pushing up some of these names which have been taken down sharply. We would rather be bullish the equities than the underlying commodities at this point as a strong US dollar tends to attract capital to US bond, equity and other markets.
Commodity prices this morning are as follows:
Gold: $1578.70/ounce, up by $6.40/ounce
Silver: $28.74/ounce, up by $0.25/ounce
Oil: $90.53/barrel, down by $0.15/barrel
RBOB Gas: $3.1239/gallon, down by $0.0047/gallon
Natural Gas: $3.426/MMbtu, down by $0.03/MMbtu
Oil & Natural Gas
SandRidge Energy (NYSE:SD) beat estimates at the end of last week for their latest quarter but also guided down for their 2013 numbers. The stock once again was taken lower as shares fell $0.29, just over 5%, to close at $5.41/share on higher than normal volume of 29.7 million shares. The company's CEO Tom Ward once again reiterated his belief that the company is undervalued and stated that they would continue to grow via the drill bit.
The bad news for shareholders was the company's new estimates for the recoverable reserves from the Mississippian play as they pertain to oil, something we have been discussing and has been out there for a while now - especially with the latest results from the trusts associated with the company's fields. We are still working our way through the conference call (see transcript here) as we have a pile to go through along with the presentation slides but our initial takeaway from what we have seen thus far is that the outlook at this point is negative.
One of our holdings also held a conference call on Friday (see transcript here) and it went about as well as could go for a team having not delivered on its promises. The units in EV Energy Partners, LP (NASDAQ:EVEP) were hit hard early in the session but recovered to end down $4.01 (7.16%) at $52.00/share. Volume spiked to 1.4 million units traded and that is well above average volume. We are still holding our options and units in the entity, but our outlook has dimmed considerably here. The company is great at buying assets on the cheap, but the problem may very well be that their insistence on getting the best purchase price on assets they buy coupled with the best sales prices on the assets they are selling just may not jive with potential partners/buyers. It is always easy to justify overpaying for something when you are buying that one asset, but to have to pay top dollar for something while also receiving bottom dollar for your asset in a swap...that is tough to swallow. Luckily our options do not expire until January 2014, unfortunately our options do not expire to January 2014 is something we said Friday to a client which they found funny. If they did not find it so funny, it would be sad for the loss on those positions are beginning to add up.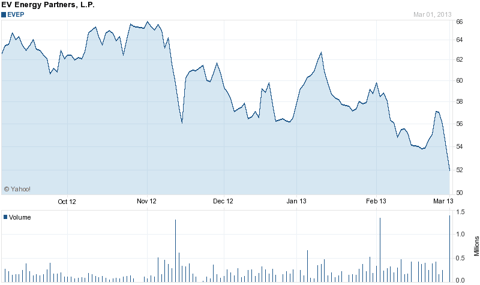 Chart courtesy of Yahoo Finance.
Shares in GMX Resources (GMXR) had a very nice pop of $0.69 (28.63%) higher to close at $3.10/share on Friday. This was on no news but probably just a rebound after the recent take down. This morning we notice that the company has received a notice from the New York Stock Exchange regarding their market capitalization not meeting the $50 million threshold (see press release here), which the company has 45 days to respond to with a plan to rectify this over the next 18 months. Also in the press release is news of a 2,400+ 24-hour IP Rate well they drilled in the Bakken (89% interest) as well as their filing with the SEC regarding the failure to pay an interest payment due today. This should make for an interesting trading day.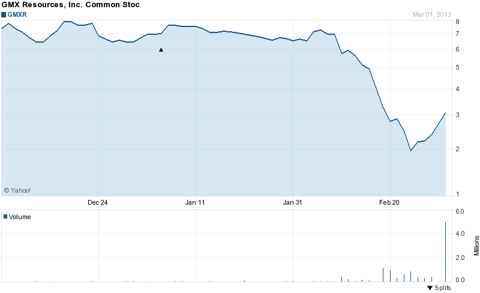 Chart courtesy of Yahoo Finance.
Iron Ore
Regarding Vale (NYSE:VALE) and the strength seen in the shares in the face of the nasty news of the large write-downs. We want to remind investors that this is generally the time of year when the write-downs are taken and thus are expected, as was the case with Vale. The company did miss on their quarterly figures when you take out the one time items, and although the analysts did not expect it one could say that there was a high probability of this happening as we have seen many of the higher cost producers having difficulty in this market.
The company's payout will fall to about 2/3 of its 2012 payout in a worst case (at this point) and that is one point of concern for investors. We know from emails with readers that this is a name which is sought for its high yield and with that comes the risk associated with a dividend cut, which we saw. We are not bearish on the name as we believe that there is ample room for the company to improve 2013 results over guidance and surprise to the upside with only minor adjustments. It is but our opinion at this time, however if our view of the world economy holds up along with certain commodity prices then investors might very well be pleasantly surprised.
Coal
The coal sector is getting beaten down again and we are glad that our gut feeling is what we followed, for when you cannot make sense of something it is best to sit on the sidelines which is exactly what we did. We have said before that Peabody Energy (BTU) is a better stock at $28 or $29 than at $25 or below and this is true for it indicates that we are on the upswing and a bottom has been put in. The first rebound to that level was obviously a false indicator but dips below $20/share sure do look like appealing values to enter the sector at. As we have been for the past few months we continue to watch and at least this morning it sure appears that Peabody will once again go sub-$20/share, something we once predicted and were laughed at.
Disclosure: I am long EVEP. I wrote this article myself, and it expresses my own opinions. I am not receiving compensation for it (other than from Seeking Alpha). I have no business relationship with any company whose stock is mentioned in this article.